SOUTH SHORE — Violence prevention workers and local leaders gathered to celebrate their year of work to reduce gun violence in Chicago and chart a path forward at a South Side celebration this week.
Several hundred Chicagoans with roles in reducing gun violence honored the growing investments in their field and the on-the-ground work of their peers Thursday at the South Shore Cultural Center, 7059 S. South Shore Drive.
City, county and state agencies have boosted their funding for violence prevention programs nearly 20-fold in the past five years, from a combined $7 million in 2017 to $124 million in 2022, organizers said.
Vaughn Bryant, executive director of Metropolitan Peace Initiatives, said the funding boost has helped organizations like his respond to an increased demand for anti-violence services.
The group is preparing to open a home for its Metropolitan Peace Academy at 2100 S. Morgan St. in Pilsen. The program provides violence interrupters, who work to prevent shootings through personal relationships and interactions, with training in self-care, restorative justice and other trauma-informed practices.
"Over the last five years, the investment in community violence intervention has skyrocketed, which means there's more people doing the work, which means there's more need for training," Bryant told Block Club. "Getting a physical location allows us to expand our capacity to serve the people who are doing this work."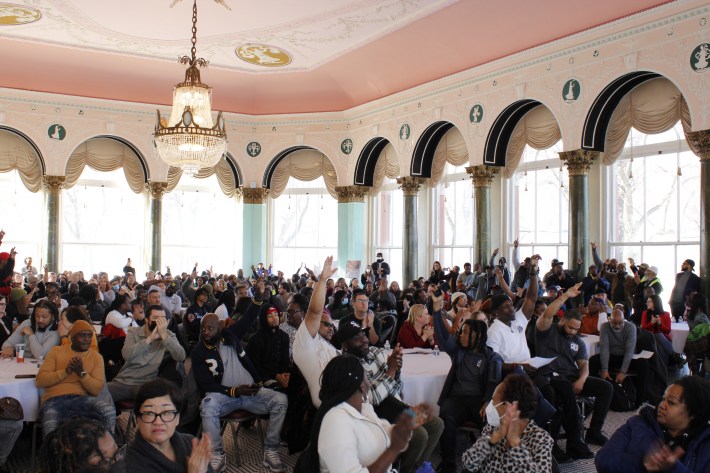 Well-connected and smaller, grassroots violence prevention groups have repeatedly said funding is the key to decreasing violence in Chicago.
The city has a wealth of knowledge and tactics to prevent gun violence, but the people running those programs need more money to be successful, Walter McGee, a Roseland resident and Chicago CRED program participant, said three years ago.
Numerous attendees echoed McGee's sentiments Thursday. Though momentum around anti-violence work has risen significantly in recent years, even more public investment is necessary, said Kim Smith, program director for the University of Chicago Crime Lab.
"The proposed $5 billion investment the Biden administration was considering making in [community violence initiatives is] so long overdue," Smith said.
As that federal funding died in the Senate before being cut to about $300 million last year, "policing and the kind of law enforcement response" consistently receives far greater funding than even the initial $5 billion proposal, Smith said.
The federal government alone spent $33.3 billion on police, $16.9 billion on court systems and $7.8 billion on corrections in 2017, according to the most recent Justice Department data. Federal, state and local governments combined to spend $305 billion on the traditional justice system that year.
Investments in grassroots anti-violence work must be sustained, as the field requires long-term coordination between residents and all levels of government, attendees said.
It's wrongheaded to think successful violence reduction requires anything less than "a 10-year journey," said Teny Gross, executive director of the Institute for Nonviolence Chicago.
"It's not a simple field," Gross said. "This is complex. I invite any CEO to spend a week with an [executive director] of one of the groups in the city of Chicago. It will be as good as three years at Harvard Business School."
That complicated nature means some factors can simultaneously be an asset and a challenge, speakers said Thursday.
Chicago's diversity of racial backgrounds "makes our city beautiful, but it also makes it very difficult when it comes to working with violence," said Benny Estrada, associate outreach director for New Life Centers. The Little Village-based organization runs five centers in communities with large Latino populations.
Successful prevention requires a shared understanding of the root causes of violence and solidarity in working together, particularly among Black and Latino residents, Estrada said.
Similarly, the field's reliance on personal connection can lead to meaningful relationships — but it can also put violence prevention workers in the uncomfortable position of working with people with whom they once had bad blood.
Paul Carrillo, vice president of former Arizona Rep. Gabrielle Giffords' community violence initiative, urged violence interrupters to seek reconciliation as often as they are able to, unless they feel irreparably harmed.
Giffords, who was shot and critically wounded in an attempted assassination and mass shooting in 2011, was scheduled to speak Thursday but faced travel issues and had to cancel, organizers said.
"We're very prideful of our neighborhoods, the communities we come from, the organizations we represent — which is all valid," Carrillo said. "Sometimes we have differences of opinion.
"I see brotherhood and sisterhood here, and [I encourage you] to just think about [mending fences with people] who you haven't really messed with for a few years, for whatever reason," he said.
Arne Duncan, founder of Chicago CRED and former U.S. Secretary of Education and Chicago Public Schools CEO; public health Commissioner Dr. Allison Arwady; and UChicago Hospital trauma surgeon Dr. Jennifer Cone were among the speakers.
Listen to "It's All Good: A Block Club Chicago Podcast":