CHICAGO — Chicago's most famous attraction can now be found in New York.
A bite-sized version of The Bean was unveiled this week under a corner of Jenga Tower, 56 Leonard St., in New York's Tribeca neighborhood. It was four years in the making.
The baby Bean was also created by artist Anish Kapoor, the same sculpture artist behind Chicago's Cloud Gate, which is more commonly known as the Bean. Kapoor has also snagged an apartment in Jenga Tower, according to Curbed.
Chicago's Bean was unveiled in 2006, and it now sees about 20 million visitors each year — making it to the top attraction in the Midwest and seventh-most-frequented spot in the United States, said city cultural affairs spokesperson Jamey Lundblad.
RELATED: Are These 2004 Pics the First Selfies Ever Taken at 'The Bean'?
The Bean's been replicated before — a version in China was shown in 2015, though that was made without Kapoor's permission.
Chicago's Bean weighs in at 110 tons and is 66 feet long and 33 feet tall, according to Choose Chicago. New York City's Bean hits the scales at 40 tons and is 48 feet long and 19 feet tall, according to Curbed.
New York City's Bean was delayed multiple times due to COVID-19 restrictions and literal meltdowns, according to Curbed. The baby Bean burst in half at one point after the sunny side of it overheated, according to one report.
RELATED: What's Inside The Bean? Photos Show Construction Of 'Cloud Gate'
Kapoor's crews from England had to come to New York City in shifts due to strict visa requirements, forcing workers to try their best to pick up where others left off, according to the report.
That led gawkers to long call the unfinished project Half Bean, with its guts open for all to see.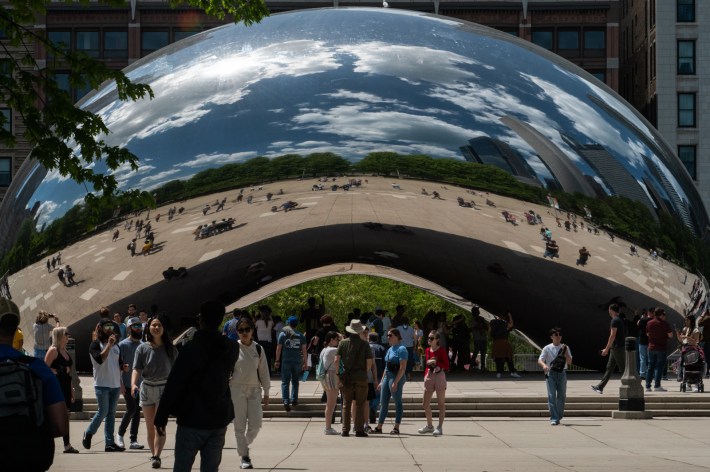 Watch our "On The Block" TV show on The U, CW26 and MeTV.
Listen to "It's All Good: A Block Club Chicago Podcast":