WRIGLEYVILLE — Powerful outgoing Ald. Tom Tunney (44th) is backing former Chicago Public Schools CEO Paul Vallas in his campaign to oust Mayor Lori Lightfoot from City Hall in the election this month.
Tunney, who chairs the city's zoning committee, announced his endorsement Wednesday outside the Cubby Bear, a Wrigleyville bar at 1059 W. Addison St. He said Vallas is the best candidate to improve the city's public safety, education and finances.
"As a person who is socially progressive and fiscally responsible, the platform Paul Vallas has for Chicago most closely aligns with what I believe both as a member of the City Council for over two decades and a small business owner for 42 years," Tunney said.
Vallas has spent most of his career in education, but he has centered public safety and crime reduction in his campaign.
Tunney praised "the common-sense plan" unveiled by Vallas to recruit, retain and train Chicago police officers as the department continues to operate under a federal consent decree. His plans include bringing former police officers out of retirement by hiring them on a contractual basis to fill gaps in the department, tapping their institutional knowledge. He also plans to fill inside positions that do not require sworn police officers.
"Right now, my constituents in the 44th Ward do not feel safe," Tunney said. "They saw index crime up 67 percent in the 19th District over the last two years while having 30 percent fewer police officers assigned to the district since the peak number in 2019. That will change for our residents, businesses and others across the city under Paul Vallas's watch."
Tunney said Lightfoot did not properly invest in the city's business community, especially Downtown and in North Side business and entertainment districts. He said Vallas, who once served as Chicago's budget director, would make "sound investment decisions" in the city.
"Our current mayor has been ambivalent at best and neglectful at worst of the economic engines of Chicago, including the State Street and Michigan Avenue business corridors, as well as the many and varied business and entertainment districts on the North Side that are all seeing historic levels of store vacancies.," Tunney said.
Tunney said he endorsed Lightfoot in the 2019 general election, in a crowded field that included Vallas. Lightfoot eventually defeated Cook County Board President Toni Preckwinkle in a runoff.
Tunney also has served as the city's vice mayor since 2019.
Vallas said he was "honored and flattered" by Tunney's endorsement. The two have met at Tunney's Ann Sather restaurants to discuss public safety, schools, the quality of life, property taxes and affordability in Chicago.
"I think this endorsement is critically important, and it sends the right message that my candidacy is a candidacy that all Chicagoans can support and embrace," Vallas said.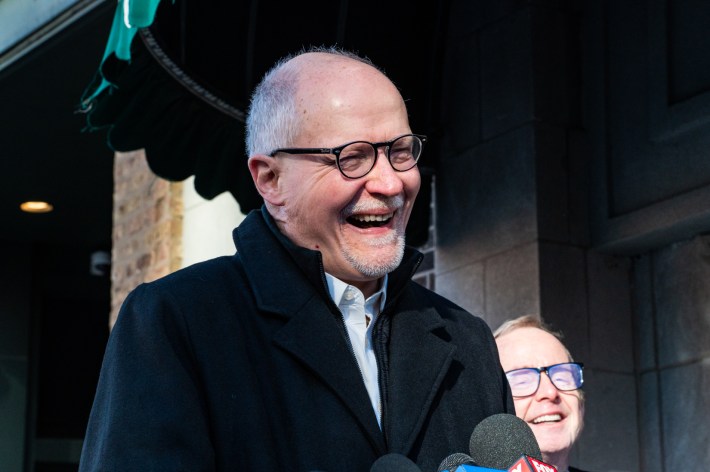 When asked about Tunney's endorsement of Vallas, Lightfoot called Vallas "an interesting person"' who courted the endorsement of the "bigoted, racist head of the FOP" John Catanzara.
"The fact is that he has embraced an ethos of the right wing and the FOP that is antithetical, I think, to the vast majority of voters in this city… I think most voters are going to recognize that is not a person for us," she said of Vallas.
Lightfoot said she wasn't surprised by Tunney's endorsement.
"I think their views are probably very closely aligned," she said.
Vallas is one of nine candidates running for mayor. State Rep. Kam Buckner, U.S. Rep. Jesús "Chuy" García, community activist Ja'Mal Green, Cook County Commissioner Brandon Johnson, Ald. Sophia King (4th), Lightfoot, Ald. Roderick Sawyer (6th) and businessman Willie Wilson are also running.
RELATED: Chicago Mayor's Race: 9 Candidates Want To Run Our City. What Do They Stand For?
He's been endorsed by the Fraternal Order of Police and previously worked for the union during its most recent contract negotiation.
Vallas also ran for mayor in 2019, but did not advance to the runoff. He unsuccessfully ran for governor in 2002 and lieutenant governor is 2014 as Pat Quinn's running mate.
The election is Feb. 28, but early voting has already started. If no candidate receives 50 percent of the vote, a runoff election will be held between the top two vote-getters April 4. 
As for Tunney, the veteran alderman said in August he will not seek another City Council term in 2023, ending almost two decades representing Lakeview.
He considered running for mayor himself this election cycle but ultimately decided against it. He recently told the Sun-Times he'll play an active role in advocating for Chicago's business community in his absence from City Council.
Listen to "It's All Good: A Block Club Chicago Podcast":