CHICAGO — The 2023 mayoral election is heating up across Chicago, as eight challengers have thrown their hat in the ring to oust first-term Mayor Lori Lightfoot from City Hall.
The election is Feb. 28, but early voting has already started. If no candidate receives 50 percent of the vote, a runoff election will be held between the top two vote-getters April 4. 
Lightfoot, a lawyer who chaired the city's police board, stormed to a historic victory in 2019, emerging from a crowded field of challengers to defeat Cook County Board President Toni Preckwinkle in a runoff election, garnering 70 percent of the vote. 
But after a tumultuous first term defined by the COVID-19 pandemic, protests against police violence, concerns over crime and a teacher's union strike, the 2023 election is shaping up differently, as many of Lightfoot's former supporters have decided to challenge her.
Eight candidates join Lightfoot on the ballot, ranging from newcomers to familiar faces, progressives to right of center.
The crowded field includes a congressman, two sitting alderpeople, a Cook County commissioner, a state representative, a wealthy businessman, a former schools CEO and a community activist.
Recent polls have shown multiple candidates leading in the race, and at least four candidates have started airing TV ads. Fundraising numbers also suggest a tight race with no runaway as campaigns head into their final month: At least half the candidates have more than $1 million in the bank.
And just as a federal corruption probe into Ald. Ed Burke (14th) upended the 2019 election, the indictment of Mike Madigan, the powerful former state speaker of the house, is looming over the 2023 election. 
Should Lightfoot lose, it would be the first time in decades a sitting Chicago mayor failed in their reelection bid.
Here's where the candidates stand on five key issues: crime, public transportation, schools, affordable housing and the Bears. The information comes from their campaign websites, public statements and forums attended by Block Club reporters. 
Jump to:
A lawyer who has also worked in politics and sports, Buckner represents parts of Bronzeville, The Loop and Hyde Park in the Illinois House of Representatives. 
Buckner grew up on the South Side, according to his campaign website, and attended Morgan Park High School. He received his undergraduate degree from the University of Illinois, where he played football.
Buckner has framed his candidacy around his ability to work directly with the statehouse, and in recent debates he has pointed to his support for an assault rifle ban that passed recently in Springfield. He has often said he rides the CTA regularly and has focused many of his campaign speeches on transit issues.  
Buckner has $38,081 in campaign funds, as of the most recent campaign disclosures. 
He lives in Bronzeville. 
Crime: Buckner has released a public safety plan that vows to hire more officers, start an "internet crime" unit and implement the proposed Anjanette Young ordinance regarding wrongful police raids. 
CTA: Buckner has centered transit in his campaign, vowing to eliminate "ghost trains" and touting the planned Red Line extension. He has likened the use of canine units on the CTA to "George Wallace's Alabama." 
Schools: He has championed an elected school board and has promised to bring hundreds of millions in state funding to get the district back to "solvency."
Affordable Housing: In campaign speeches, Bucker has advocated for improving transparency at the Chicago Housing Authority and expanding the use of rent-subsidy vouchers, although he has not discussed funding. 
The Bears: He has advocated for trying to keep the Bears in the city but has said that if they leave, the mayor should focus on redeveloping and transforming Soldier Field, and he has vowed not to use state funds to keep them in the city.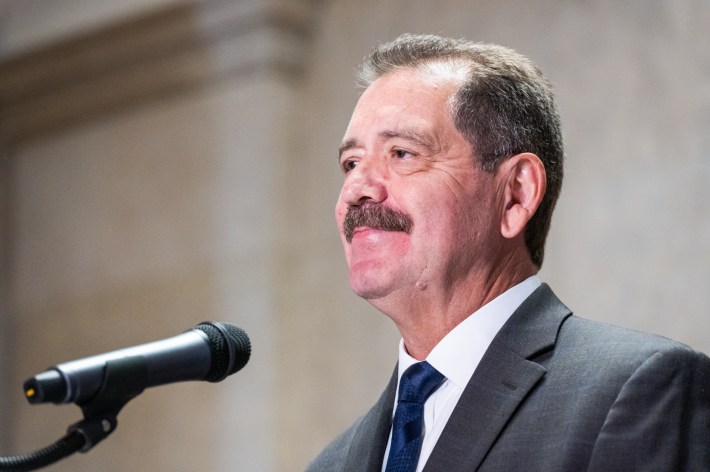 The congressman representing the Illinois 4th district in Washington, D.C., García is a longtime political veteran who ran for mayor in 2015 and lost in a runoff to Rahm Emanuel. 
After weighing for months whether to enter the race, García formally entered the fray in November. The late entry prompted many of the progressive unions that buoyed his campaign in 2015 to endorse other candidates, although in public statements he has still framed his 2023 candidacy around his progressive bonafides, as well as his ability to push for federal funding for the city after his 2018 election to Congress. 
Prior to his 2015 mayoral campaign, García had served on City Council, the Illinois state senate and the Cook County Board of Commissioners. 
More recently, the Tribune identified García as an unnamed member of congress mentioned in federal court records involving the corruption case against Madigan. Although García is reportedly not under investigation, mayoral campaigns, particularly Lightfoot's, have played up García's association with the former speaker. 
García has denied any involvement in the alleged pay-for-play scheme and said he was not under investigation. 
García's campaign has $1.3 million in the bank, according to the most recent campaign disclosure forms. 
García lives in Little Village. 
Crime: García has called for the firing of Police Supt. David Brown and the speedy implementation of a consent decree that was signed in 2017, although Lightfoot has accused him of copying her plan.
CTA: García serves on the transportation and infrastructure committee in Congress and has called for convening leadership of regional transit agencies in Chicago.
Schools: Between political stints, García fought for the construction of a school on the Southwest Side, which was opposed by then schools CEO Paul Vallas. García has blasted Vallas' opposition. García said he supports an elected school board. 
Affordable Housing: García has advocated for tapping into tax-increment financing and the federal infrastructure bill to create housing, although he hasn't provided a written plan. 
The Bears: He has said he would negotiate with the Bears to keep them in the city, including at a site other than Soldier Field.  
A community activist on the South Side, Green is one of two candidates in the field to have never held political office.
Green has been part of high-profile protests, including against Chase Bank's lending practices, which prompted the bank to announce it would increase lending to Black and Latino Chicagoans by $600 million. Green was arrested in 2016 protesting after police shot and killed Laquan McDonald. 
At 27, Green is the youngest candidate in the field. He ran for mayor in 2019 but dropped out after not gaining enough ballot petition signatures. 
Green's candidate website identifies him as a real-estate broker and social entrepreneur, and he said he has started a nonprofit that plans to build a youth center in Auburn Gresham. 
Green has focused his candidacy around crime prevention, banning the boot and "universal 3K." He is a self-identified progressive and said he supported Bernie Sanders for president. 
Green's campaign has $12,668 in the bank, according to recent campaign disclosure forms. 
Crime: Green has said curbing violent crime is about focusing on holistic solutions, and he has promised to institute a fully staffed, unarmed social workforce responding to 911 calls, as well as a youth intervention department. 
CTA: In forums, Green has described the CTA as a "homeless shelter" and a "mental health clinic." He would declare a state of emergency to free up money to put social workers on CTA trains and platforms.
Schools: He has championed "universal 3K," saying he would institute universal free education for children, starting from age 3, although he has not said how he would fund it. 
Affordable Housing: He has proposed a public "Bank of Chicago" that would prioritize lending for affordable housing, and he will use the bank to control rent prices at income-based developments. 
The Bears: He has said that the city should let the Bears leave, and instead focus on revitalizing Soldier Field for another sports team.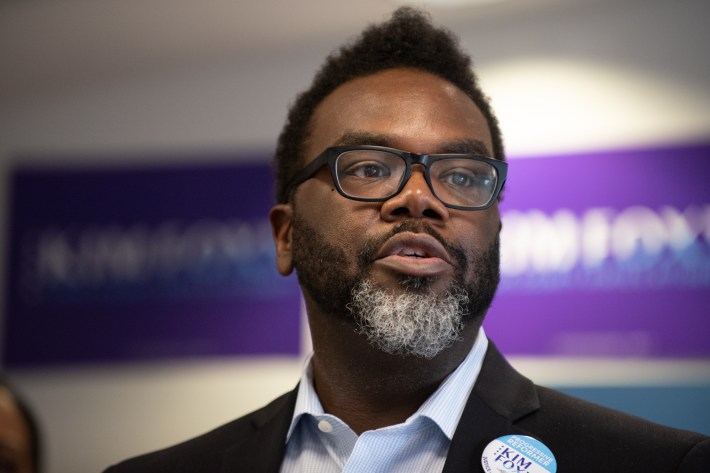 A former school teacher who serves on the Cook County Board of Commissioners representing areas of the West Side and suburbs, Johnson has nabbed endorsements from powerful, progressive unions, including the Chicago Teachers Union.
Johnson previously worked as an organizer for the CTU and was involved in the 2019 teacher's strike. 
Johnson has touted his upbringing in a house with 10 siblings and residency in Austin. A self-identified progressive, he has received endorsements from a handful of progressive aldermen, including Daniel La Spata (1st) and Byron Sigcho-Lopez (25th). 
Johnson's union backing has made him one of the race's strongest fundraisers in recent months and left him with a large war chest as the final month of the campaign unfolds. 
He has $1.3 million in the bank, much of it from the CTU, according to campaign disclosure forms. 
Crime: Johnson has vowed to eliminate the gang database and focus public safety efforts on addressing the "root causes" of crime. He has also promised a trauma prevention program that offers 24-hour access to health care professionals, although its funding remains unclear. 
CTA: He has promised to get Pace and Metra to expand in underserved areas of the city. He also called for a surcharge on Metra riders traveling from the suburbs to the city and the return of the CTA's "ambassador program" to assist CTA staff. 
Schools: A former teacher and parent of public school students, Johnson has said he will have a strong position to advocate for CPS funding. He supported an elected school board. 
Affordable Housing: Johnson has proposed a real estate transfer tax on multi-million dollar property sales to help fund affordable housing initiatives and promised developments on the South and West sides.
The Bears: Johnson has indicated he would try to keep the Bears in the city and said he is willing to negotiate with the team.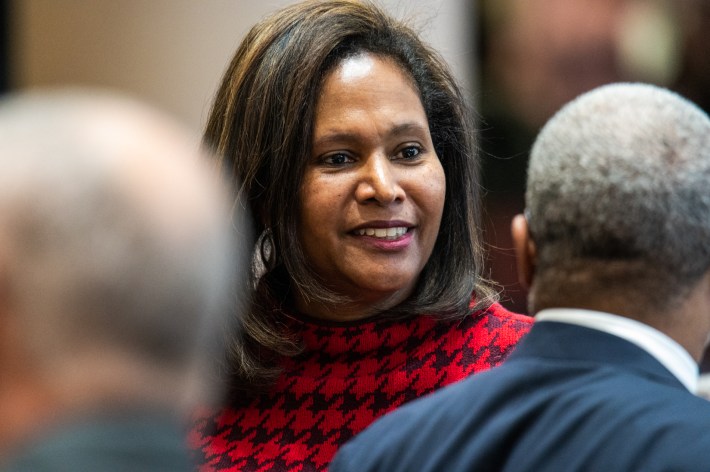 An alderperson representing the 4th Ward, King serves as the chair of the Progressive Caucus on City Council.
King successfully pushed to rename Lake Shore Drive and Congress Parkway, after Jean-Baptiste Pointe DuSable and Ida B. Wells, respectively. She also backed an increase in the city's minimum wage to $15 and the redevelopment of the vacant Reese Hospital site. 
Throughout King's campaign, she has touted her collaborative personality and her experience on City Council representing a diverse swath of Chicago that stretches from The Loop to Hyde Park. 
King grew up in Evanston and has a graduate degree in education and social policy from Northwestern University, according to her website. She previously worked for The Latin School in Chicago and founded the Ariel Community Academy, a public school in Kenwood that opened in 1996. 
King has also served as vice president of Planned Parenthood Chicago and started a nonprofit called Harriet's Daughters to increase African-American employment opportunities. 
She has $229,978 in her campaign account, according to recent disclosure forms. 
Crime: King has called for hiring additional police and bringing in 1,000 retired officers to expand reserves. In forums, she has said she wants to "escalate" alternative policing responses, and she wants to "uplift police" while also holding them accountable. 
CTA: She has said the CTA needs to increase collaboration with Pace and Metra to improve federal funding, although specifics remain unclear. 
Schools: King has been critical of Lightfoot's combative relationship with the teacher's union, and she has vowed greater collaboration, saying the city needs an educator in office. 
Affordable Housing: King has criticized the Lightfoot administration for its failure to use "opportunity zones" to incentivize affordable housing in low-income areas. She has also advocated for using landmark districting to keep seniors in their homes.  
The Bears: King has said that the city should "definitely" try to keep the Bears, but that the funding should come from the state level.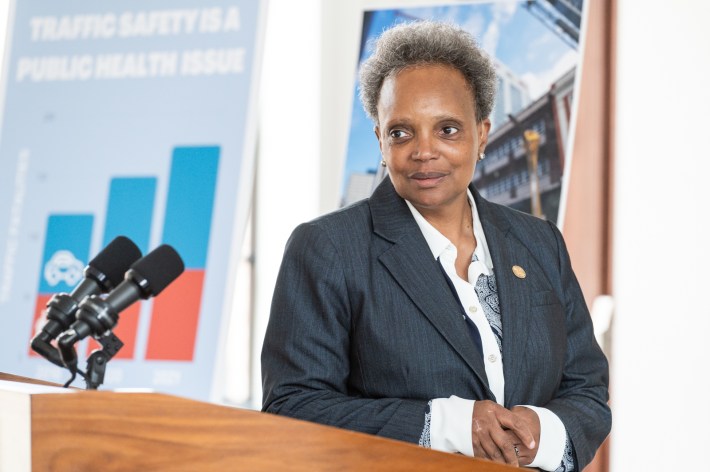 A former prosecutor and private practice attorney, Lightfoot ran an outsider's campaign in 2019 focused on rooting out corruption in City Hall.
Lightfoot has centered her 2023 campaign around "finishing what she started," as she has repeated in public statements. 
Proponents have credited the mayor with guiding the city through the COVID-19 pandemic, making advanced payments to the city's pension funds and announcing significant investments on the South and West Sides. But opponents have criticized the mayor's combative relationships with other public officials and slammed her for the post-pandemic rise in violent crime and CTA service failures.
More recently, the mayor's campaign has faced widespread criticism, as well as an ethics investigation, over emails asking CPS teachers to solicit student campaign volunteers in exchange for class credit. The mayor has apologized for the emails, calling them a mistake. 
Lightfoot has $1,148,240 in the bank, as of her most recent campaign disclosure forms. 
She lives in Logan Square.
Crime: The mayor has touted her hiring of 900 police officers and a decline in shootings, homicides and carjackings since 2021, although other crime numbers have risen. She has said she will continue to hire more officers.
CTA: Her administration has acknowledged issues with poor service and has vowed to hire more staff and improve bus and train notification systems.
Schools: Lightfoot has demanded additional funding for CPS from the state. She has backed off her support for an elected school board.
Affordable Housing: Under Lightfoot, the city's housing department has vowed to put $1 billion into affordable housing. But the Chicago Housing Authority, led by mayoral appointees, has come under fire for poor building management and a deal to sell land to the Chicago Fire soccer team.
The Bears: A longtime season-ticket holder, Lightfoot has vowed to do what she can to keep the Bears in the city, supporting a developer who has proposed a $2 billion project to put a roof on Soldier Field. "We're going to fight, fight, fight to keep them in Soldier Field," she said at a recent mayoral debate.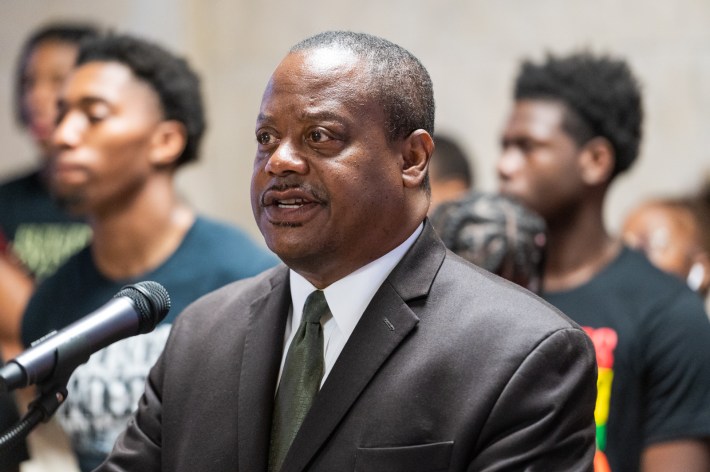 The son of former Mayor Eugene Sawyer, Roderick Sawyer is a licensed stock and real estate broker who serves as alderman for the 6th Ward, representing parts of Chatham, Englewood and Grand Crossing.
Sawyer is chairman of the city's Council on Health and Human Relations, and previously served as a founding member of the council's Progressive Caucus and chairman of the Black Caucus.
In stump speeches, Sawyer has said he grew up in City Hall when his father was 6th Ward alderman, and then mayor from 1987 to 1989. He attended St. Ignatius for high school and DePaul University for college, touting his long history in the city and experience with local government. 
Sawyer helped pass an ordinance focused on creating a citywide police commission and pushed for a committee on reparations, as well as a mid-size business coalition. 
He has $46,916 in the bank, according to the most recent campaign disclosure forms. 
Crime: He has advocated for getting rid of the gang database and improving communication systems across city departments. He has also advocated for firing Brown and increasing hiring. 
CTA: He has vowed to improve the bus tracking system, championed the Red Line extension and pushed for better disability access on the CTA. 
Schools: Sawyer has said that as a former local school council chairman when his kids were in school, he is uniquely prepared to collaborate with CPS and the Board of Education. He has cautioned that an elected school board needs to work collaboratively with the mayor. 
Affordable Housing: He has pushed to incentivize the redevelopment of vacant lots through a low-cost or no-loan program, as well as the creation of affordable prefabricated container homes.
The Bears: Sawyer has said that the city should let the team leave. "Unless you can put [20,000] to 30,000 new seats in that stadium, I don't think it can work," he said at a recent mayoral debate. 
A former CPS CEO, Vallas has spent most of his career working in education, although he has centered public safety and crime reduction in his current mayoral campaign. 
Vallas has received an endorsement from the Fraternal Order of Police, the city's biggest police union, and previously worked for the union during its most recent contract negotiation. 
Vallas ran for mayor in 2019, but he placed ninth and did not make the runoff. He unsuccessfully ran for governor in 2002 and lieutenant governor in 2014 as Pat Quinn's running mate. 
Vallas has also led school systems in New Orleans, Philadelphia and Connecticut. He has been a longtime advocate for school choice.
Vallas has had a strong showing in the most recent polling, and he has $1.14 million in the bank, according to the most recent campaign disclosures. 
Crime: Vallas has made public safety a central issue of his campaign, and has called for bringing back retired officers, firing Brown, increasing beat cop presence and adding a witness protection program.
CTA: Vallas has called for eliminating private security on the CTA and using the money to pay for more police. 
Schools: A longtime advocate for school choice, Vallas has also called for a forensic audit of CPS to add social workers and school counselors and trim down the central office. He also wants to introduce work-study to high schools, and he wants to keep schools open for dinner on weekends and holidays.
Affordable Housing: He has advocated for capping individual property taxes, but he has not said at what rate. 
The Bears: Vallas has said he would let the team leave, and he has been critical of the Lightfoot administration for not being more proactive. "We insulted them. We can't bring them back to the negotiating table."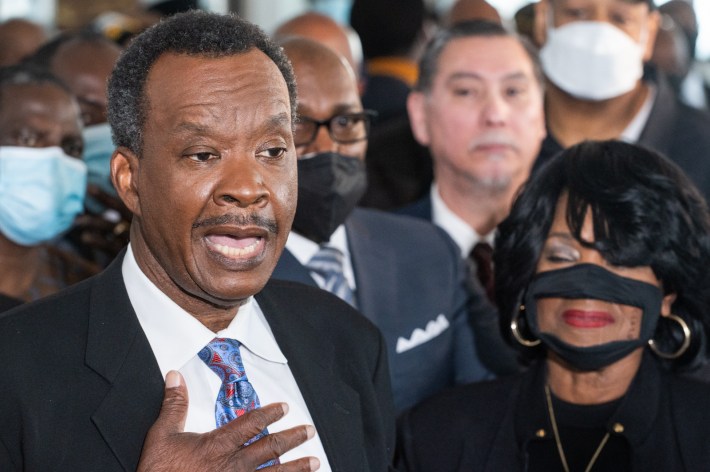 A wealthy Chicago businessman and philanthropist who owns McDonald's franchises, as well as a medical supply company, Wilson has long been a fixture in local and national political races.
Wilson ran for mayor in 2015 and 2019, failing to make the runoff in both elections. He has also launched failed bids for the U.S. Senate in 2020, and he ran for president in 2016. 
The son of a sharecropper, Wilson has recently made headlines for spending millions of dollars of his own money in gas and grocery giveaways.
He has said he serve as mayor "without a paycheck."
More recently, Wilson has focused his campaign on crime and not raising taxes, and he has bankrolled his campaign mostly with his own money. He has $4 million in the bank, according to campaign disclosure forms. 
Crime: Wilson has said in forums and debates that the city needs to "take the handcuffs" off police and hunt down criminals "like a rabbit." He has also advocated for bailing non-violent offenders out of jail on the holidays. 
CTA: He has called for deploying armed police officers on the CTA, bringing back conductors, booting people sleeping on the trains and lowering fare prices. 
Schools: Wilson hasn't publicly stated many positions on schools or CPS, but when asked at a recent forum said that he would refuse to raise taxes. 
Affordable Housing: Wilson has said he would try to keep people in their homes by paying their property tax bills, but he hasn't said how. He has advocated for supporting people experiencing homelessness through church programs. 
The Bears: Wilson has said he would "bring another team in Chicago" if the Bears depart the city.
Help Us Report
We'll update this story on the candidates' positions through Election Day. Is there a question you want the mayoral candidates to answer? Email us at newsroom@blockclubchi.org to let us know.
RELATED:
Where Do The Candidates For Chicago Mayor Stand On Education? We Asked Them 10 Questions (Chalkbeat)
Chicagoans Are Worried About Gun Violence. How Are Mayoral Candidates Responding? (The Trace)
Read all of Block Club's mayoral race coverage here.
Subscribe to Block Club Chicago, an independent, 501(c)(3), journalist-run newsroom. Every dime we make funds reporting from Chicago's neighborhoods.
Click here to support Block Club with a tax-deductible donation. 
Thanks for subscribing to Block Club Chicago, an independent, 501(c)(3), journalist-run newsroom. Every dime we make funds reporting from Chicago's neighborhoods. Click here to support Block Club with a tax-deductible donation.
Listen to "The Ballot: A Block Club Chicago Podcast":