NEAR WEST SIDE — Alex Hodovanets was all smiles Tuesday as he walked through the University of Illinois Chicago student center.
Hodovanets had just gotten back to campus after classes were canceled last week during a faculty strike. He gushed about everything he's gotten involved with since starting school in the fall: volunteering at a chemistry lab, making his own website in a digital art class and discovering a passion for rock climbing at the school gym.
Hodovanets, 18, is quick to tell you how grateful he is to be at UIC — and how grateful he is to everyone who helped get him there.
As recently as last summer, Hodovanets didn't know if he'd be going to college at all — or be able to stay in the United States.
Hodovanets is from Bucha, Ukraine, a suburb of Kyiv where dozens of civilians were massacred by Russian soldiers after the Russian invasion started in February.
Hodovanets was living in the Twin Cities area at the time, finishing a post-high school year of study at St. Croix Lutheran Academy. He had planned to return to Ukraine last summer to figure out his college plans.
Instead, Hodovanets' family was forced to flee Ukraine, and they are spread out around the world. His parents, Igor and Ira, recently returned to Bucha, and his sister, Yaroslava, is studying in Portugal. Hodovanets hasn't seen them or been back to his native country in more than a year.
The Russian invasion changed everything. Hodovanets couldn't return home and instead had to figure out a way to stay in the United States.
After months of applications, fundraising and uncertainty, and a lot of help from two of his father's coworkers, things starting falling into place. Hodovanets enrolled at UIC and is back this month for his second of what he hopes will be many semesters.
"I never even imagined myself here in the U.S. and at an actually American university. It was like a dream," he said. "I didn't expect much, and I got a thousand times more than I expected."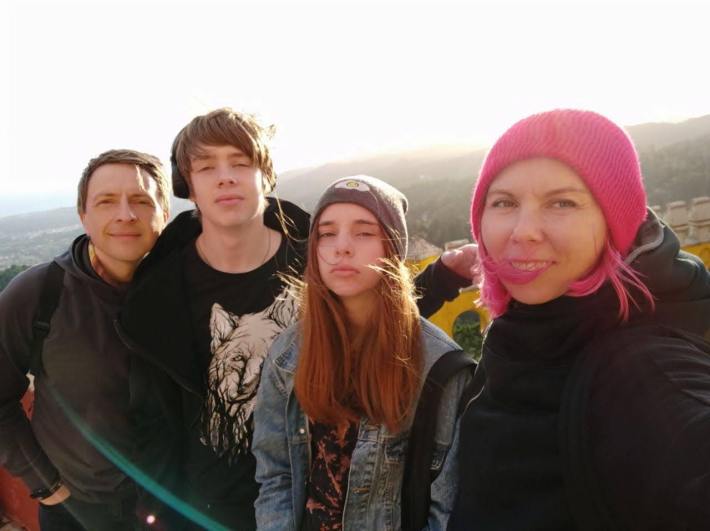 When Hodovanets heard rumblings of a Russian invasion last year, he dismissed them as empty threats, no different from the kind that Russian President Vladimir Putin has made since the 2014 invasion of Crimea, he said.
But when he woke up Feb. 24 to news Russia had attacked Ukraine, the reality sunk in. Hodovanets called his parents, but he didn't hear from them for hours as they fled from their home, he said.
"I didn't know — are they OK? Are they alive? I didn't know what to feel. … It was like a fog in my mind," Hodovanets said. "And I started reaching out to all my friends to hear from them, try to give some support."
Hodovanets' father ended up staying at his grandmother's home in Khmelnytskyi, about five hours from the Kyiv area. His mom and sister left the country, first for Poland and then for other countries in Europe.
As the war progressed, it became obvious Hodovanets wouldn't be returning to Ukraine anytime soon. All men younger than 60 were banned from traveling abroad.
By then it was already late in the school year and Hodovanets hadn't applied to any colleges or for any scholarships.
That's when Hodovanets met two people who'd help him start a more permanent life in the United States.
Robert Musgrove and Whitney Skaalerud work with Hodovanets' father at a telecommunications company with offices around the world.
They thought they'd help the teenager with applications and maybe get a scholarship or raise a little money, Musgrove said. But the duo soon became a huge part of Hodovanets' life in the United States.
After Hodovanets finished school last spring, he briefly lived in Tennessee with Skaalerud, then moved to Wauconda, Illinois, last summer to live with Musgrove.
With their help, Hodovanets got accepted to a few local community colleges and at UIC.
"He just wants to be able to continue his education and keep his head down, just keep going. And that's what his parents are hoping for, as well," Musgrove said last summer.
After discussions with his family and thinking about the best path forward, Hodovanets enrolled at UIC last fall and is on an F1 student visa, he said. He plans to pursue a degree in biochemistry.
"I talked with my family a lot and they said like, community colleges are much less expensive. But UIC, it's opportunity. And if you will go there, there is more chance for you to stay there. You can get a good degree," Hodovanets said.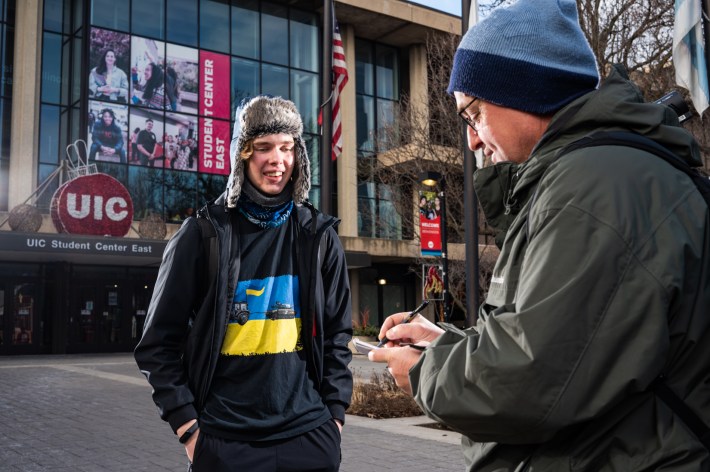 Still, the decision presented a host of logistical challenges for Hodovanets, chiefly how he would get to campus every day.
For most of the fall, Hodovanets was living at a cabin Musgrove and his wife own in Fox Lake, Illinois, to be close to a Metra line that could bring him Downtown.
It was more convenient than Musgrove's house in Wauconda, but it was still a two-hour ride to UIC each way. That meant Hodovanets had to get up extra early in the morning and often wouldn't get home until late at night.
After weeks of long commutes, UIC donated a dorm room for Hodovanets to use. Now he can walk just a few minutes to all his classes and his beloved rock-climbing gym.
"It's much more time for studying, not for traveling. It's more free time to organize myself, to do whatever I want. And it's a lot of opportunities to actually spend time to be better. Rock climbing, find job, scholarships, education," he said.
Even as many things have fallen into place for Hodovanets, money has remained an issue. His last-minute shift to stay in the United States meant he missed the deadline for scholarships last year.
So with help from Musgrove and Skaalerud, Hodovanets is continuing to ask for donations through a GoFundMe campaign. They hope to raise at least $10,000 more for tuition this semester, with any additional funds going to Hodovanet's future education.
"The goal is to raise as much money as possible because this kid's got years of education in front of them. And we don't know when any of this is going to end," Musgrove said of the war.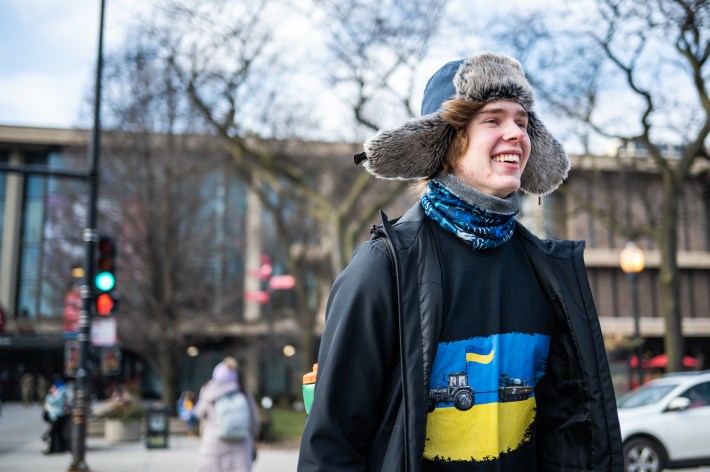 Since moving to the Chicago area, Hodovanets has gotten around the city a little bit, visiting Millennium and Lincoln parks and the Museum of Science and Industry.
He's also made a few trips to Ukrainian Village, where he stopped into a store to buy grocery items he hasn't seen since he was last in Ukraine around New Year's 2022.
Hodovanets is bursting with gratitude, not just to Musgrove and Skaalerud but also his adopted country.
"I'm thankful for all Americans, because we're actually fighting Russia through your taxes. Like, part of your taxes going to Ukraine for supplies," he said.
Hodovanets said he tries to talk to his family as much as he can. Asked how the prolonged distance makes him feel, he answers frankly: sad.
"I experience a lack of these warm feelings when you're near your family, when you're hugging them, and it's hard for me sometimes. But everything I can do, is study hard to seem them again," he said.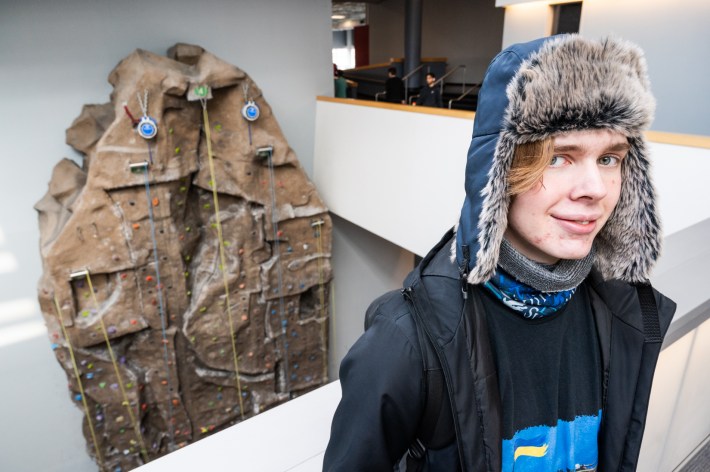 And Hodovanets has been surprised by how "open" to helping people Americans can be.
Nowhere has that been more obvious to him than at the rock-climbing gym, where he goes almost every day, he said.
And starting next week, he'll be spending even more time there. With Musgrove's help, Hodovanets was offered a part-time job belaying climbers and completing other tasks.
"It's OK for you to like actually ask for help," he said. "That's why I love rock climbing. Because someone builds a new route, he's trying to do it but he can't. So we create a small group of people who are ready to help him and try to cheer him on, trying to show how he can do it. And when you can't do something, you receive all this help."
Listen to "It's All Good: A Block Club Chicago Podcast":