NEAR WEST SIDE — University of Illinois Chicago faculty members have agreed to end their strike after days on the picket line.
The UIC United Faculty, a union representing 1,500 workers, won pay raises and stronger job protections in its new contract with the university, according to a news release. The university will also create a mental health plan for students as part of the deal.
The union had been without a contract since August, and members walked out Tuesday.
The union's demonstrations drew hundreds, including mayoral candidate Brandon Johnson, Chicago Teachers Union members, Ald. Byron Sigcho-Lopez (25th) and Rep. Lakesia Collins, whose district includes UIC.
RELATED: UIC Professors Go On Strike, Demanding Higher Pay And More Job Security
The new contract, which is still to be ratified, will run through August 2026 — a compromise for union members who fought for a three-year contract versus a four-year agreement pushed by the university.
The contract will increase starting salaries for non-tenured faculty from $51,000 to $60,000, said union spokesperson Charitianne Williams. Starting salaries for tenured faculty will move from $65,000 to $71,500, Williams said.
All union members will receive a $2,500 raise to adjust for inflation over the past year, Williams said.
The contract also establishes new standards for yearly raises and stronger job protections for non-tenured faculty, according to the union's news release.
The university made a handshake agreement to expand mental health resources on campus, such as free psychological assessments for students, according to the news release.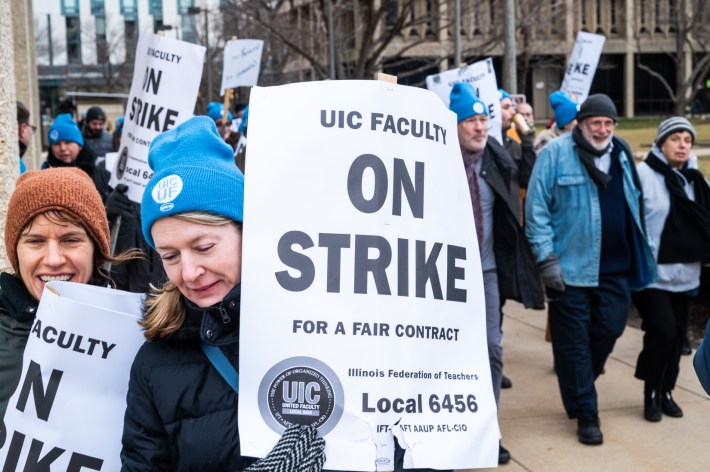 "This contract contains important gains on the issues most important to our members," union President Aaron Krall said in the news release.
The union represents about 800 professors. It does not include faculty at the colleges of medicine, dentistry and pharmacy and the School of Law.
In a Monday statement, interim Chancellor Javier Reyes said the university is "pleased" by the agreement and all classes will be held "without further interruption."
The agreement was made with the help of an independent federal mediator, Reyes said.
Reyes said there may be "challenging financial times ahead" as university leaders try to control costs.
"The parties were able to find common ground on an overall contract that addresses various faculty concerns and bridges the gap in compensation offers," Reyes said in the statement. "UIC values the faculty for their talent, dedication and key role in upholding and championing the university's academic and research missions. This bargaining agreement recognizes their critical contributions."
UIC faculty nearly went on strike in 2019 following protracted negotiations that centered around similar issues, like pay raises and minimum salaries. That walkout was ultimately called off.
Watch our "On The Block" TV show on The U, CW26 and MeTV.
Listen to "It's All Good: A Block Club Chicago Podcast":