LITTLE ITALY — Construction is underway to build 222 new apartments and upgrade 184 affordable apartments as part of the next phase of the Roosevelt Square development.
Mayor Lori Lightfoot, Ald. Jason Ervin (28th) and other local leaders joined a ceremonial groundbreaking Monday for the project at the former ABLA (Addams, Brooks, Loomis, Abbott) Homes.
Phase 3B of the project includes three new mid-rise buildings at 1002 S. Racine Ave., 1257 W. Roosevelt Road and 1357 W. Roosevelt Road. ranging from studios to three-bedroom apartments. It also includes 15 apartments inside the the restored Jane Addams Homes, 1322 W. Taylor St., which also will house the National Public Housing Museum that broke ground in the fall.
Developers also plan to renovate two existing buildings with 184 apartments built during the first phase of the project nearly 15 years ago.
There will be 80 Chicago Housing Authority apartments, 50 affordable workforce housing apartments and 92 market-rate apartments in total. Here's a breakdown by building:
1002 S. Racine Ave.
67 apartments
17 CHA and 50 market-rate
Amenities include a fitness center, an indoor entertainment space, terrace, parking and storage. A grocery store and pizzeria will open on the ground floor.
1257 W. Roosevelt Road
70 apartments
29 CHA, 20 affordable and 21 market-rate
1357 W. Roosevelt Road
70 apartments
29 CHA, 20 affordable and 21 market-rate
Both Roosevelt Road buildings will get a fitness center, outdoor amenity space, a dog run, parking and storage spaces, officials said.
National Public Housing Museum
15 apartments
Five CHA, five affordable and five market-rate
The renovated apartments will get new floors, cabinets, countertops, appliances and energy-efficient systems, officials said.
This phase of the project could wrap by 2024.
The $172 million project, spearheaded by the Chicago Housing Authority and developer Related Midwest, is being funded by a mix of private and public money, leaders said. City Council approved funding for the project in February 2022.
RELATED: Long-Awaited Next Phase Of Roosevelt Square Development Met With Mixed Response From Near West Side Neighbors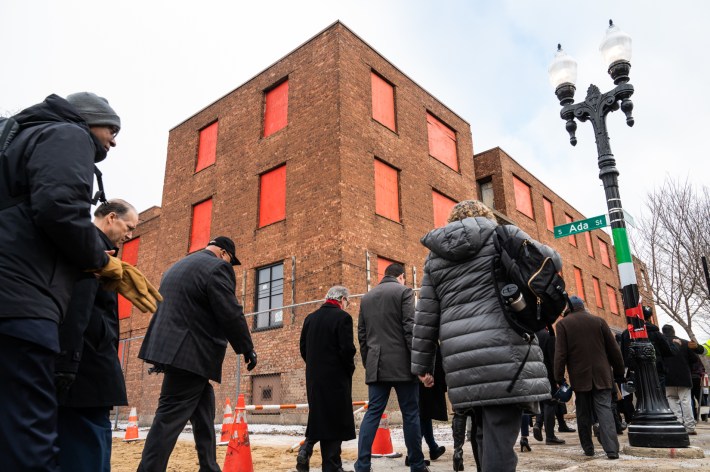 Lightfoot and other leaders hailed the project, saying it will "transform" Taylor Street and fulfill the promise to bring back residents to the area. The integration of CHA and market-rate housing should be the "template" of what the city does in other areas, Lightfoot said.
"We can't keep standing up segregated, low-income housing, stacking poor people on top of each other in isolated community where they don't have access to the kind of amenities we know are central for vibrancy, safety," she told Block Club.
Ervin said it was exciting to see progress on land that "promised so much but returned so little."
"This day has been a long time coming," he said. "Fortunately, in the last five years we've been able to deliver on a lot of units over here, and we want to continue that progress."
A mixed-income housing building at 1336 W. Taylor St. opened in early 2019 with a new Little Italy Public Library Branch on the first floor in a previous phase of the project.
Tracey Scott, the housing authority's CEO, said incorporating public and market-rate housing is key in order to make affordable housing sustainable.
"For strong neighborhoods, we need that mix," Scott said. "We know that diversity makes us stronger as a community, as a city, whether that's by income, by race, by jobs."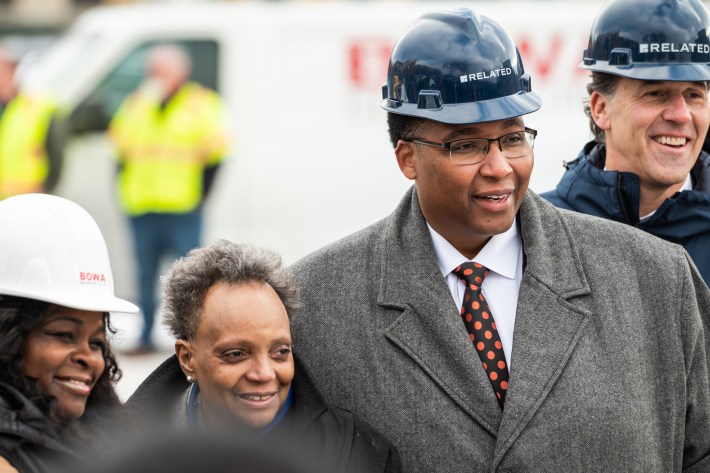 The CHA is the third largest public housing agency in the city, serving more than 20,000 low-income households, according to its website.
Public housing across the city has undergone many changes since 2000, when former Mayor Richard M. Daley launched the Plan for Transformation to demolish thousands of public housing units and rebuild them. That led to vastly changed communities, segregation and gentrification, according to a 2017 WBEZ analysis.
The transformation of the ABLA sites has recently been a point of contention in the city after the city leased land intended for housing to the Chicago Fire soccer team, according to an investigation by ProPublica. The team is set to lease about 26 acres to construct a practice facility with six soccer fields and a building for training and business offices at Roosevelt Road and Ashland Avenue.
Similar controversy has surrounded plans for a new Near South Side high school. That is slated for part of the land set aside for the Southbridge redevelopment near 24th and State streets, the former Harold Ickes Homes.
Lightfoot and Ervin supported the Roosevelt Square plan and reaffirmed their support Monday, saying it will bring economic development to the area and boost money for the CHA.
"I don't think the two are in conflict," Lightfoot said of the Roosevelt Square development and Chicago Fire facilities. "It's a thoughtful deal struck with the community at the table and with the community's interest in mind."
Watch our "On The Block" TV show on The U, CW26 and MeTV.
Listen to "It's All Good: A Block Club Chicago Podcast":