NEAR WEST SIDE — A long-delayed plan to redevelop the former ABLA Homes and city property along Taylor Street is finally moving forward, with the next phase calling for hundreds of new and rehabbed units, retail space and potentially a National Public Housing Museum.
Related Midwest and the Chicago Housing Authority detailed plans of the next phase of the Roosevelt Square project during a Thursday night community meeting hosted by Alds. Jason Ervin (28th) and Byron Sigcho-Lopez (25th), in whose wards the developments are expected to be completed by 2023.
In the newest stage of development, Related Midwest would rehab 184 apartments from a previously completed phase and build 222 apartments across four buildings. The unit mix includes studios and one-, two- and three-bedrooms made up of market-rate, affordable and CHA units, the development team and city officials said.
Most recently, Related Midwest and city officials opened the doors to an earlier phase of the project that brought mixed-income apartments with a ground floor Chicago Public Library in 2019.
Roosevelt Square is slated to have nearly 2,400 units when it's finished.  
"This has been a long road to get to where we can build at Roosevelt Square," said Related Midwest President Curt Bailey. "We are so excited to be here to be getting started again. It's a true multi-faceted partnership."
RELATED: Could This Huge Project Transform the Near West Side?
Some residents, while excited to see development moving forward, said they were concerned this phase doesn't include enough affordable options for longtime residents nor opportunities for low-income families to become homeowners.
"We don't want to just live in an apartment. We want to be able to live in a house," one resident said. "Why should it take any … longer than it's already taken?"
Proposed Buildings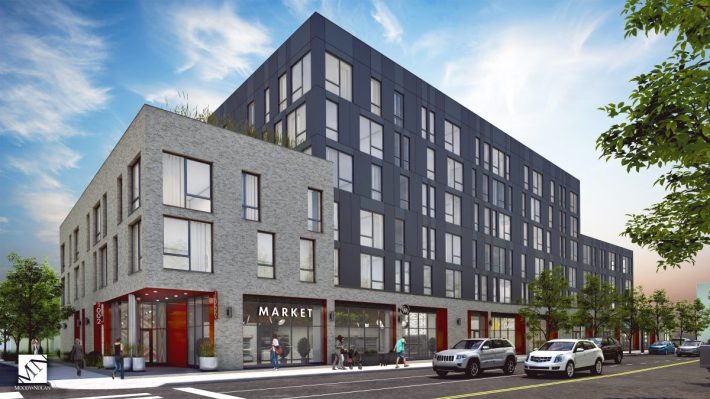 At 1002 S. Racine Ave. — a CHA-owned property — Related Midwest would build a six-story building with 67 apartments and 34 parking spaces. The would be designed by Moody Nolan and Landon Bone Baker and would replace a vacant lot currently being used for parking.
The building would include 50 market-rate housing units, 17 of which would be reserved for public housing for low-income residents. It would also include a fitness center, indoor and outdoor amenity space and 12,000 square feet of retail space along Taylor Street. 
Related Midwest is proposing six-story buildings at 1357 and 1257 W. Roosevelt Road, each with 70 apartments. The DesignBridge-designed building would include a fitness room, outdoor amenity space, a dog run and 41 parking spaces.
The fourth building would be a partnership between Related Midwest and the National Public Housing Museum. As part of the proposal, the developers would restore the facade of the existing building at 925 S. Ada St. for the museum and incorporate 15 apartment units.
Lisa Lee, the museum's executive director, said the museum would have public art from international artists, award-winning exhibits, history and cultural gathering spaces as well as programs.
Across the four buildings, 97 units would be market rate, 80 will be set aside for CHA and 45 will be affordable, the developers said.

Community Concerns
During the two-hour meeting, some residents welcomed the next phase, saying it will bring more people to the neighborhood. But many raised concerns about issues like insufficient parking and infrastructure to support so many new residents.
Some Little Italy residents speculated the buildings would drive down property values in the area. But developers and city officials, including Housing Commissioner Marisa Novara, said there was no proof of that.
"We do not have research or any evidence that shows that affordable housing brings down property values," Novara said. "I want to be very clear that as the story gets repeated and people hear it as fact, that is not fact. We do not have evidence of that." 
During the meeting, residents had opposing demands on how many market rate versus affordable units were being offered.
Neighbor Katie Kinnerk called for more market rate units that would sell quickly. A few longtime residents said the project included too many market-rate apartments and too few affordable and public housing units for struggling families. Another resident asked why this part of the development focused so heavily on rental units instead single-family and town homes. 
Bailey said they are "working on it" with city officials and Ervin to "free up some land" for those types of properties. 
"The reason it hasn't happened … is because the numbers just haven't matched up … but we think we are very close," Bailey said. "We will push and accelerate that issue. It is front and center for us, as it is for Ald. Ervin, to deliver homes for sale to this area … . We will try to get that done as soon as we can."
CHA representative Robin Broman said the city and Related Midwest are working on the next phase, but it will contain market-rate and affordable "choose-to-own homes." 
The "CHA is not walking away from choose-to-own. We are very passionate about providing that to our residents," she said.
Some residents also said they were concerned the plan seemed to be a done deal with no community input.
"This is being presented as a complete plan and we are being informed about what will be happening," one resident said. "Was there community input? When was the community asked for its opinion? When was the community asked what they wanted the buildings to look like? Were we consulted?" 
Ervin told neighbors there will be more opportunities to weigh in and said the presentation was designed to solicit community feedback.
"This will not be the last conversation as it relates to this development that is spanning two wards," Ervin said. "Let's also remember that the land we are speaking of is the land that belongs to the Chicago Housing Authority … . People have rights … to return back to this particular community that they were displaced."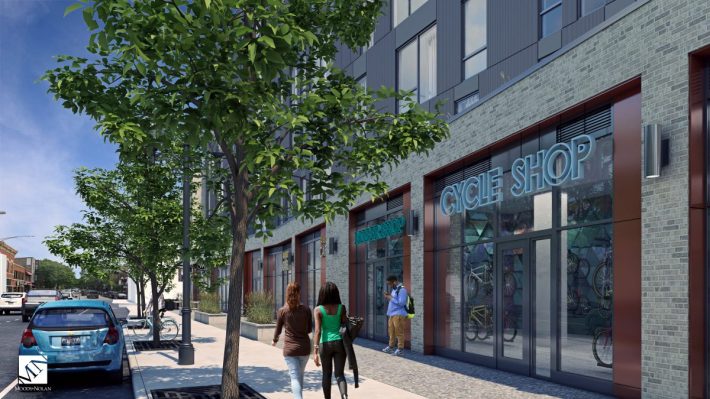 The former ABLA Homes complex included the Jane Addams Homes, Robert Brooks Homes, Loomis Courts and Grace Abbott Homes. The Jane Addams Homes opened in 1938 as the first federal government housing project in Chicago. The last remaining building, at 1322-24 W. Taylor St., has been vacant since 2002 and will be redeveloped into the National Public Housing Museum.
Most of the ABLA Homes were demolished in phases by 2007. About 330 Brooks Homes units remain at the site, according to the CHA website.
Subscribe to Block Club Chicago. Every dime we make funds reporting from Chicago's neighborhoods.
Already subscribe? Click here to support Block Club with a tax-deductible donation.