ENGLEWOOD — Community organizers are moving forward with years-long plans to turn a closed South Side elementary school into a community resource center. 
Community organizers led by Teamwork Englewood, Inner-City Muslim Action Network, E.G. Woode and the Resident Association of Greater Englewood filed a zoning change application this week to overhaul Granville T. Woods Elementary, 6206 S. Racine Ave.
Chicago Public Schools closed Woods Elementary in 2013.
Organizers want to revive the school as the Regenerator, a 60,000-square-foot housing facility with resources and programs for people leaving the prison system. 
The Regenerator will provide multifamily housing, a community center, job training and medical services for formerly incarcerated people and their families, said Asiaha Butler, founder of the Residents Association of Greater Englewood. 
The facility will include an indoor gym, an outdoor dining space and a "community food forest," according to a rendering.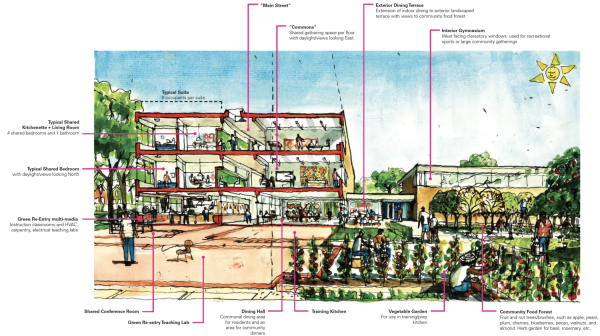 The Regenerator is one of several projects launched by the Go Green On Racine team as part of a multimillion-dollar dream to revive the 63rd Street corridor. 
In March, the group opened the Go Green Community Fresh Market, a nearly $5 million grocery store offering affordable, healthy food. 
In December, the Go Green On Racine team collected 1,000 signatures to add an advisory question to the February ballot asking 16th Ward residents if the city should reopen the abandoned 63rd and Racine Green Line station. The CTA will receive $2 million from the state to study the feasibility of that project. 
E.G. Woode also opened a commercial hub with a clothing store, coffee shop, barbershop and design firm on 63rd Street in August. They hope to add a $5.3 million food hub to the corridor this year. 
The Go Green On Racine team doesn't "mind new construction and shiny, new things," Butler said. But rather than building developments from the ground up, the group is focused on repurposing long-forgotten assets in the community, Butler said. 
"These institutions, like vacant schools, commercial buildings and stores, can be utilized if the community is at the forefront of making sure that happens," Butler said. "We've been at this for years, decades now. We want to bring vibrancy to these vacancies." 
The project has been in the works for years, as organizers navigated the complicated process of gaining control of the building from CPS then from the city.
It's not immediately clear when the City Council's zoning committee will review the application.
Watch our "On The Block" TV show on The U, CW26 and MeTV.
Listen to "It's All Good: A Block Club Chicago Podcast":