UKRAINIAN VILLAGE — Some Ukrainian Village residents are calling on the city to close a neighborhood hookah bar, saying a fatal shooting outside the business this month was just the latest in a string of problems.
Father of six Austin McAllister, 38, was shot and killed Jan. 1 outside the Lyon's Den Hookah Lounge, 2123 W. Division St., while working as a bouncer.
About 1:30 a.m., a man tried to enter the lounge with a gun, police said. There was an "exchange of gunfire," and the man shot McAllister and another person before driving away, police said.
McAllister was taken to Stroger Hospital, where he died, police said. The second person was shot in his or her leg and taken to Stroger in good condition.
Neighbors said the shooting was the culmination of a string of fights, rowdiness and other incidents that have taken place outside the BYOB business, and some are demanding officials shut it down.
Lyon's Den ownership has not returned calls and emails requesting comment.
In the week following the shooting, Ald. Brian Hopkins (2nd), whose ward includes the Lyon's Den, requested police issue a summary closure order for the hookah lounge.
Police can use a summary closure order to temporarily close a business if they determine it presents a safety risk. Businesses can appeal the decision or face a closure of up to six months.
Hopkins wrote that the business poses a "serious public safety threat" to the neighborhood.
In 2022, police had 10 direct calls for service at the Lyon's Den, Sgt. Michael Karczewski said Tuesday at a community meeting hosted by the 12th and 14th police districts. They also received 40 "indirect" calls, which could be related to other incidents on Division Street, he said.
But police have not moved to close Lyon's Den and do not plan to do so, Karczewski said.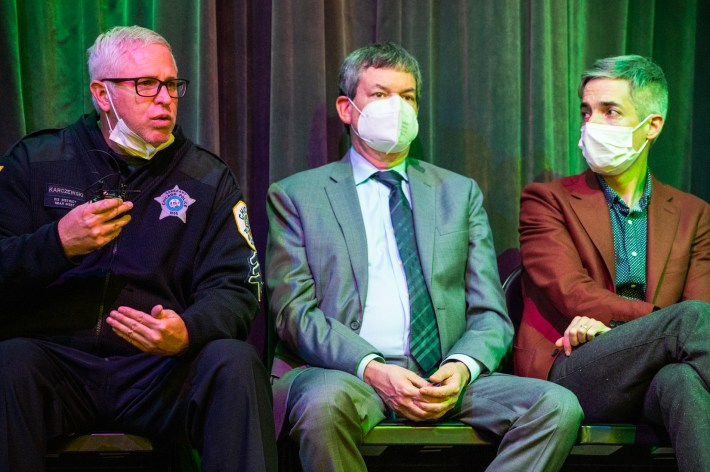 "In order for us to implement a summary closure, there has to be a violation done from the business itself," he said. "In this specific incident from that evening, Lyon's Den had done everything as a business what they were supposed to do. And so in that reasoning for it, even though it was a tragic incident, the Police Department cannot hold the business at that point liable."
Instead, Karczewski said Lyon's Den ownership is cooperating with police to establish a plan of operation for the business. That could include additional security and reduced hours of operation.
Lyon's Den has been closed since the Jan. 1 shooting, but it plans to reopen Thursday, according to its Instagram page.
"The big, long-term solution is that the owner wants to cooperate, he wants to be a part of the community," Karczewski said. The plan of operation "limits them … on what things they can do. Puts a little bit more accountability on them if they are in violation of certain things; that's when we can cite them, if they violate something in their plan."
Karczewski said police have done three surprise inspections at the business and found no issues worthy of a citation, nor did other city departments during another recent inspection.
"And all the city agencies, including the Police Department and Fire Department, I believe all the ones that were involved, found no violations at this point," he said.
But many people who attended Tuesday's meeting found that response frustrating.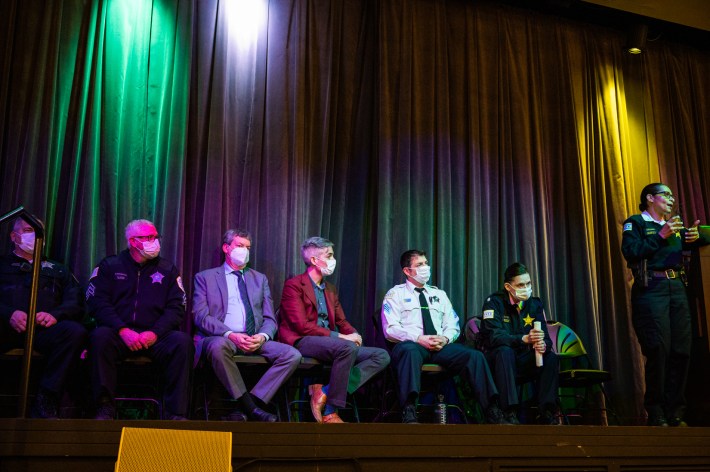 Pooja Gandhi lives across the street from the Lyon's Den and said she heard the fatal shooting from her bedroom.
The problems outside the hookah lounge have gotten progressively worse since 2021, with fights and attempted carjackings, she said.
Gandhi called the decision by police not to shut the business down "ridiculous."
"It's essentially telling me that people have to keep dying in order for this place to shut down," Gandhi said. "People have to keep getting shot, there have to be more people dead, for this place to get shut down. That's what I'm hearing, and at the conclusion of this, that's what I got."
Other neighbors called the Jan. 1 shooting "the last straw" for the Lyon's Den, and they have petitioned the Department of Business Affairs and Consumer Protection to initiate a public nuisance hearing process for the business.
A hearing would be open to the public and could ultimately lead to the suspension or revocation of the hookah lounge's business license, according to Chicago's municipal code. A group of five people who live within 500 feet of a business can file a nuisance complaint with the city.
"We're particularly appalled by the murder at Lyon's Den. A man shot, murdered. A family man and … it's just the last straw," said Linda Buczyna, one of the neighbors who signed the request. "It's pushback time from the community for businesses that create nuisances."
Neighbor Cathy Micinski also signed the compliant. She said carjackings and robberies in the neighborhood have led her to get more involved in public safety initiatives, like the new Ukrainian Village Safety Advocates group.
The 12th and 14th police districts reported a decline in carjackings in 2022 compared to 2021, but numbers are still up from pre-pandemic levels.
"We want businesses to do well in our neighborhood. That's what we like about our neighborhood: variety. We just don't want to have safety concerns that certain businesses are bringing in unsafe conditions," Micinski said.
A business department spokesperson confirmed the agency received a request for a public nuisance community meeting involving Lyon's Den and it is under review.
Hopkins said he disagrees with the Police Department's decision not to close the hookah lounge, and he believes there was ample evidence to shut down the business. He said he supports neighborhood efforts to push for additional hearings in front of the city.
"When you look at what the neighbors have been saying, what the nearby businesses have been saying, there's a long history there. … It wasn't just this one fatal incident," he said.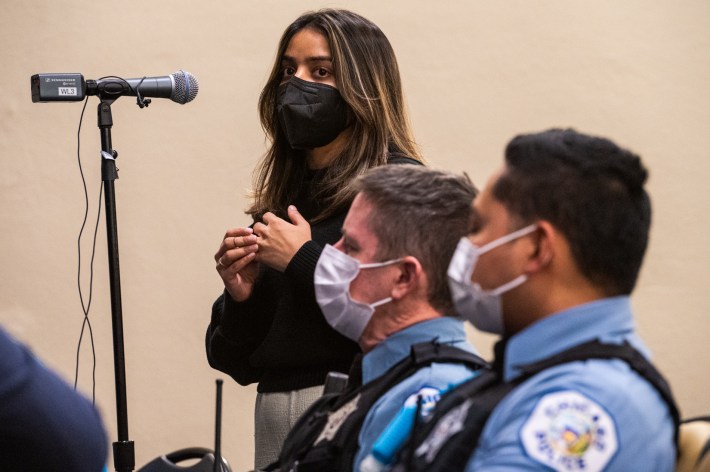 The Lyon's Den shooting was one of several high-profile shootings and other incidents since December in the area.
On Dec. 31, police shut down DSTRKT Bar & Grill, 1540 N. Milwaukee Ave., hours after three men were shot nearby in a Wicker Park alley. Ald. Daniel La Spata (1st) said a fight inside DSTRKT preceded the shooting.
The following morning, McAllister was shot and killed outside the Lyon's Den.
That evening, someone fired shots near the Mariano's grocery store at 2021 W. Chicago Ave. in Ukrainian Village, police said. No one was harmed.
That came less than two weeks after Darian Neal was shot and killed on the grocery store's parking deck Dec. 19. 
Police also issued a community alert last week warning neighbors about liquor store burglaries in the 14th District.
In December, Wicker Park officials implemented a temporary overnight weekend parking ban in the 2000 and 2100 blocks of West Division Street in an attempt to prevent public partying and crime. The area includes Lyon's Den and Mr. P Beverage Depot.
The trial ban runs through the end of January, but police are discussing a possible extension with the city's Streets and Sanitation department, Sgt. Mike Edens said Tuesday.
Listen to "It's All Good: A Block Club Chicago Podcast":