ENGLEWOOD — Nanette Tucker spent years designing custom bags and finding fashionable clothes to resell in hopes of having her own boutique. 
Tucker's dream came to fruition Thursday as models strutted in her clothing and neighbors shopped for handbags at Marie|Wesley, a boutique consignment shop and one of four businesses led by entrepreneurs of color launched inside a new commercial hub on 63rd Street in Englewood.
Developed by E.G. Woode — a collective of architects, designers, and entrepreneurs — the 4,000-square-foot retail and office hub at 1122 W. 63rd St. will house Powell's Barbershop, Momentum Coffee, Marie|Wesley and Beehyye, a design firm with co-working areas. 
E.G. Woode will function as a real estate partner, working alongside the collective to continue to develop their stores. The group will reinvest income from leasing and sales in emerging minority-owned businesses.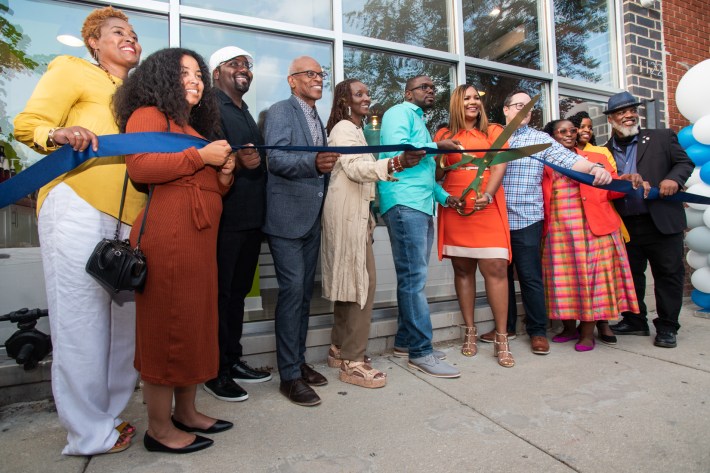 Local leaders, including Ald. Stephanie Coleman (16th), whose ward includes the hub, joined the business owners for a ribbon-cutting Thursday to welcome neighbors.
"We are here opening the doors of what will be one of many future developments and doors for generational wealth and passing on wealth legacy to our young people," Coleman said. "This is one of many buildings on 63rd Street that can be the home of Black businesses in Englewood. The only way to heal our community is by investing in our community." 
Creating a commercial space for Black businesses to thrive has been five years in the making, said Deon Lucas, architect and leader at E.G. Woode. 
Lucas met business owners like Tucker five years ago and drew the extensive layout for the commercial space. That was "the easy part," Lucas said.
E.G. Woode bought the 63rd Street property in 2019 and received a $250,000 Thrive Grant, a three-year program created by former Mayor Rahm Emanuel to give an economic boost to entrepreneurs and businesses in underserved communities. 
The program initially received $250,000 per business, giving the collective about $1.5 million to create the hub, Lucas said.
The grant was then restricted to "per building," cutting a "significant amount in capital investment" and leaving the group with $250,000 to work with, Lucas said.  
It took "purposeful luck" — being in the right place at the right time with the right idea — and the team's steadfast champion, the Local Initiatives Support Corporation, to garner the funding the collective would need, Lucas said. 
Support from Benefit Chicago — an angel investment group — as well as JP Morgan Chase's Entrepreneurs of Color Fund, anonymous donors, friends and family made the E.G. Woode property a reality, Lucas said.
"In hindsight, we lost the funding we needed, but we gained something more, which was the courage to step out and build something special," Lucas said. "That made us work even harder and drive even faster."
On the top floor sits Marie|Wesley, a shop Tucker said has been "a lifetime in the making." The shop is named after her mother and father.
With custom pieces from artist Richard McNeal on the walls and a candle burning, Tucker stared from her seat as neighbors browsed her bags and held up skirts and pants in the mirror. 
"In underserved areas, you don't get a place where you have a consignment boutique, a barbershop and an architectural firm with people of color. You don't see that," Tucker said. "We're changing the trajectory of Englewood."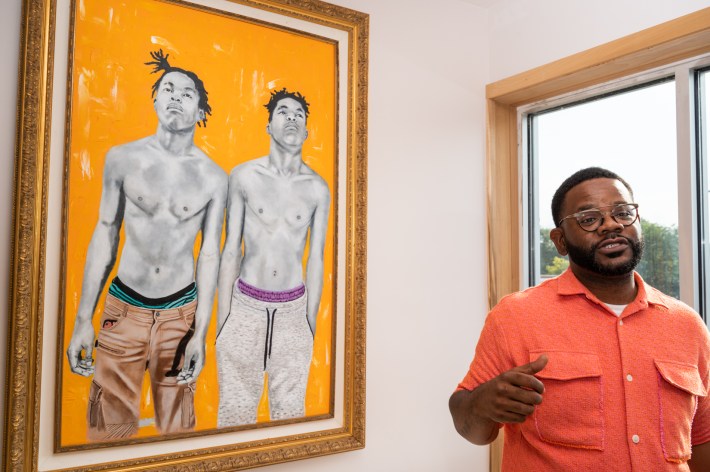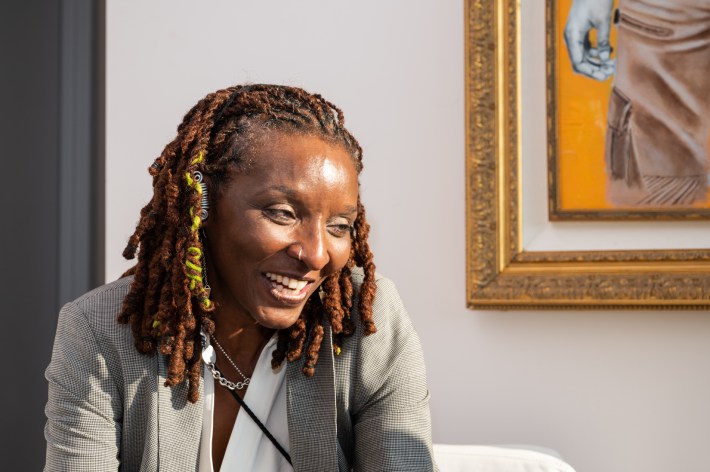 The E.G. Woode property is reimagining Englewood, Tucker said. 
Tucker's lived in the neighborhood nearly two decades, but this will be the first time she can ride her bike or walk to work — something she's only seen people do on the North Side, Tucker said. 
Tucker's store is also giving young people a chance to realize their dreams, she said. 
"People can walk in and say, 'Hey, I can do this too,'" Tucker said. "We've created a community here."
Opening Marie|Wesley is only the beginning of a legacy in the making. One day, Tucker's 5-year-old nephew might decide to open a branch of the store in Atlanta, Detroit or Paris, she said. 
"I might not see the full picture of it in my lifetime, but they will," Tucker said. "That's what I'm creating for them."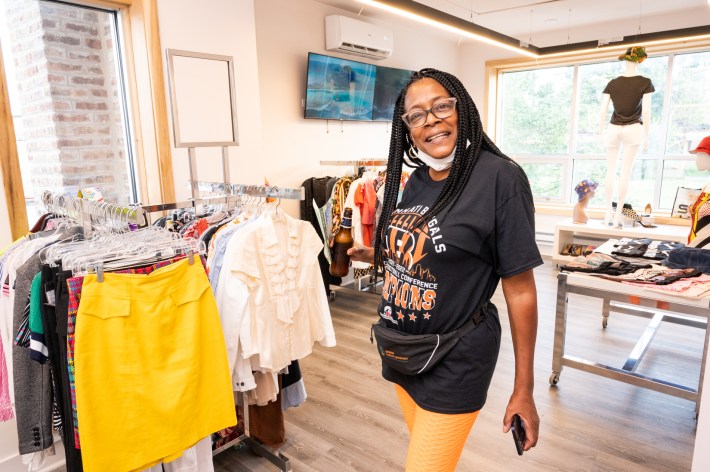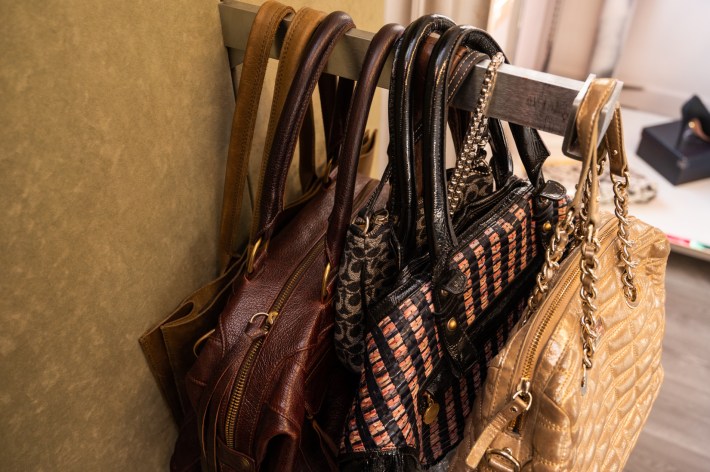 E.G. Woode has more planned for 63rd Street beyond the commercial hub.
The collective recently received a Chicago Recovery Plan grant and a $1.1 million Rebuild Illinois Downtowns and Main Streets Capital program grant to fund the E.G. Woode Food Hub. The property at 1022 W. 63rd St. will house restaurants Ellie's Urban Grill and Pass the Peas, as well as a training kitchen. 
The E.G. Woode property will inspire "hope and courage," in the community, Lucas said. 
When neighbors see entrepreneurs of color operating their dream businesses, it might give them the fearlessness to believe in themselves and create a business of their own, Lucas said.
Neighbors also now know there's a local architect who believes in empowering and building in the community, an anchor they might not have had years prior, Lucas said.
"Most of what we try to do is for the people," Lucas said. "It's about the entrepreneur, the individuals, the community and everybody else that shows up to support. There's a reason we made it this far. Without their support and their encouragement, there's absolutely no reason E.G. Woode exists." 
Listen to "It's All Good: A Block Club Chicago Podcast":