UKRAINIAN VILLAGE — Three candidates hope to unseat incumbent 36th Ward Ald. Gil Villegas in next month's election.
The 36th ward boundaries passed by City Council last year have been widely derided as an example of extreme gerrymandering, with some likening it to a "pool noodle" or a water slide along Grand Avenue. The oddly shaped ward stretches 8 miles from Montclare on the Northwest Side to Ukrainian Village and West Town.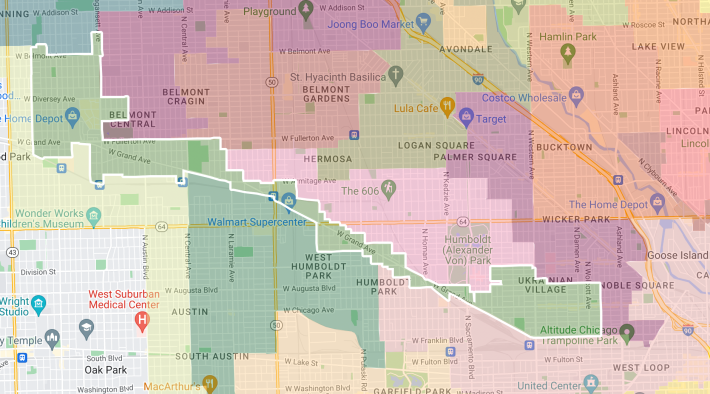 Villegas hopes to win his third term in City Hall, where he chairs the Latino Caucus. Challenging him are teacher Lori Torres Whitt, West Town resident David Herrera and community activist Jaqueline "Jackie" Baez.
The municipal election is Feb. 28, with possible runoffs April 4 if no candidate gets more than half of the vote.
The candidates: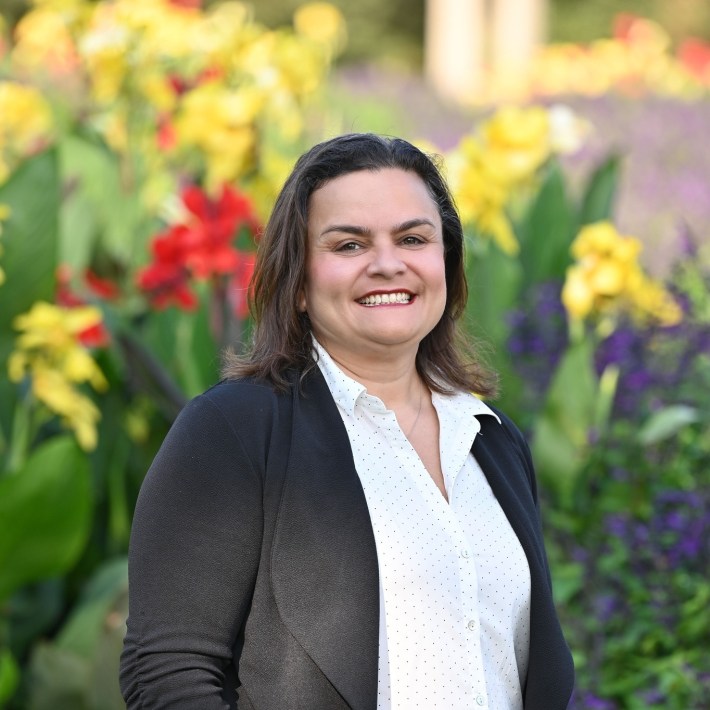 Leonor "Lori" Torres Whitt
A Humboldt Park resident, Torres Whitt has been a Chicago Public Schools teacher for more than 20 years. She works as a Spanish teacher at Monroe Elementary in Logan Square.
Torres Whitt has been endorsed by several progressive groups and politicians, including the Chicago Teachers Union and United Working Families.
"I definitely am the progressive candidate on the ballot for the 36th Ward," she said. "I'm not tied to corporations, and I'm not tied to businesses. I'm tied to the people that have anchored me in this community for many years."
Torres Whitt said her top priorities as alderperson would be education, public safety and access to city services. When approaching public safety solutions, she'd work to strike a balance between direct intervention and long-term investments, she said.
"We have issues we need to deal with today. And in order to fix this longterm, we have to invest long-term and investment comes in many forms," like providing mental health resources to community members and police officers, she said.
Torres Whitt said she'd also partner with local elected officials to open satellite ward offices so residents can access city services across the 8-mile 36th Ward.
Gilbert "Gil" Villegas
Villegas has served on City Council since 2015 and was Mayor Lori Lightfoot's one-time floor leader. He unsuccessfully ran for Congress last year in the newly created Illinois 3rd District, losing to state Rep. Delia Ramirez.
At recent community meetings, Villegas has emphasized his background growing up in public housing and fighting in the Gulf War as a Marine. He pushed last year for the city to reinstate its Office of Veterans Affairs and has long been vocal about the need for City Hall to hire more Latinos.
After a ward map Villegas and other Latino Caucus members backed last year failed to advance, he slammed the new 36th Ward boundaries, saying it "disenfranchises" Northwest Side neighborhoods and "disrespects" the Latino community.
But Villegas has since embraced what could be part of his new territory. In September, he opened what he called a "satellite ward office" on Chicago Avenue to connect residents with city services.
"Whether you live in … Ukrainian Village or Belmont Cragin, we're going to provide a service. And that's what we've done where I've been alderman in that current area where I have five different neighborhoods, same thing" in West Town, Villegas said in September.
Villegas has also endorsed a plan to reopen the closed 13th Police District in West Town, which was closed in 2012 as part of a citywide consolidation of police resources.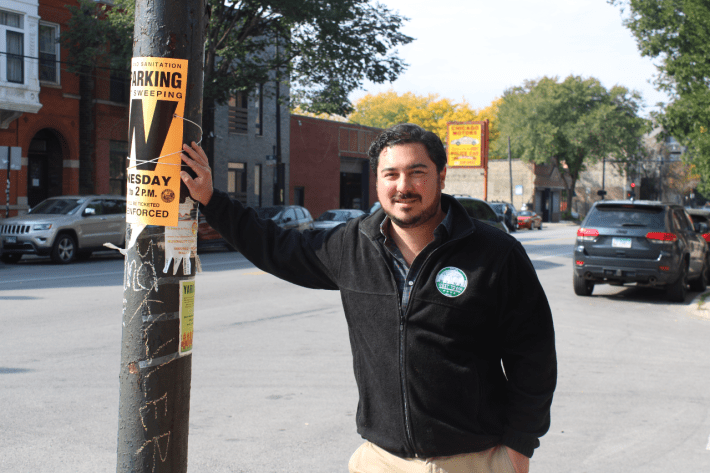 David Herrera
A West Town resident, Herrera has a background in municipal finance, consulting and real estate. He's also been involved in several developments in recent years, including redeveloping his family's two-flat on Chicago Avenue and a now-stalled proposal to build a Latin dance hall and supper club in Humboldt Park.
To combat crime in the ward, Herrera supports reopening the 13th Police District and sponsoring private security patrols in the West Town area, partially funded by aldermanic menu money, he has said.
And in response to the elongated 36th Ward boundaries that follow Grand Avenue, Herrera said he'll make the street his "pet project" by rezoning stretches to incentivize development and improve pedestrian safety.
Speaking to Block Club in the fall, Herrera said his long experience in the West Town portion of the 36th Ward is the impetus behind his campaign.
"Why run? This is my community. I do know it better than Villegas. Hands down, I know better. I know it better than most. … I care for my neighborhood. I care for my community. I care for my city," Herrera said. "This is my backyard."
Herrera unsuccessfully ran for 26th Ward alderperson in 2019, coming in third behind Theresa Siaw and incumbent Ald. Roberto Maldonado.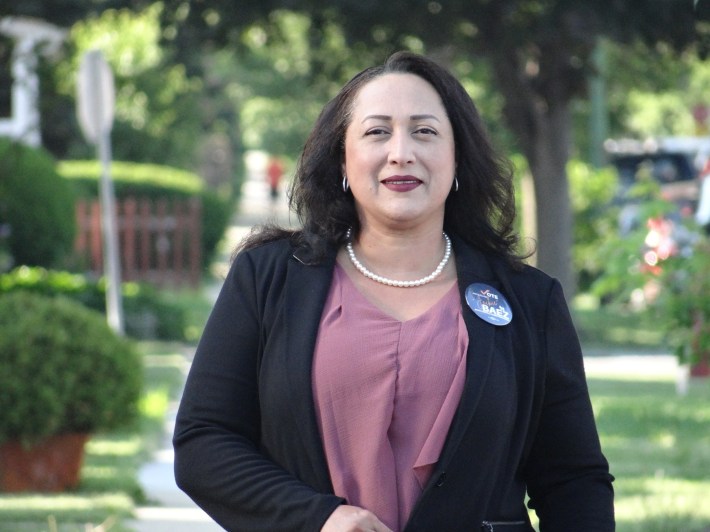 Jacqueline "Jackie" Baez
A Montclare resident and community activist, Baez serves on the Cook County Commission on Women's Issues, a volunteer body that advises the Cook County Board on policies and programs. She also served as president of the Humboldt Park Advisory Council, which in recent years been enveloped in controversy and infighting. In 2021, Baez accused previous council board members of mismanaging park funds, a charge some of those members denied. The Park District's inspector general later found no proof of financial misconduct among former board members, according to its 2021 annual report.
Baez said the No. 1 issue 36th Ward voters are concerned about is public safety. As alderperson, Baez will focus on improving communication about crime between police and neighbors, and she will work to provide more "resources, training and support" to police officers, she said.
"It takes all of us, it takes a village. It takes good communication between police and community," Baez said. "Obviously, we need [more] police officers, right. But that's not going to fix it all. I think the communication between the police and the community, it's what's most needed."
Baez also ran last year for Democratic State Central committeewoman in Illinois' 3rd Congressional District. She came in third behind Iris Martinez, Circuit Court of Cook County clerk, and now-Rep. Delia Ramirez, who won the election.
Listen to "It's All Good: A Block Club Chicago Podcast":