UKRAINIAN VILLAGE — A Northwest Side alderperson has opened what he's calling a "satellite ward office" in Ukrainian Village to connect residents with city services — even though the neighborhood wouldn't be in his ward unless he's reelected next year.
Ald. Gilbert Villegas (36th) opened the office last week at 2246 W. Chicago Ave. It's part of Ald. Brian Hopkins' 2nd Ward.
This year's City Council redistricting process transformed the 36th Ward into what some have called a "pool noodle" or "water slide" ward, stretching 8 miles from Sayre Avenue in Montclare down Grand Avenue to include most of Ukrainian Village and parts of West Town. Villegas' new office will eventually sit within those boundaries.
But aldermen won't represent constituents of the new wards until May, after the municipal election. Until then, incumbents must provide city services to constituents in the old ward boundaries.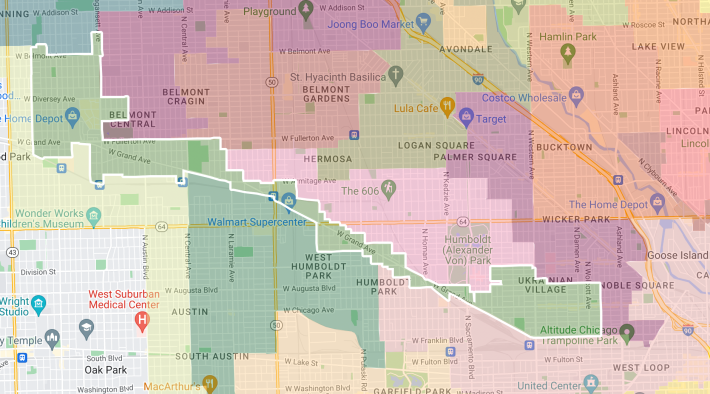 Even so, Villegas is encouraging locals to reach out to his office for help with city-related issues. He is seeking reelection for a third term representing the 36th Ward.
"It's a constituent service office. So from 9-2 we'll be dealing with service issues, and then after hours, since I am paying for it, I have the flexibility of transitioning to whatever it is I want to use it for," including campaign purposes, Villegas said.
Villegas said he sees the satellite office as a way to provide an extra hand to residents who could be his future 36th Ward constituents, even though they already have existing representation in City Council.
"I'll say that I've never heard anyone say, 'Hey, there's too many people trying to help us,'" Villegas said Monday. "Here's an area that's going to be transitioning. Might as well get constituents used to what it is that we do, how we provide services and allow them an additional resource to address whatever issues they have."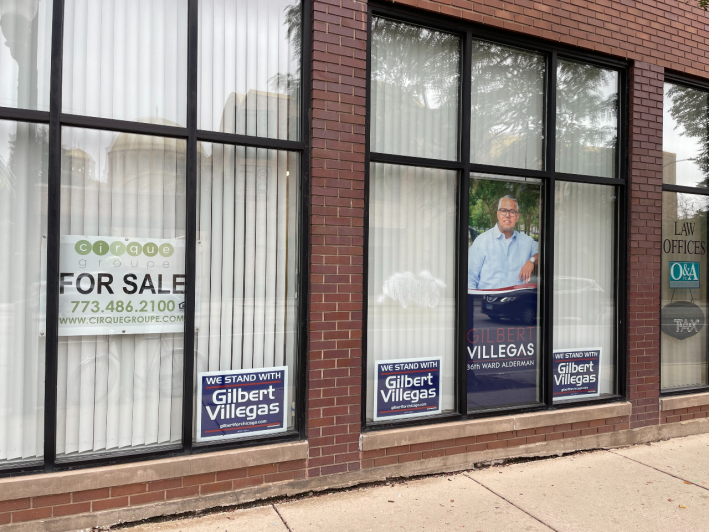 Hopkins, who has represented the area since 2015, said Villegas reached out to him several weeks ago about the office. He said he had no problem with Villegas fielding service requests, even if he's not the "alderman of record" in the neighborhood.
The 2nd Ward will shift east of the Chicago River under the remap.
"This neighborhood remains an area that I'm particularly fond of. I've enjoyed representing them for two terms, and I want to make sure I leave them in good hands," Hopkins said. "So the fact that he's willing to start now, to try and learn the landscape a little bit and familiarize himself with the community's needs, I thought that was a positive thing. And I told him I would not object to him doing that."
Hopkins said his staff have worked with Villegas' to tackle existing issues and new ones.
"When it comes to service requests, most people don't really care who gets the job done as long as the job gets done. So his staff has been working very closely with me on all of these service requests," Hopkins said.
But Ald. Daniel La Spata, whose 1st Ward also includes parts of Ukrainian Village, said Villegas' presence in the area could make it confusing for residents seeking basic assistance from the city.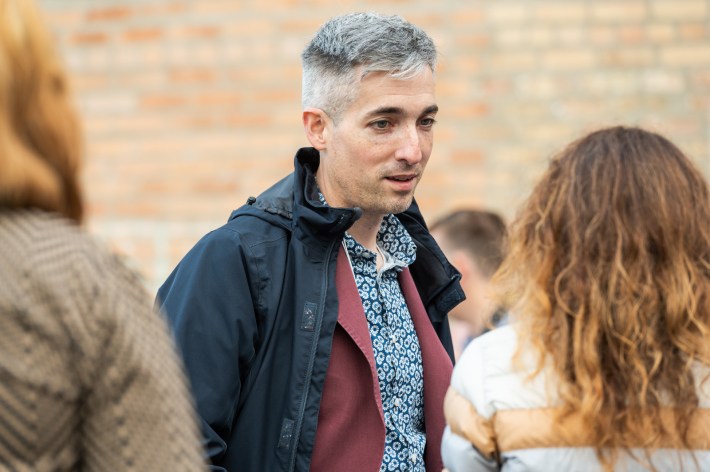 The satellite office sits just feet from the 1st Ward boundary, which currently weaves from Logan Square through Wicker Park and parts of Ukrainian Village.
"The fact is is that Ald. Villegas is not the alderman in that area," La Spata said Tuesday. "There's a world where Ald. Villegas, to be frank, is never the alderman in that area. And I know that city services are confusing enough for folks. The map layouts are confusing enough without aldermen operating in areas that are not their wards."
La Spata said he's open to working with Villegas on issues in the neighborhood. But he said that anyone living in the current 1st Ward should go directly through his office for any city questions or services.
"I just want our residents to be clear that I am their alderman. Ald. Hopkins is their alderman. We are committed to serving them. The 36th Ward, as it currently is and will be until May, is nowhere near [Villegas'] area," he said. "We're not going anywhere. Our commitment is to the highest quality services we can offer for every current 1st Ward resident."
In an email Tuesday, Steve Berlin, Chicago Board of Ethics executive director, said he was not authorized to give an opinion on whether the satellite ward office violates the city's ethics ordinance.
Berlin said the Board of Ethics "has not addressed whether or how the Ordinance might apply to a situation in which a City Council member purports to deliver city services to residents of a different ward from that of which the member is the current alderperson."
Villegas has served on City Council since 2015 and was Mayor Lori Lightfoot's one-time floor leader. He unsuccessfully ran for Congress this year in the newly-created Illinois 3rd District, losing to state Rep. Delia Ramirez.
When the final city ward map emerged this spring, Villegas initially slammed the elongated boundaries of the new, 8-mile 36th Ward, saying it "disenfranchises" Northwest Side neighborhoods and "disrespects" the Latino community.
Now, as Villegas runs for reelection, he's begun pitching himself to his potential future constituents.
In addition to opening the satellite office last week, Villegas has been making the rounds to speak at neighborhood groups in Ukrainian Village and West Town.
Villegas spoke at a Monday meeting of the East Village Association at Roots Pizza, 1924 W. Chicago Ave., where he introduced himself and took questions about public safety and infrastructure priorities.
Villegas talked about his youth growing up in Chicago public housing, working as a truck driver and his priorities since getting elected to City Council.
In an interview after the meeting, Villegas said he's working to prioritize "the whole [36th] ward," even though boundaries have not yet officially shifted.
"The reality is, is that there's 58,000 constituents that live in the ward and whether you live in … Ukrainian Village or Belmont Cragin, we're going to provide a service. And that's what we've done where I've been alderman in that current area where I have five different neighborhoods, same thing here," he said.
The Chicago municipal election is Feb. 28, with possible runoffs April 4.
Listen to "It's All Good: A Block Club Chicago Podcast":