HUMBOLDT PARK — At the mouth of Humboldt Park's Paseo Boricua, steps from the iconic Puerto Rican flags, is an old church building that could soon see new life as a supper club and concert hall inspired by Latin countries around the world.
A group called Division Street Hospitality is aiming to open the $10.5 million supper club/concert hall, named Radio Rumba, at 2435 W. Division St. Edwin Rios, former owner of the now-defunct River North Latin club Rumba, real estate developer David Herrera and marketing professional Cesar Rolon lead the group.
Radio Rumba aims to not only celebrate Puerto Rican culture, but also to celebrate Latin countries around the world.
"You invite the Colombians, Argentines, Cubans and you can slowly build out another restaurant row like Randolph Row," Herrera said.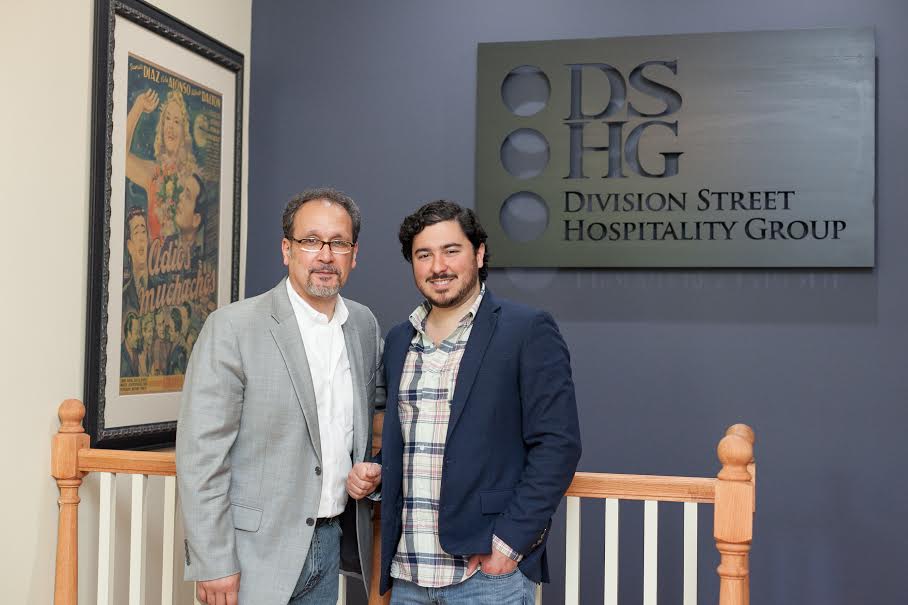 Rios, whose family is originally from Puerto Rico, said he envisions Radio Rumba as "a place for lovers."
"It's intended to keep people dancing. The intent is very much a Caribbean high energy dance experience," he said.
The group is currently under contract to buy the building, the home of Rebano Church since 1986. If the deal goes through, the next steps would be to secure city permits and zoning approval. The latter requires support from Ald. Roberto Maldonado (26th), whose ward includes the site.
Rios said they've met with the alderman, as well as Jose Lopez, Humboldt Park's unofficial community leader, and both of the leaders gave their blessing.
"We would not be able to take the first steps without the alderman's and Jose Lopez's support," said Rios, who has ties to U.S. Rep Luis Gutierrez (D-Ill.), whom he described as family, though the two aren't blood-related.
Reached by phone, Lopez said he fully supports the Radio Rumba project.
"It's something that's a welcome addition to what we're trying to do: promote economic development and preserve culture," Lopez said.
Maldonado couldn't be reached for comment. The pastor at Rebano Church didn't immediately return a message. 
Both Rios and Herrera have personal ties to Humboldt Park. Rios, whose family is from Puerto Rico, spent a lot of time in Humboldt Park growing up; he has vivid memories of watching people salsa dance in La Bruquena, an eatery with deep Puerto Rican roots on Division Street. Herrera's family has lived in the area around Smith Park, along the West Town/Humboldt Park border, since the early 1960s. His family is Puerto Rican, Spanish, Mexican and Dominican, he said. 
"Everybody thinks guns and gangs" when they think of Humboldt Park, Rios said, but that's a misconception.
"That is totally nonexistent where we're located. We battle with that on many levels," he said.
With the supper club/concert hall, the goal is to liven up Division Street, but also enhance the rich culture that's already there, Rios and Herrera said.
More specifically, the plan is to convert the roughly 12,000-square-foot first floor into a supper club, where folks can dine, dance to live music performed by both local and regional musicians and get drinks from the bar — but not necessarily in that order.
"It's the supper club experience. You order dinner, and then, as the music changes, you go up for a dance, or in between courses you go up for a dance," Rios said. "It is intended to integrate the dining experience with dancing. There's not a better romantic night out."
The second floor, also roughly 12,000 square feet of space, would primarily serve as the concert hall, hosting Latin musicians from around the world. Tickets would cost anywhere from $25-$45.
Rios said to expect "Grammy-award winning artists that don't get stage space in the city," like a Latin horn player who is the best in his class, but can't book a Friday or Saturday night show at a venue like the House of Blues.
"We're capitalizing on an untapped market in a major city," Herrera said.
The second floor would also host weddings and corporate events. In back of the club, the group is planning to build a recording studio for partnering with broadcast media outlets like WBEZ on recordings.
The group is currently applying for Tax Increment Financing funds on top of soliciting private investments to fund the estimated $10.5 million project. 
If all goes according to plan, the group expects to start construction toward the end of the summer and open sometime next spring.
The Radio Rumba project is part of a much larger vision the group has for that stretch of Division Street. In fact, the supper club/concert hall project is only "Phase One" in the group's three-step plan to transform Division into the city's first "Latin District."
Eventually, the group would like to open a series of bars, each with its own distinct Latin flavor, as well as a rum distillery — all next to Radio Rumba on Division Street. A hotel and a shuttle bus system, catering to folks from outside of the neighborhood, are also part of the vision.
"You've got families that come to Chicago every summer and do the same thing — Cubs games, river tour," Herrera said. "Well maybe they'd want to check this out."
Rios said they want to bring everyone — not just people of Latin descent — to Division Street.
"If we built it for a Latin audience, we'd be shortsighted and foolish," Rios said. "It's an international market we're going for."