LOGAN SQUARE — Chicago Public Schools' watchdog has substantiated allegations against more than a dozen teachers, administrators and staffers in the Marine Leadership Academy sexual abuse scandal that came to light in 2021.
Half of those school employees — eight out of 16 — have resigned or been fired by CPS since the start of the investigation, according to a new report from the office of William Fletcher, the Chicago Public Schools inspector general.
The inspector general's office released its annual report early Thursday, providing an update on wide-ranging misconduct at the Logan Square military academy and college-prep high school, 1920 N. Hamlin Ave., along with the results of other investigations into employee wrongdoing and mismanagement across the district.
A CPS investigation into Marine Leadership Academy revealed a pattern of systemic sexual abuse dating back to 2016, with employees and volunteers having inappropriate relationships with students.
The investigation, detailed in previous inspector general reports, also found several staffers and administrators, including the school's former principal, knew about the misconduct but failed to report it.
District officials also came under fire for failing to act. The inspector general has contacted the Illinois Department of Children and Family Services at least 22 times since 2019 about allegations at the school.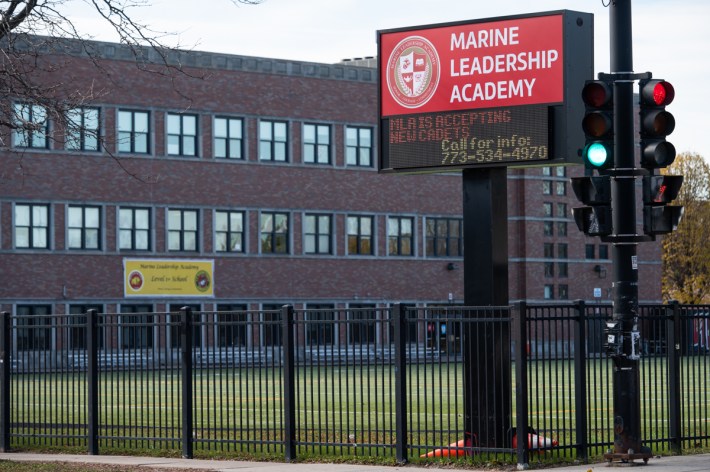 In its latest report, which covers the 2021-22 school year, the inspector general's office said it investigated allegations against 29 employees of Marine Leadership Academy, finding that three teachers sexually abused, sexually harassed or groomed students, and 13 other employees — a mix of teachers, administrators and staffers — didn't take proper steps outlined in CPS policy to keep students safe.
The inspector general said CPS' Office of Student Protections, which was created in 2018 to investigate allegations of sexual misconduct, needs to "play an active role at the school and assist the current administration in correcting the culture."
All military staff should receive "thorough" training and "observe strict social and emotional boundaries with students," and the local and federal branches of the Junior Reserve Officer Training Corps should be promptly notified if future allegations involving a military staffer don't result in the staffer's removal, according to the report.
In an emailed statement, CPS said it has taken action against school employees who "engaged in wrongdoing."
Sexual assault allegations made up the largest share of last school year's inspector general complaints.
The inspector general's office received 1,825 complaints last year, alleging employee misconduct, fraud and financial mismanagement, among other things. Of those complaints, about 26 percent — 470 — involved sexual allegations, according to the report.
In one, a charter school administrator invited a student to see a musical Downtown, texting him, "you don't say no when [someone in the administrator's position] asks you to go somewhere." While driving the student home, the administrator touched the student's genitals, according to the report.
The abuse continued as "a years-long quid pro quo sexual relationship that included a large amount of cash, expensive trips, rent payments and employment with the charter school," the report said.
"For the better part of 10 years I was under this man, isolated and threatened by things he would take away from me if I did not do what he said," the student wrote on social media and confirmed in interviews with the inspector general.
Thanks to new procedures and better collaboration with partners such as the Office of Student Protections, the inspector general's Sexual Allegations Unit was able to close more than 300 cases in 2022 than it did the previous year, according to the report.
The unit made "more determinative assessments about complaints more promptly than in any period in its four-year history," according to to the watchdog agency.
On sexual assault allegations, CPS officials said they are "committed to making several policy improvements to help prevent future misconduct," according to the district's statement.
"As a District, we take seriously our responsibility to serve our families with integrity and to address individuals who breach CPS policies and the public's trust and hold them accountable," CPS spokeswoman Mary Fergus said.
The inspector general's report detailed several other findings from the 2021-22 school year.
Districtwide, schools are marking truant students as transfers or "lost" so those absences won't count against attendance rates. At one elementary school, 20 students were misclassified in one year, the report said.
CPS is creating a special team to address "improper use of leave codes and the documentation of transfers and dropouts" that will educate schools about properly logging truancy and transfers, officials said in the statement.
"Extra pay," or supplemental pay for work beyond the regular work day, hit a five-year high, and stipend spending skyrocketed, according to the report. Spending increased as CPS received an influx of federal pandemic relief funds.
"Excessive Extra Pay can be a red flag to possible fraud, an indication that legitimate Extra Pay opportunities are not being equally or fairly distributed, or a sign that an additional position should be opened. But first, to assess all this, CPS needs to better monitor Extra Pay," the report said.
In the statement, CPS officials said they are doing quarterly audits of extended day pay, overtime pay, and stipends beginning this month to "ensure adherence" to district policy.
School clerks are also being required to complete training around the CPS payment system, district officials said.
In response to a 2020 story by Chalkbeat and the Illinois Answers Project, the inspector general's office investigated a $1.6 million deal to buy computers from Mayor Lori Lightfoot's campaign donor early on in the pandemic, finding no evidence of malfeasance.
Read the full report:
Watch our "On The Block" TV show on The U, CW26 and MeTV.
Listen to "It's All Good: A Block Club Chicago Podcast":