AUBURN GRESHAM — When Tuesday Tanksley arrives at her South Side restaurant in the morning, she sometimes has customers ready to follow her through the door. 
Tanksley opened Fifty-One 50 Fusion, 7354 S. Ashland Ave., in December with her business partner, Latrell Gayden. Every day, she whips up "twisted" creations like the Amazing Cheeseburger, Most Tender Rib Rack and Jazzy Jerk Soup. Tanksley named every item on the sweeping menu. 
Tanksley's story begins in her grandmother's kitchen in Englewood, where she cleaned chitlins and picked greens over the sink when she was just 10. She's worked for national brands, launched a catering business and built a following for her freshly mixed sauces and hand-squeezed juices. 
Now, at the restaurant in Auburn Gresham, Tanksley is ready to show neighbors the magic in exploring their food palette, she said.
"A lesson I learned from my grandmother's kitchen is to stay determined and cook from the heart," Tanksley said. "You have to cook from the soul with love. I take my food to a whole other level. It's everyday food; we just put a twist on it."
'It Has To Be So Good It Makes Your Big Toe Stand Up'
When Tanksley used to run to her grandmother's kitchen to learn the sorcery behind her favorite soul food dishes, her grandmother had one rule, Tanksley said. 
"She used to say, 'It has to be so good it makes your big toe stand up,'" Tanksley said. 
Tanksley didn't know what the saying meant — she still doesn't, she said. But her grandmother's words were law. 
By high school, Tanksley was doing hair, styling box braids, sew-ins and silk presses for her classmates, she said. But her love for cooking at home never faded, she said. 
Tanksley always knew she "wanted to do something in the art field," she said. She coupled that passion with her love for food to pursue a career as a food stylist. She studied at Kendall College and the Chicago Food Depository.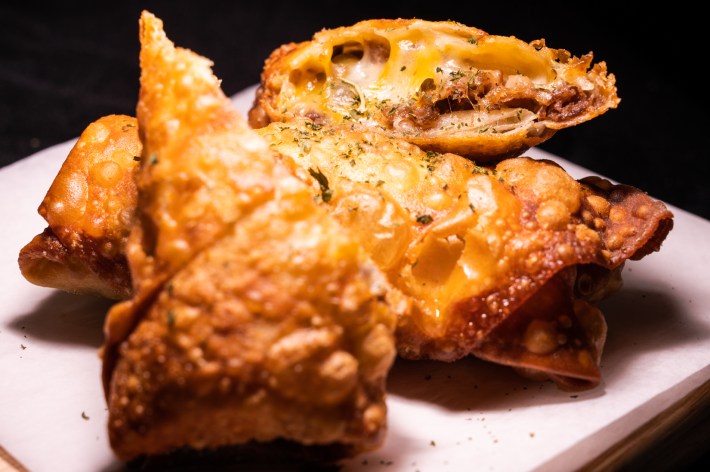 Tanksley's life switched gears on her 26th birthday, when she threw a party with food she'd prepared, she said. Tanksley served trays of fruit carved by hand, macaroni and cheese, baked chicken and potatoes with green beans. 
All night, people asked from where Tanksley had catered the food, she said. They were in disbelief when she told them she'd prepped, cooked and plated the meals herself, all in time to celebrate, Tanksley said. 
Tanksley "believes in the number three," she said. It's her favorite number, and "great things happen in threes," she said. 
When two people at the party encouraged Tanksley to start her catering business, she brushed it off, she said. When a third friend asked her to cater her mom's wedding, Tanksley knew it was fate, she said. 
Tanksley launched Exquisite Kuisine's By Day Inc., a catering business, nearly a decade ago. She split her time between full-time jobs and catering for hospitals, private parties, weddings and birthday parties, she said.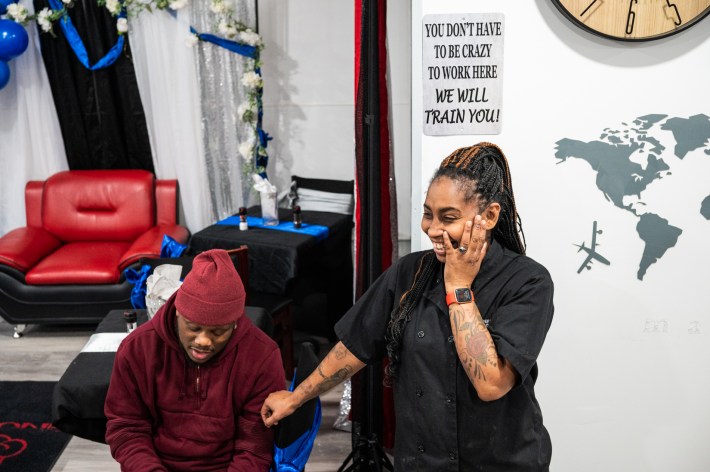 'I Wanted To Walk Away'
By the time Tanksley met her business partner, Gayden, nearly six years ago, she was "tired of working for the man," Tanksley said.  
The catering business had slowed down, and Tanksley had started dreaming of opening a business where she could serve custom dishes, she said. At Au Bon Pain, where she worked, her managers called her an "out of the box" chef, she said.
Gayden "stayed on me when I worked at Au Bon Pain," Tanksley said. "When I would complain about work or wanting to do something different, he'd ask me why I wasn't doing it then." 
At the start of the pandemic, Tanksley "hit the ground running" and started looking for a spot of her own, she said. 
Gayden would text her potential restaurant names, Tanksley said. One stood out among the messages: Fifty-One 50, slang for "crazy."
"I remember I was sitting at home when I saw the message," Tanksley said. "He came up with the name Fifty-One 50 Fusion because he said I'm crazy and all of my food is out of the box. We added fusion because of the combinations of food intertwined on the menu. It's fused, not infused. There's a difference."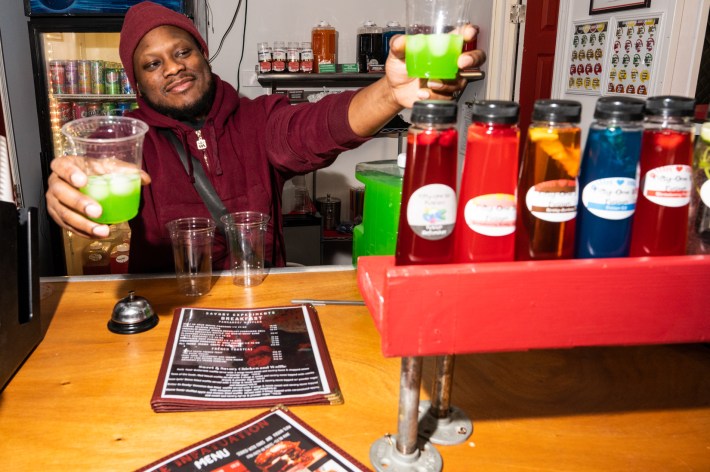 In October of 2020, Tanksley and Gayden found their first home for Fifty-One 50 Fusion at 1849 E. 79th St., she said. A few weeks later, the state banned indoor dining. Business slowed to a crawl, Tanksley said.
In the two years after the opening, Fifty-One 50 Fusion built a small following, but the business never picked up in the way they wanted it to, Tanksley said.  
Gayden and Tanksley started searching for a new location on the South Side where the business might thrive, Tanksley said. In May, a new owner bought the East Side building and gave them notice to leave by the end of July, Tanksley said. 
"I wanted to walk away from this business when we had to leave 79th Street because it was so hard," Tanksley said. "We did so much over there, and then to start all over? I just wanted to give up."
Gayden wouldn't let her, Tanksley said. He found their new location in Auburn Gresham at 7354 S. Ashland Ave., and they remodeled the space in three months with his father to give Tanksley the large kitchen, dining room and take-out room she'd always wanted, she said. 
Gayden and Tanksley celebrated the soft opening of their restaurant in November. In December, they invited Ald. David Moore (17th), whose ward includes the neighborhood, for a grand opening celebration.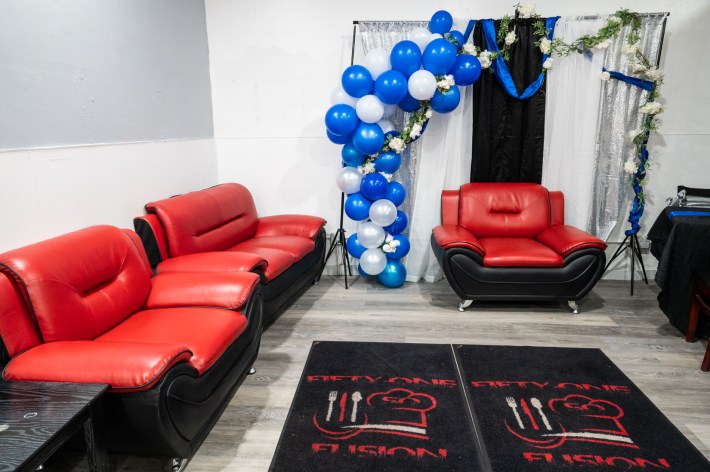 'Live To Eat And Eat To Live'
When long-time customer Valdi Purnell visits Fifty-One 50 Fusion, he already knows what he wants, he said: Hennessy wings, macaroni and cheese and New Orleans stuffed eggrolls.
No dish is the same, and that's exactly what Tanksley loves about her restaurant, she said.
"You have so many restaurants that are focused on soul food," Tanksley said. "Once you're tired of it, you don't go there anymore because you don't want it. By us being a fusion restaurant, we're giving you an opportunity to taste so many different cuisines."
Tanksley has no plans of slowing down any time soon, she said. Cooking at her restaurant has become such an integral part of her life that she's tattooed a picture of herself on the grill on her arm. Soon she'll add a tattoo that says "live to eat and eat to live," she said.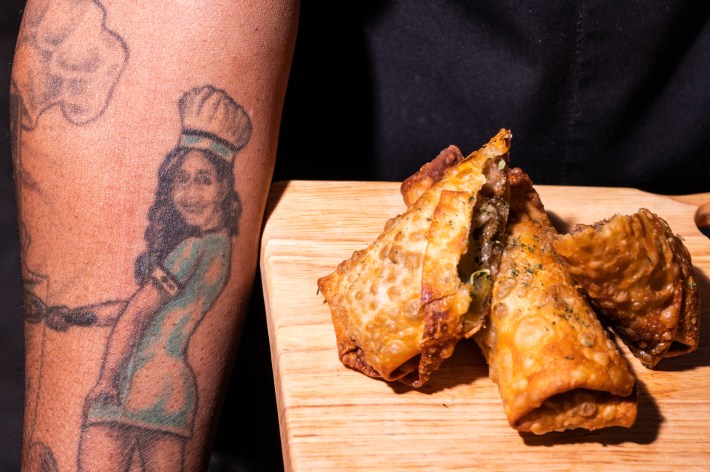 One day, Tanksley would love to have three restaurants — her lucky number. When she's ready to retire, she'll hand down the restaurant to her grandchildren, she said. She has three of those, too.
"My greatest lessons learned as a business owner and chef have been determination, staying focused, staying grounded and staying true to who you are," Tanksley said. "Going forward, I hope our name blows up."
Fifty-One 50 Fusion is open 11 a.m.-7 p.m. Tuesdays and Friday-Saturday and 11 a.m.-3 p.m. Wednesday-Friday.
Listen to "It's All Good: A Block Club Chicago Podcast":