UPTOWN — The neighborhood's newest bar-restaurant opened last week, taking over a vacant spot that previously held Godfather's Pizza.
Uptown Taproom opened Friday at 1265 W. Wilson Ave. It is the third outpost for Neighborhood Taprooms, which debuted in 2020 with Lakeview Taproom and opened Lincoln Square Taproom in 2021.
The bar and eatery takes over a Wilson Avenue location that was home to Godfather's Pizza from 1966 to 2018. The building still contained Godfather's massive, midcentury-era pizza oven coveted among pizza makers across the country.
Uptown Taproom founder Andrew Pillman sought a new owner to take the cherished pizza oven off his hands, hoping it could still be put to use rather than go into a landfill. He found just that in a restaurateur who is planning to revive some closed Leona's restaurants in the city, Pillman said.
The oven, capable of cooking 30 pizzas at a time, will be put to use in one of the restaurants.
"There was a crew of three people, and it took them three days to disassemble it and take it out," Pillman said. "It's getting refurbished."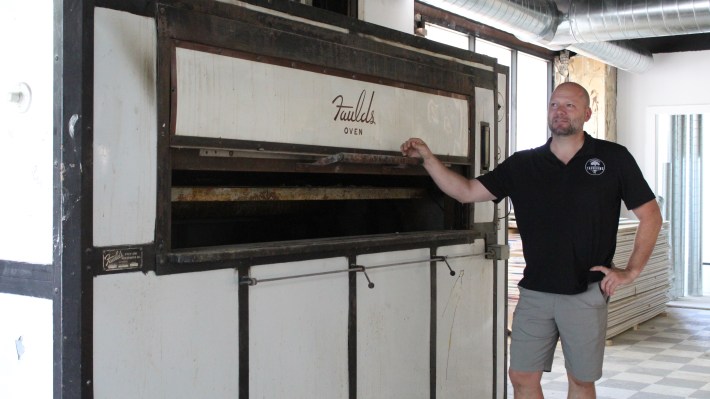 Unlike its sister location, Uptown Taproom has a full kitchen, a full bar and a community room, Pillman said.
The bar has 16 draft beer lines, 15 of which pour beers made within the city limits, Pillman said. There is a house cocktail menu and a seasonal cocktail menu as well.
The food menu from chef Sam Stoddard is anchored by a "super smash burger" that contains two patties, cheddar cheese, roasted garlic aioli, frizzled onions, lettuce, giardiniera relish and a brioche bun. It also offers tacos, traditional bar food appetizers and salads.
Uptown Taproom's community and events space will host comedy shows and other entertainment, including live music, Pillman said. A program coordinator will be hired early next year, Pillman said.
The space already has been used for a birthday party and will be available to reserve for other parties and community events, Pillman said. The owner said he is happy to see the business already being put to use as a gathering space for locals.
"We're neighborhood focused," said Pillman, who lives in Uptown. "We've seen a lot of support from our neighbors."
Uptown Taproom is 3-11 p.m. Monday-Thursday, 11 a.m.-midnight Friday-Saturday and 11 a.m.-10 p.m. Sundays.
Listen to "It's All Good: A Block Club Chicago Podcast":