CHICAGO — It's a hot summer day in Chicago, and Officer Goodnight is poised for a standoff. 
A teen is in the driver's seat of Goodnight's police car, leaning out the window and pushing the gas pedal. Down the street, Goodnight's partner, Officer Turner, is facing a different crisis: Which snow cone flavor should she pick? 
Season three of "South Side," the comedy that found a home on HBO after a season on Comedy Central, begins with the shenanigans and humor that drew viewers into the lives of Chicagoans on the come-up. 
Spotlighted between the effortless jokes and ad-lib-like lines are Chicago landmarks, bound to make any local jump from their chair with a snap and point. 
Ashburn's Ford City Mall, West Woodlawn's Daley's Restaurant and Harold's Chicken Shack on 63rd Street are just a few locations at the center of key scenes. Characters cruise down Ashland, Cicero and Vincennes in police cruisers and Rent-To-Own trucks. There are shots of the iconic Pride Cleaners sign in East Chatham and a visit to Joey's Red Hots in Morgan Park. 
Chicago's neighborhoods and the landmarks that define them shine as "South Side's" "recurring star," co-creator Diallo Riddle said. 
"We're giving Chicago the spotlight," said co-creator Bashir Salahuddin, who plays Goodnight. "We're really showing off the city, but we're also showing off the writing and pushing the boundaries. … It's about letting Chicago speak for itself. Anytime we have a chance to let the city speak for itself, we do."
The first two episodes of Season 3 of "South Side" are available to stream on HBO.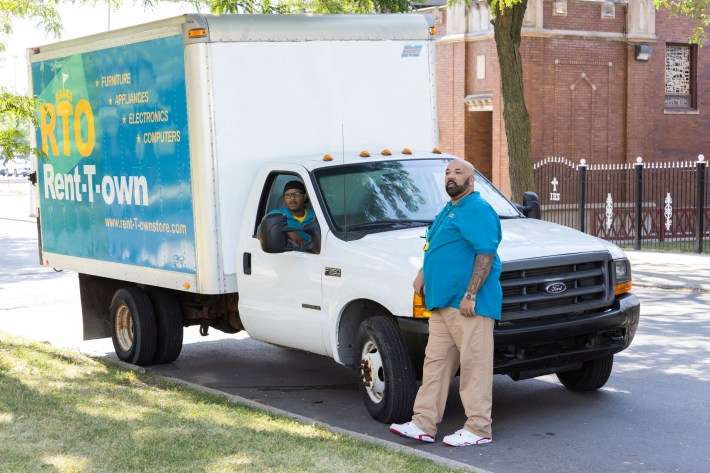 When everyone behind a show about Chicago is from Chicago, you have no choice but to get it right, and that verisimilitude bleeds into every part of the show, star Sultan Salahuddin said. 
Bashir Salahuddin grew up in South Shore and Chatham and attended Whitney Young High School. Almost everyone on the writing team grew up on the South Side except for one person from the North Side, "and we give him a lot of s—," Riddle said. 
Chandra Russel, who portrays the stylish Turner, grew up in Englewood, taking the Red Line every day from Garfield to Fullerton to attend Lincoln Park High School. Sultan Salahuddin and Kareme K. Young, who play hilarious duo Simon and "K," went to the Chicago High School for Agricultural Sciences in Mount Greenwood. 
"Anybody who's a fan of comedy can enjoy ["South Side"], but if you're from Chicago, you can enjoy it exponentially," Sultan Salahuddin said. "Other shows talk about their cities and all that stuff, and I think it's really important for us to be true to our city and show the humorous side of our city. We keep it one hundred to Chicago."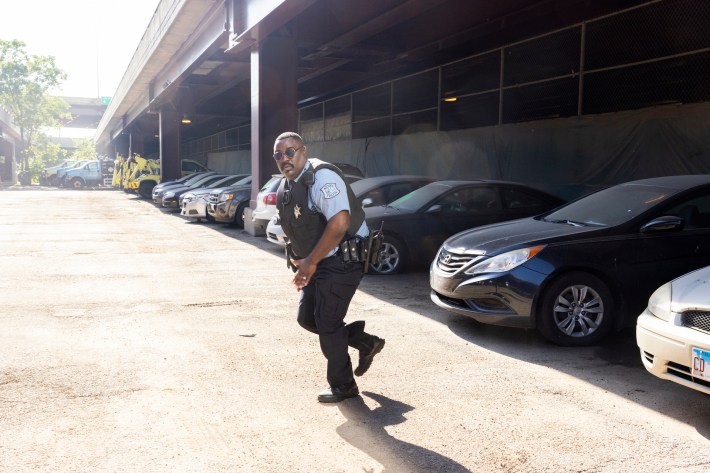 Representing Chicago's neighborhoods and "all the different flavors of the South Side" comes down to the details, director Michael Blieden said. 
When characters are at a home on the West Side, you'll know it's valid because the house will have a fence, a detail true to many homes in the community. On the South Side, houses have a "front entryway that goes up on a platform," Blieden said. 
'We're very diligent about representing not only the actual street corners on the South Side, but the iconic places on the South Side, the overpasses, the murals and the architecture," Blieden said. "We try to be specific about not only the type of architecture … but also the variety. Beverly looks different than Ashland, where [Rent-To-Own] is." 
Creating a universal experience while simultaneously emphasizing details only Chicagoans could know is what makes "South Side" so unique, Blieden said. 
In the premiere episode of season three, Goodnight traverses to the dreaded city pound at 500 E. Wacker Drive — on the lower level.
Anyone can relate to the anger of obtaining a car wrongfully impounded, but having to navigate Lower Wacker is a Chicago "rite of passage," Riddle said. The scene pulls from personal experience — he also had his car towed there. 
The scene changes gears when Turner offers an obstinate employee a meal from Portillo's. He doesn't say what he wants, but he asks for it to be "double dipped," an ode to the only way to enjoy an Italian beef. 
"Really good television evokes two contradictory but simultaneous reactions from an audience," Blieden said. "One is 'Oh my God, I've never seen this before,' and the other is 'Oh my God, this is my life.'"
It takes a "smorgasbord" of people and talent to nail the charm and precision "South Side" gives viewers in 30-minute increments. But the sporadic, hilarious show is a love letter to the city's neighborhoods and the people who drive it, its creators said. 
"I'm from the South Side, and I really wanted to make sure that people" saw that, Bashir Salahuddin said. "One of my favorite compliments is when people who aren't from Chicago watch the show, and they love it and say, 'This is my favorite show.' And then people who are from Chicago, they have a little bit of extra. 
"For us, we felt like there wasn't anything to say. We should just show it."
"South Side" airs Thursdays on HBO Max.
Listen to "It's All Good: A Block Club Chicago Podcast":