BUCKTOWN — Jimmy Marchan has delivered mail and packages across a stretch of Bucktown near Armitage Avenue for 15 years.
Along the way, Marchan's developed relationships with neighbors while chatting about baseball, worked long hours during the pandemic and holiday seasons and gone the extra mile to make sure deliveries end up in the right place.
Marchan said he's come to see his route as one of "the best in the city" because of the generous and friendly people he gets to deliver mail to every day.
"You see customers through good moments, bad moments and, you know, sad moments," Marchan said. "You live every kind of moment with your customers, you know?"
Until this fall, Marchan felt safe in the usually quiet part of the neighborhood he works in. But that changed in October when Marchan was robbed at gunpoint.
About 12:30 p.m. Oct. 20, someone came up to Marchan in the 1900 block of North Oakley Avenue, took out a gun and robbed him, police said.
Detectives are still investigating, and no one is in custody, the spokesperson said.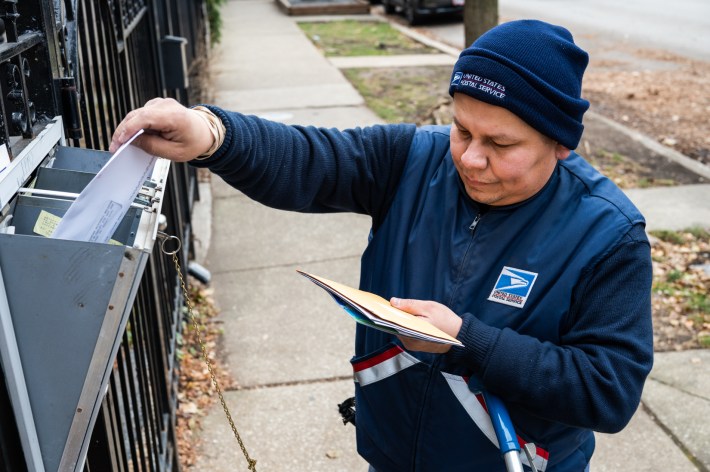 In an interview last week, Marchan declined to discuss the robbery in detail, citing the investigation and guidance from the Post Office. But he said he was seriously rattled by the incident, so much so that he ended up taking about a month-long leave of absence.
Neighbors along Marchan's route said they were shocked and outraged when they heard their longtime mail carrier had been so brazenly attacked. Almost immediately, many came together to hang homemade signs with messages of support outside their homes for when Marchan returned to work.
When it turned out he would be away for a few weeks, coworkers filling in for Marchan called him to tell him about the signs, he said. And when he returned to work the week after Thanksgiving, many neighbors put them up again to welcome him back.
For Marchan, that embrace from the community has helped ease the transition back to a route he hopes to work until he retires.
"I've been delivering here for 15 years, so I've known a lot of these people for that long, and it's a relationship where every day you see them. I mean, I practically see them as much as my family," he said.
The posters "make me feel great, it makes me feel like the customers really appreciate me, which I already knew, but now it's even more meaningful because I went through a bad moment."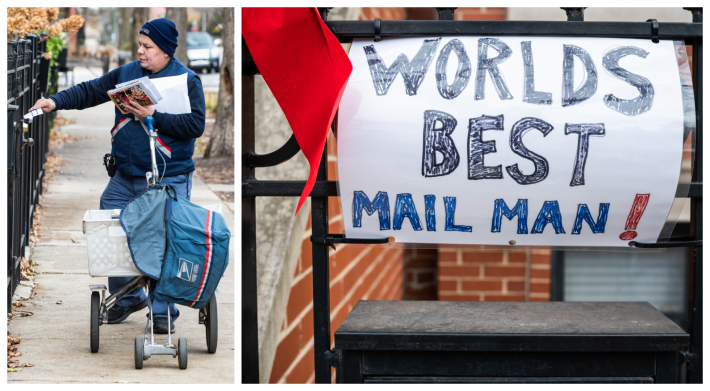 Marchan, 43, said he'd wanted to be a mail carrier ever since he was a kid growing up in the Logan Square area. He applied to the postal service after high school, and he has worked there for more than 20 years.
"It looked like a fun job, always being outside interacting with people, as I've always liked to interact with people," he said.
Marchan worked in different areas for the first few years of his career, and then he was assigned the Bucktown route in 2007, he said.
Neighbor Maura Daly has lived on Marchan's route since she moved to the neighborhood more than a decade ago, and the two have gotten to know — and rely — on each other.
"Jimmy is a fixture of the community. He is one of the hardest working civil servants you can ever come across," Daly said. "Whether it's 100 degrees and sunny or minus 30 and freezing, he never skips a beat, no matter what the weather looks like."
Daly said Marchan will often check with her when he has mail for someone who might have moved away to make sure it's getting to the right place. And when he cut his hand on a neighbor's mailbox, Daly brought him into her home to patch him up.
"And he went straight back to work … just back to delivering the mail," Daly said. "That's the kind of guy he is."
For Tony Glanz, Marchan always makes sure the mail gets to him at Floyd's Pub, 1944 N. Oakley Ave., the Bucktown bar Glanz has owned for almost 20 years.
"He's always got a smile on his face, he's always friendly, always knocks on the door, because being a bar, we don't really have a mailbox," Glanz said. "It's just great that he actually knocks on the door and he saves the mail if we miss it, he bundles it up for us. He's great."
Another Bucktown neighbor, who declined to give her name, said she's know Marchan for 15 years, and they often bond over their mutual love for — and frustration with — the Cubs.
The neighbor said she talks to other Bucktown residents on different routes who sometimes have trouble getting their mail on time — or at all. With Marchan, that's never a problem.
"Jimmy brings the boxes around my backyard and hides them behind the grill so they don't get stolen," she said. "I mean, who does that?"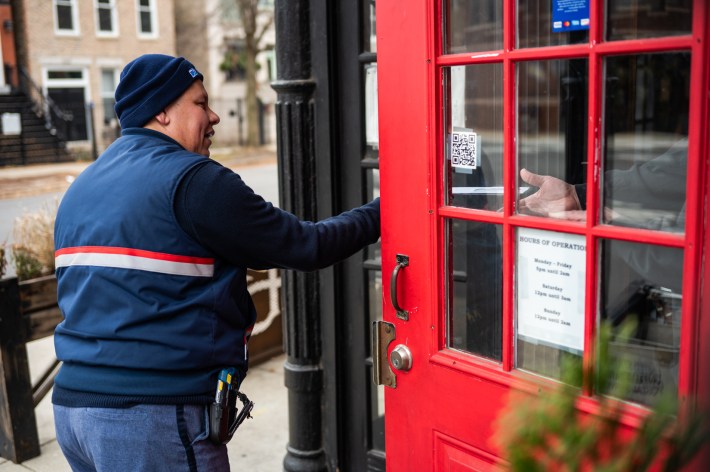 When news of the October robbery reached Daly a few hours after it happened, she said she was "just devastated."
"He has worked on this route for so long. He is part of our community. He was obviously very traumatized by the experience," Daly said. "And it's just tragic that he had to live through that. And have small kids and a family at home, and while doing his job had to think about whether or not he was going to make it home."
After the robbery, Marchan said he got to spend a lot of time with his wife and kids while off work, and he sought out a counselor to talk about the incident.
"When it happened, I was in shock," Marchan said. "I think it bothered me more than I thought, and I said, 'I need to go to counseling.' And I was going to counseling, and it helped out a lot because … I would get like flashbacks and anxiety over what happened."
Marchan said the time off was necessary to get his "mind on track" so he wouldn't be distracted while delivering the mail.
"You need to be at your full concentration because you got to deal with deliveries. … You cannot make really mistakes, with deliveries, packages or mail," he said. "If you're not focused, you're liable to make mistakes."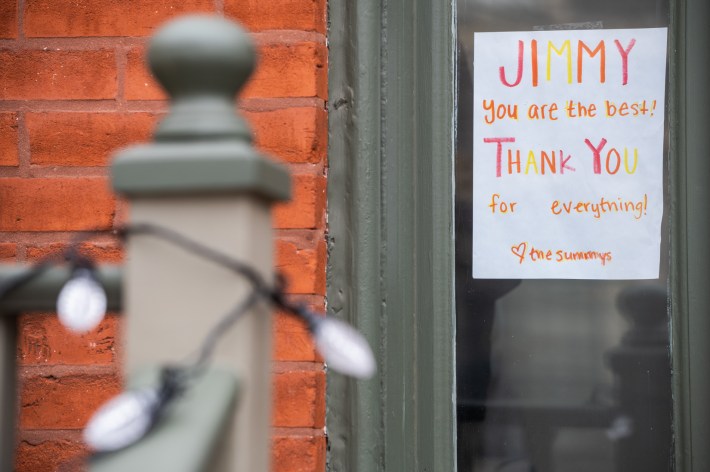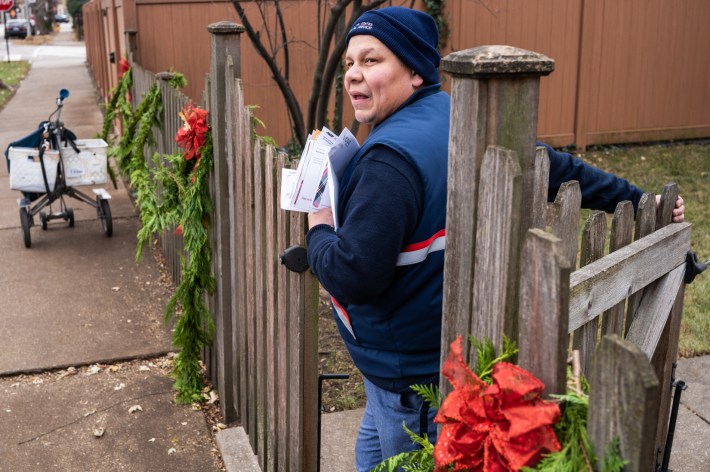 When Daly and other neighbors heard Marchan was coming back to work late last month, they re-hung their signs to welcome him back.
"Jimmy, you are the best! Thank you for everything!" and "World's Best Mail Man" read two of the posters in Bucktown.
Marchan was a little nervous to be back in the area where he'd been robbed, he said. But the outpouring of support from neighbors wiped that away immediately.
"The nerves went away when all the customers basically were out and telling me, making me feel better by telling me they got my back and they will keep an eye out for me when I'm delivering, more than ever," he said.
For the rest of the month, Marchan will work long hours to deliver packages, cards and other mail for the holiday rush, he said. But the friendly words and gestures from neighbors will keep him going.
"It really means a lot to me," Marchan said. "Them being there for me makes me want to do this job more than ever."
Listen to "It's All Good: A Block Club Chicago Podcast":