CHICAGO — The city is streamlining its process to sell vacant lots in its latest bid to redevelop blighted areas on the South and West sides.
A new website, ChiBlockBuilder, is a one-stop shop for people looking to browse 2,000 vacant lots listed by the city, said Kathleen Dickhut, a deputy commissioner with the Department of Planning & Development.
The program promises to shave six to eight months off all transactions, Dickhut said. Listed lots have been pre-appraised with environmental clearances for development.
Applications are due Feb. 3, and the first round of 2,000 lots can be used for a number of purposes: side-yards, affordable or market-rate housing, commercial buildings or community spaces such as urban gardens, Dickhut said.
Residents who prove they live next to a vacant lot can apply to buy it at 10 percent of its market value, Dickhut said.
The city owns more than 10,000 vacant lots and hopes to eventually roll out sales on the website for all of them as they clear approval hurdles, Dickhut said. Sales for lots were halted this summer while the city planned the central website, which "makes it a much simpler and clearer process now, so we're no longer dealing with inquiries in a one-off way," Dickhut said.
"And we hope this creates a little competition for ideas for the lots. We want proposals. This is not a program for people who buy lots and do nothing with them. We're not just offloading land: we're developing it," Dickhut said. "The goal is to help build the community."
The city has long tried to find good buyers for its vast network of lots, which have piled up over decades, primarily due to emergency demolitions, said planning department spokesperson Peter Strazzabosco. A city program to sell lots for $1 was last offered in 2018, Dickhut said.
The ChiBlockBuilder universal application is part of Mayor Lori Lightfoot's Invest South/West initiative, which has generated $2.2 billion in public-private investment to spur development in 10 commercial areas on the South and West sides, Strazzabosco said.
Since launching in 2019, the initiative has had encouraging proposals in divested neighborhoods, but construction has been slow, according to Crain's Chicago Business.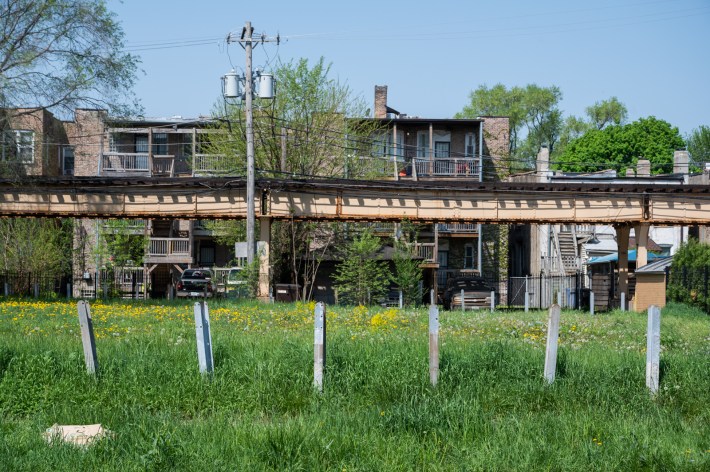 Dickhut said the city now owns about half to one-third of all vacant land in Chicago. The accumulation of lots — and the uphill climb for redevelopment — is due to "a legacy of bad practices," Dickhut said.
"We're dealing with decades of systemic divestment," Dickhut said. "It's redlining, block busting, the financial crisis, a history of discrimination. It's been years and years of divestment."
A foreclosure crisis and shrinking population have made vacant lots more prevalent on the South and West sides, with comparable homes demolished on the North Side often rapidly redeveloped into single-family homes.
The planning department is ramping up outreach efforts and has planned virtual meetings about the application process for December and January, Dickhut said.
"For Sale" signs will also be placed on all listed lots between Thanksgiving and Christmas, Dickhut said.
For city-owned lots not yet listed, people can go to the site and click "I'm Interested" for updates, Dickhut said.
Lots that hit the market vary in price, but a typical lot in North Lawndale, for example, would likely cost $4,000-$8,000, Dickhut said.
General interest so far has been promising, Dickhut said. More than 12,000 prospective buyers have viewed the site since its launch Thursday — with 340 residents, 66 developers, 31 non-profits, 25 business owners and 42 others submitting a screener through the site as of Monday, Dickhut said.
"Everyone can now go to the website and see what's for sale really easily," Dickhut said. "There's also value in just knowing what the land in your neighborhood is worth."
Listen to "It's All Good: A Block Club Chicago Podcast":