Want to support Block Club's gift guides and our other local journalism? Subscribe here or click here to gift a subscription. If you do it today, you'll get a free 16-by-20-inch Chicago neighborhood print of your choice!
WICKER PARK — From bookstores to oddity shops and candle companies, Wicker Park-area business owners have doubled down on the unique products and vibes their customers rely on.
Block Club rounded up a few spots where you can grab gifts for the holidays.
Here's just a small selection from around the neighborhoods:
Wicker Park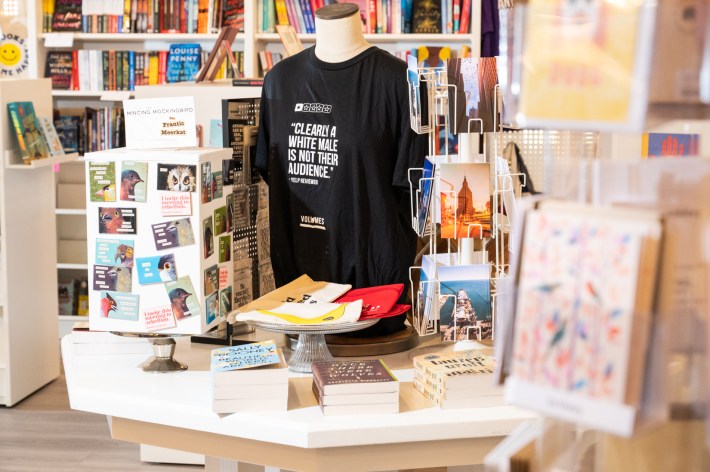 Volumes Bookcafe, 1373 N. Milwaukee Ave. Website.
Volumes reopened in Wicker Park this fall a year and a half after owners Rebecca and Kimberly George closed their original location in the neighborhood. The new store sits about a block south and is full of books, cards, magnets and more.
For short story lovers, check out "Bliss Montage" ($26) from local author Ling Ma and "Liberation Day" ($28), the latest collection of stories from Chicago native George Saunders. There's also the now-classic "Clearly A White Male Is Not Their Audience" T-shirt ($22), based on a Yelp review someone wrote about the store. That sentiment pretty much sums up the entire Volumes ethos.
Open 10 a.m.-6 p.m. Tuesday-Sunday. Instagram. 773-697-8066
Black Luxe Candle Co., 1252 N. Milwaukee Ave. Website.
Black Luxe Candle Co. also recently moved within the neighborhood after its original location on Damen Avenue was sold to become a day care. Owners Julius and Brittany Dease started making candles just a few years ago, but they have grown rapidly since a candle boom early in the pandemic.
Highlights at the store include the Lavender Bliss and Eucalyptus and Mint candles ($11-35) and various wax melts ($6.95). Then there are Black Luxe's popular candle-making classes, which last about an hour. Attendees can choose their own fragrance and candle vessel, with all supplies included ($60 per person).
Open noon-8 p.m. Friday-Saturday and noon-6 p.m. Thursdays and Sundays. Instagram. 773-789-9285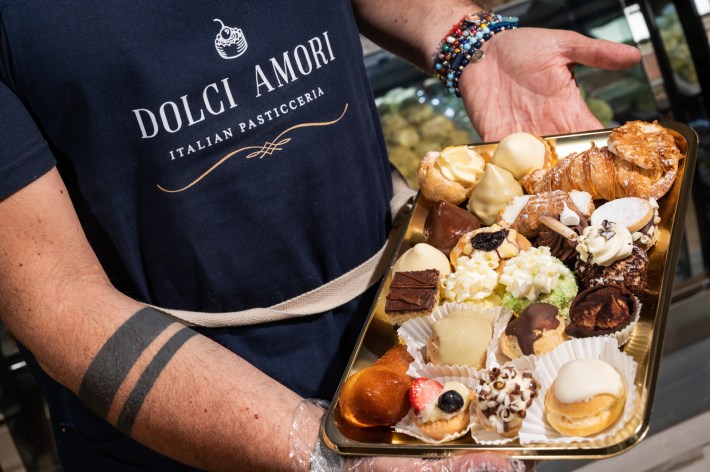 Dolci Amori, 2010 W. Pierce Ave. Website.
If you're searching for something sweet to bring to a holiday party, look no further than Dolci Amori, an Italian "pasticceria" that opened in Wicker Park this summer. Chicago restaurateur Ciro Longobardo was inspired to open the business — there's also a Lakeview location — during visits to bakeries in his native Naples.
Dolci Amori's menu includes a fiocco di neve "snowflake" pastry and a Neapolitan baba on top of more familiar staples such as biscotti, cookies, croissants and doughnuts. Items are individually priced, but the bakery offers various sizes of boxes and trays to take away as many as you can carry.
Open 7 a.m.-6 p.m. daily. Instagram. 312-285-2732
Bucktown
Graveface Records & Curiosities, 1829 N. Milwaukee Ave. Website.
If you end up leaving Bucktown's newest record and gift shop a little freaked out — well, that's kind of the point. Ryan Graveface opened a Chicago outpost of his longtime Savannah, Georgia, store in July.
Yes, the shop has vinyl records, movies, apparel and even a large selection of cocktail bitters. But venture into the back and you'll stumble upon the main attraction: a recreation of John Wayne Gacy's death row cell in the store's museum.
As for specific gifts, there are vintage posters and masks from classic horror movies and a bizarre selection of diaphonized animals ($110 each). But the store's best deal might be a monthly subscription to the Odd Obsession movie collection, now housed in the Graveface basement ($20 per month).
Open noon-6 p.m. Monday-Tuesday, noon-7 p.m. Wednesday-Thursday, 11 a.m.-8 p.m. Fridays and Sundays and 10 a.m.-8 p.m. Saturdays. Instagram.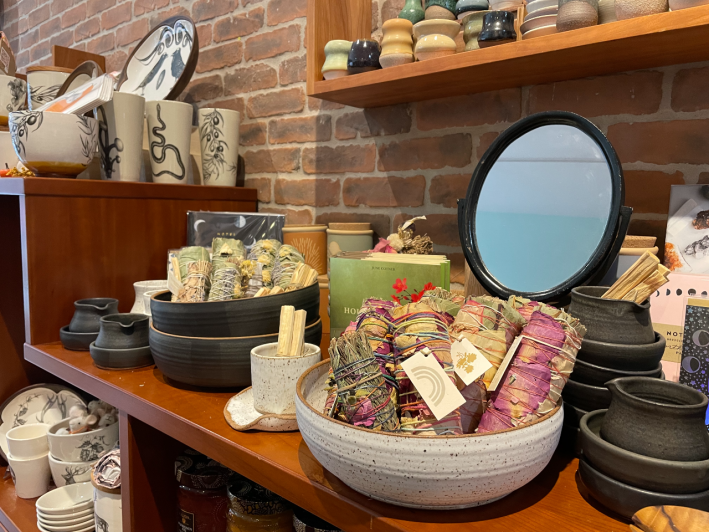 Virtu, 2035 N. Damen Ave. Website.
Virtu has been a Bucktown staple for all kinds of gifts since it opened in 2001. The store offers everything from "engagement cards to engagement rings," with a whole lot in between, owner Julie Horowitz Jackson said.
On the higher end, Virtu carries striking Jamie Joseph rings ($700+), some of which are only available in-store, although there are plenty of cheaper options for jewelry, too. You can also check out the smudge sticks made of eucalyptus, rosemary and other plants ($20-$35).
There's also Virtu's selection of ornaments, many inspired by local dining establishments ($15-$25). Don't miss the charcuterie board in honor of Beautiful Rind, a bagel for Mindy's Bakery, a martini for Club Lucky and a margarita for Big Star, among many more.
Open 11 a.m.-7 p.m. Tuesday-Friday, 10 a.m.-6 p.m. Saturdays, 11 a.m.-5 p.m. Sundays and by appointment Mondays. Instagram. 773-235-3790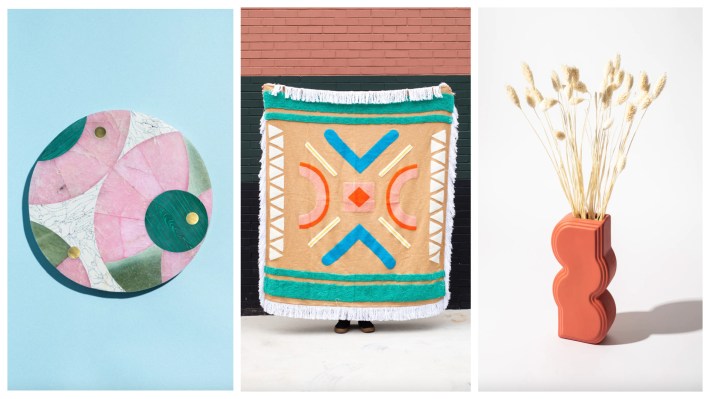 Eskell, 2029 N. Western Ave. Website.
Eskell's sleek Bucktown showroom exudes a certain poshness, but it also somehow stays cozy. The store sells everything from high-end home goods to apothecary items, puzzles and jewelry, with an emphasis on the colorful.
To stay warm this winter, check out the Woodstock Throw ($140), one of many stylish blankets the store sells. For aesthetic yet practical purposes, there's also the Terracotta Squiggle Flower Vase ($30) and the funky Round Marble Cheese Board ($150).
Open noon-6 p.m. Tuesday-Saturday and noon-5 p.m. Sundays. Instagram. 773-486-0830
West Town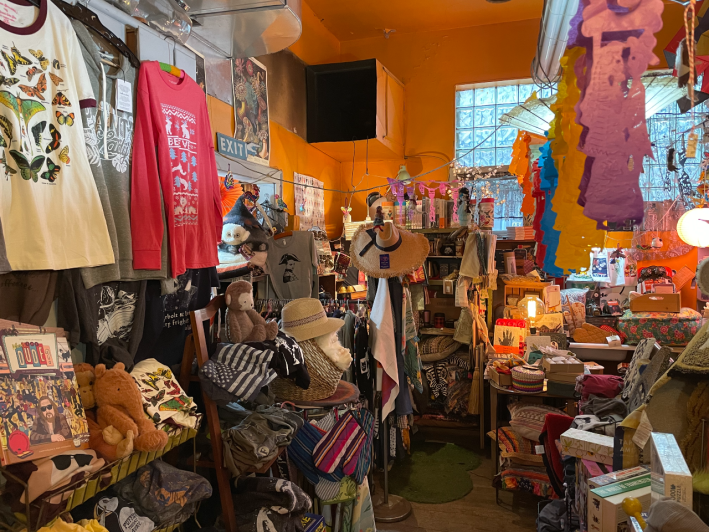 RR #1 Chicago, 814 N. Ashland Ave. Website.
If you're looking for a menagerie of locally-sourced stocking stuffers, apparel and knick-knacks, RR#1 Chicago in West Town is the gold standard.
Housed in a former pharmacy on Ashland Avenue, you can't walk into the store without feeling like you might accidentally knock over a display case overflowing with thousands of items.
Highlights include 1950s-branded dish clothes ($10) and LED dinosaur nightlights ($24). The store also stocks an impressive collection of Chicago-branded items, such as a Chicago map hip flask ($32), Jeppson's Malort T-shirts ($24) and a silk necktie printed with a bird's-eye view of the city ($54).
Open 11 a.m.-6 p.m. Monday-Thursday, 11 a.m.-7 p.m. Friday-Saturday and noon-5 p.m. Sundays. Instagram. 312-421-9079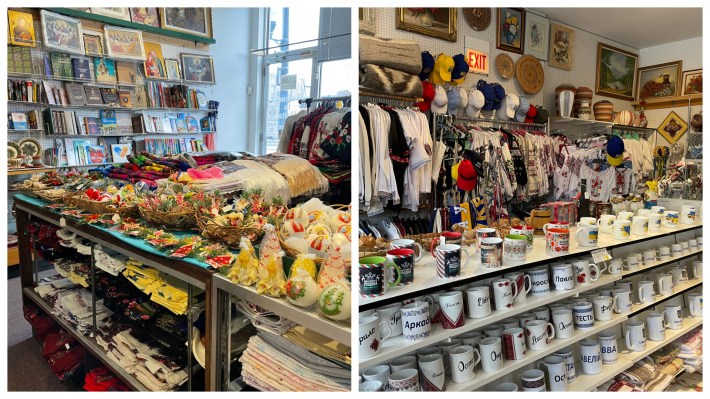 Delta Gift Shop, 2242 W. Chicago Ave. Website.
Delta Gift Shop in the heart of Ukrainian Village says it's the "oldest and largest Ukrainian goods store" in the United States. It certainly feels that way when you walk in and encounter all the traditional Ukrainian apparel, ceramics and other cultural items.
Don't miss the shop's extensive collection of bowls, plates and other dishes featuring traditional Ukrainian designs. The store also features a range of scarves and handkerchiefs ($12-$25). Then there's the Ukrainian Village-branded mug ($16), perfect for friends who live the area or have moved away.
Open 11 a.m.-8 p.m. Tuesday-Friday, 10 a.m.-5 p.m. Saturdays and 9:30 a.m.-3:30 p.m. Sundays. 773-235-7788.
Previous guides:
• 2021
• 2020
Do you own a shop or want to boost a local business during the holidays? Submit its information here and we'll add it to a reader gift guide! It'll come out in early December.
Listen to "It's All Good: A Block Club Chicago Podcast":