CHICAGO — Many women showed up to the polls Tuesday with one major issue on their mind: bodily autonomy.
Nationwide, the number of women registering to vote increased 332 percent following the overturning of Roe v. Wade in June, according to a report from MSNBC.
Many of the Chicago women Block Club spoke to at the polls consider themselves consistent voters, casting ballots in the 2020 presidential election and the 2018 midterms. Others said they were motivated to vote Tuesday to protect abortion rights locally, which advocates feared could be at risk if control of the Illinois Supreme Court flipped.
Illinois is considered a sanctuary state for abortion in the Midwest. In September, City Council voted to offer protection for people traveling to Chicago seeking an abortion.
Democrats maintained their majority of the state's highest court, according to the Sun-Times. But women at the polls said maintaining progressive leadership across the state was also crucial to keeping abortion legal.
"It isn't an issue now, but keeping the people who are going to protect [abortion] in the future, in office," said Maura Ford, who voted in Humboldt Park. "So, Democrats, progressives, all of that is number one for me … making sure that our right to choose is protected throughout the time that I live in Chicago."
Ford joined Morgan Barnett and Megan Szurgot at a polling place on West Division Street to vote Tuesday. The women, all in their late twenties, said they shared various voting guides to prep for Election Day.
Each woman agreed that maintaining abortion access motivated them to vote, although all have consistently voted in previous elections.
"I honestly did not consider myself a political person, but in light of all of this and fighting for women's issues … I said no matter what, I want to come out and do what I can…especially around the abortion issue," Szurgot said.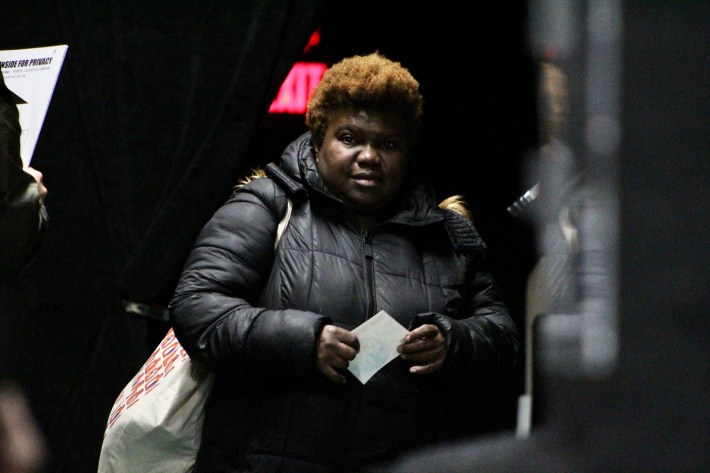 Edith Giles, 49 and living in Humboldt Park, also said "a woman's right to choose" was her number one reason to vote in the midterm election. A regular voter, Giles said abortion rights along with maintaining rights for the LGBTQ community was most important to her.
"I'm a woman and women after me need to have more fundamental rights. They need to be able to have the right to choose…that's what's at stake right now," Giles said.
Lashawn Wells voted Tuesday at the Kelly Hall YMCA in Humboldt Park. She said she urged her women friends to vote not only to protect abortion rights but also to exercise their voting rights, which "haven't been around that long."
"I tell them, we all need to vote. It took so long to get that right and it does make a difference. Even though you might not think it does," Wells said.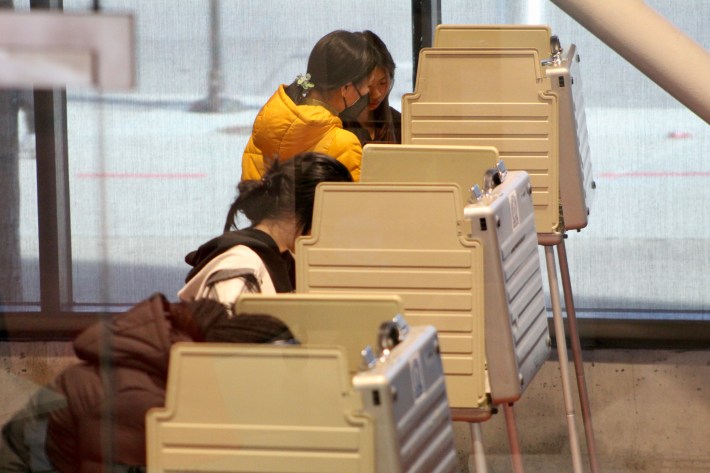 At St. Mary's Church in the South Loop, a mother and daughter canvassed weeks ahead of the election for pro-abortion candidates, encouraging friends and relatives to get to the polls, they said.
"We're all checking in to make sure we've all voted. This election is important. Democracy is important," said the daughter, who asked to remain anonymous. "We're can't afford to go back to back-alley abortions."
Sabrina, a Near South Side resident who asked to be identified by her first name, told Block Club her belief in personal choice compelled her to vote. The veteran voter and government employee believes coalition building on the local level is the key to winning, she said.
"I feel that more people are recognizing that, and we can actually make a change. More people are becoming aware of their rights and going out to vote, especially younger people," she said. "I'm optimistic."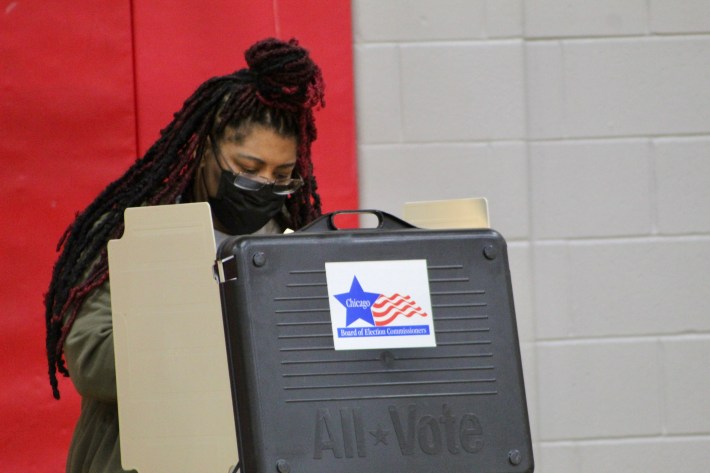 Brigitte Serratto, a property manager from South Loop, said it was important for her to support candidates who have promised to protect abortion choice in Illinois.
Before former President Donald Trump was elected, Serratto never paid attention to midterm elections. Now, having participated in her second one, she understands the importance, she said.
"I did it for me, my daughter, for the women who came before me," Serratto said. "My daughter should be able to get an abortion if she wants one. Watching these other states restrict rights has been a nightmare. It blows my mind. … 2016 changed a lot for me. Seeing what happened to the country made me realize what's at stake. I had to do my part."
For some, the reasons to vote were ted to a specific issue. Veronica Smart, who also voted from the Kelly Hall YMCA, said wants women to be encouraged to vote in order to have proper representation for the younger generation.
"Voting makes sure we are heard, because women are doing bigger and better things now," Smart said.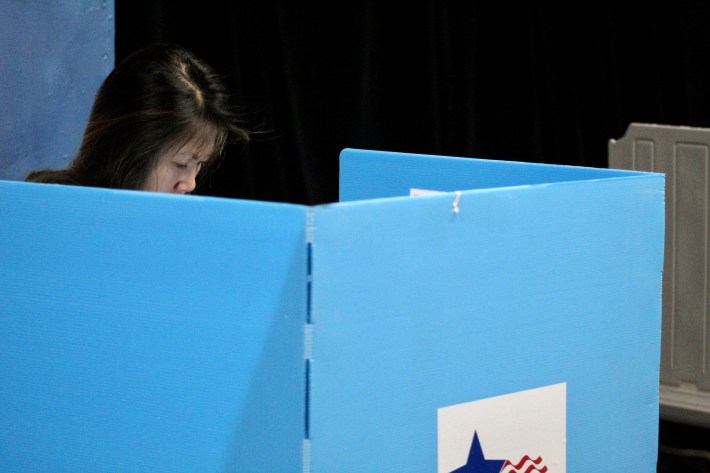 CJ Wise, a South Shore voter who usually only votes in presidential elections, decided to get to the polls this cycle.
Wise's friends encouraged her to vote in this year's midterms, though not in support of any particular issue.
"I feel like if I'm not going to vote, I don't want to complain, you know?" Wise said.
Watch our "On The Block" TV show on The U, CW26 and MeTV.
Listen to "It's All Good: A Block Club Chicago Podcast":