CHICAGO — Supporters of an amendment to the Illinois constitution that protects workers' rights and prevents the passage of right-to-work laws claimed victory in Tuesday's election.
The measure, which was the first question on ballots, would add a Worker's Rights section to the state's Bill of Rights, providing workers "the fundamental right to organize and to bargain collectively through representatives of their own choosing." Joe Bowen, a spokesman for the Vote Yes for Workers' Rights campaign, said the group expects to win.
"Based on the current vote count and our campaign's internal data, it is clear that the Workers' Rights Amendment will pass," Samantha McClain, director for the group, said in a statement. "We firmly believe that after every vote is counted, the amendment will be approved by an overwhelming majority of Illinois voters."
To pass, the measure needed 60 percent of yes votes from people weighing in on the question. It also could pass if a majority of all people who voted in the election supported it. The overall number would include people who left the question blank.
The amendment had 58.7 percent "yes" votes and 41.3 percent "no" votes with 85 percent of precincts reporting, according to early results from the Tribune. Bowen said his group expects to see "yes" votes climb higher as more votes from Chicago, who has favored the measure, come in.
And the group said there will be a decisive majority victory among all ballots cast.
The measure would provide protections to workers and unions by prohibiting lawmakers from passing right-to-work laws, codifying workers' rights to join and form unions and protecting collective bargaining.
Right-to-work laws — already enacted in many more conservative states — make it so workers are not required to join labor unions when getting certain jobs. Opponents have said they weaken unions and ultimately hurt workers, while supporters say they put a rein on unions.
Unions rallied around the measure, saying it will cement bargaining rights for workers looking to negotiate fair contracts, conditions and wages, according to WTTW.
Detractors said the amendment would benefit the pocketbooks of unions, dissuade private companies from doing business in Illinois and give workers an upper hand in negotiations, according to the Sun-Times.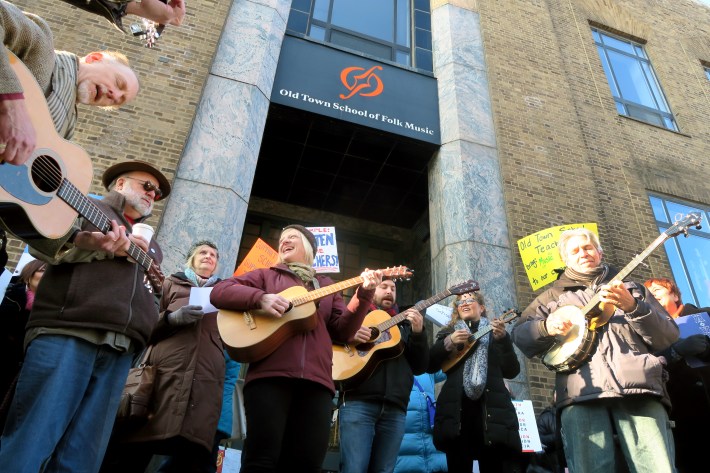 Right-to-work laws will still apply to public-sector workers across the United States due to a 2018 Supreme Court decision that held up an argument by Mark Janus, an Illinois government worker, that he shouldn't be forced to pay union dues. Federal law already guarantees the general right to unionize.
Workers from firefighters to nurses told the Sun-Times the new amendment will give them better standing to advocate for training, equipment, realistic work loads and more staffing help.
The amendment would solidify Chicago's place as a union town, supporters told the Sun-Times.
Listen to "It's All Good: A Block Club Chicago Podcast":