CHICAGO — City Council passed Mayor Lori Lightfoot's 2023 budget Monday, avoiding a property tax increase but drawing criticism from alderpeople for not including progressive initiatives such as reestablishing an environment department.
Alderpeople voted 32-18 in favor of the spending plan.
Here's how alderpeople voted on the budget: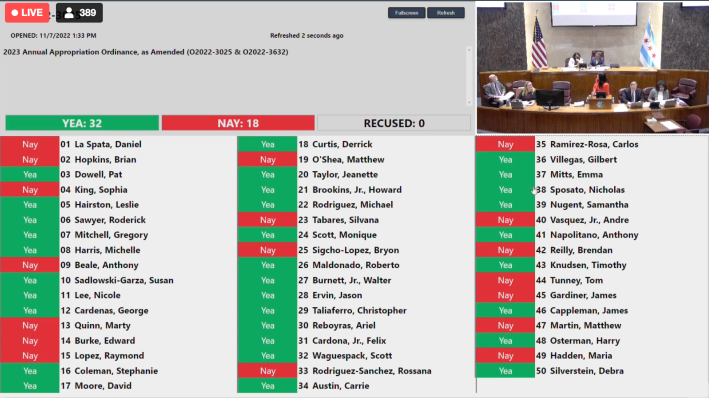 Lightfoot previously planned to ask City Council for a $42 million property tax hike in next year's budget — half of what an inflation-tied policy would've allowed — to help settle a $127.9 million budget shortfall.
But Lightfoot announced in September she was dumping the tax increase thanks to better city revenue projections than previously expected.
"If 2021 was our 'pandemic budget,' and 2022 was our 'recovery budget,' this one is our 'stability budget,'" Lightfoot said this summer.
Supporters of Lightfoot's budget touted the lack of any fees or tax hikes in the proposal, on top of additional investments in rapid rehousing for Chicagoans experiencing homelessness, accessing reproductive healthcare and support for migrants arriving in the city from Texas.
The spending plan also increases spending at the Chicago Police Department, including for additional recruitment efforts, two new police helicopters and other technology and equipment.
Ald. Scott Waguespack (32nd), a mayoral ally and chair of the Council's Committee on Finance, called the budget a "sound and solvent" spending plan.
"The investments that we see in this budget are supporting the police department. Investments in the camera system and investments in their mental health, investments in their families when they do commit suicide. Investments for all of our first responders have gone up," he said.
In the budget, $242 million in advance payments will also go toward the city's pension obligations, on top of the city's regular payments. Lightfoot called the move an "undeniable" step toward the city's fiscal stability. It also includes a provision creating annual cost of living raises for Chicago's mayor, city clerk and city treasurer, to be tied to inflation with a five percent cap.
That comes on top of a more than 20 percent raise for both the clerk and treasurer.
But opponents in City Council from a wide range of ideological backgrounds said the spending plan doesn't go far enough to combat homelessness, increase public safety, and protect Chicagoans and the city from the ravages of climate change.
In recent weeks, progressive alderpeople pushed Lightfoot to include funding in the budget to reestablish a standalone city Department of the Environment.
In response, the Lightfoot administration established an office of Climate and Environmental Equity, which will be staffed with 10 employees and headed by the city's chief sustainability officer, Angela Tovar, according to Crain's.
But several alderpeople said that proposal didn't go far enough, and Ald. Andre Vasquez (40th) called it an attempt by Lightfoot to maintain control over any policy that might come out of the office. 
"After conversations with the administration where our goal was clearly articulated, a department with a commissioner, the best this administration could do is to create an office of the Environment and Climate Equity to do much of the same work with an officer at the helm," he said. "Offices issue recommendations, while departments create rules that are enforceable by law."
Vasquez voted against the budget proposal, as did Ald. Brendan Reilly (42nd) who said it didn't go far enough to support police officers in his downtown ward and across the city.
"Calls from City Council members to make retention a priority have been largely ignored. Retention bonuses, housing assistance, signing bonuses, guaranteed time off, more mental health and wellness assistance. All of that is absent from [the] budget in a meaningful way," he said.
The spending plan's passage comes less than four months before the Feb. 28 citywide election, in which Lightfoot is seeking a second term.
Three sitting alderpeople are challenging Lightfoot in the election: Alds. Sophia King (6th), Roderick Sawyer (6th) and longtime Lightfoot foe Ray Lopez (15th). Retiring Lakeview Ald. Tom Tunney (44th) has also hinted he's considering a run but has made no formal announcement.
King, Lopez and Tunney all voted against the spending plan. Sawyer voted in favor. 
After the spending plan and several other budget measures were approved Monday, Lightfoot gave a lengthy defense of the proposal, while also defending her record as mayor more broadly.
She touted the investments in public safety, as well as the city's INVEST South/West development initiative and other longer term projects her administration has undertaken.
Lightfoot said that she and City Council members who voted in favor of the budget "reaffirmed our responsibilities as fiduciaries of the public trust."
"We all know there is more work to do to meet the moment, but also to continue on the path of writing historic wrongs," she said in prepared remarks. "We cannot make the kinds of investments in people and places that are necessary to set our city on a path toward prosperity without making sure that city finances are sound. And the headline is that hard work pays off." 
Several budget measures were approved at a hearing Monday, including Lightfoot's 2023 spending plan.
Listen to "It's All Good: A Block Club Chicago Podcast":