FULTON MARKET — A Fulton Market group is calling for more police cameras in the area after a woman was robbed last week near an underpass.
On Oct. 10, a masked man robbed a woman while she walked home near Racine and Hubbard, according to NBC5. The woman, who has lived in the West Loop for 12 years, told the station her sense of security was gone.
Known for booming development and trendy restaurants, the West Loop has been the site of attempted kidnappings and other crime recently, leading to several community meetings with police and some neighbors asking local aldermen to bring in private security, a tactic that's proven controversial in other neighborhoods.
Most recently, on Tuesday night, two pairs of people were robbed at gunpoint, with one attack in the 600 block of North Ogden Avenue and another in the 100 block of North Green street, police said.
Now, the Fulton Market Association is asking for at least 100 additional police cameras to be placed in and around Fulton Market.
Roger Romanelli, executive director of the group, said the area's alderman should use the Kinzie tax-increment financing (TIF) corridor dollars to pay for the cameras.
"We've had a woman assaulted on Carpenter. We had a chef brutally assaulted late one night. We've had people robbed in their garages," Romanelli said. "We want to send a definitive message that … any criminals will be photographed, they will be caught, they will be captured and they will be prosecuted."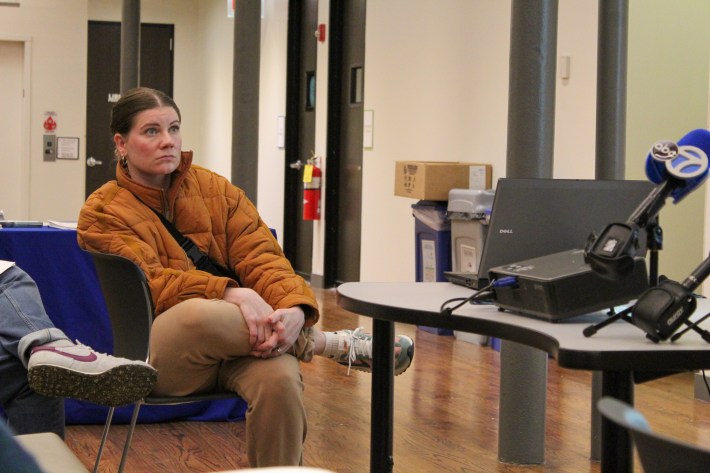 The Kinzie TIF corridor spans parts of Humboldt Park, West Town, East Garfield Park and Near West Side communities. The TIF district collects incremental property taxes to be used for neighborhood projects such as public infrastructure, schools, parks, leveraging private investment and more, according to the Chicago department of planning and development.
According to a 2021 year-end report, the Kinzie TIF corridor has a balance of about $271 million, which is set to expire at the end of this year unless extended by the city.
A portion of Illinois law says TIF can be used to combat issues that are a "serious menace to the health safety, morals and general welfare of the people" — and combating crime is a part of that, Romanelli said.
"It doesn't expressly say you can't put up police cameras," Romanelli said.
Romanelli thinks the TIF can pay for the cameras, which he's been told are $25,000 each, he said.
Police cameras cost about $25,000 each, which includes installation costs and three years of maintenance, according to the city's Finance Department. In 2022, the Office of Public Safety Administration budgeted $5 million for new cameras and $7 million for 2023.
Ald. Walter Burnett Jr. (27th) said he's not against adding cameras and supports additional security measures like private security. Unlike private security, which could not rely on TIF money, Burnett thinks the Kinzie TIF could "possibly" pay for the cameras as an "infrastructure improvement."
The state TIF Act identifies public works and public improvements as eligible costs, provided they are fixed or permanent improvements to real property. Since security cameras are readily removable, city officials believe they are not TIF-eligible expenses, according to a spokesperson from the Department of Planning and Development.
If TIF won't cover the costs, Burnett said he's willing to pay for them out of pocket.
But the veteran alderman said he would not advocate for the additional cameras unless Near West (12th) District Police Cmdr. Beth Giltmier says they are needed.
"You have no idea how many cameras I paid for for the police in my ward," Burnett said. "Whenever they asked for it, I do it with the priority that they have, because they are police."
Cmdr. Beth Giltmier did not respond to questions about if additional cameras were needed. Burnett said he's reached out to Gitmier to gauge the need for additional cameras in the West Loop.
Area police will host a community conversation at 6 p.m. Thursday at Whitney Young Magnet High School, 211 S. Laflin St., where residents can share feedback on safety initiatives.
The West Central Association, the West Loop's chamber of commerce, has been compiling recommendations for a public safety plan. A safety committee that consists of several former and current police officers will be helping with the plan, said Carla Agostinelli, director of development and community partnerships.
That safety committee will also visit local businesses to help owners place security cameras and will advocate for residents to attend local community policing meetings.
"That historical component is going to be a strong force in order to make better security decisions going forward," Agostinelli said.
The West Loop Community Organization, which hosted a safety presentation last week with police, is also interested in having an additional "set of eyes" on the streets, said board member Julie Darling.
"Cameras are important, but specifically license plate readers are imperative for every ingress and egress to the West Loop. West Loop Community Organization is encouraging people to take advantage of the city's camera rebate camera program and install additional cameras on your building," Darling said in a statement.
The organization also plans to host an event Nov. 1 to educate residents on how to take part in the city's camera rebate program. The $5.3 million plan allows resident to be get up to $1,020 in reimbursements for installing various security cameras.
Watch our "On The Block" TV show on The U, CW26 and MeTV.
Listen to "It's All Good: A Block Club Chicago Podcast":