WEST LOOP — After at least two attempted kidnappings in West Loop, some neighbors are calling for private security to patrol what police can't.
At a community meeting Saturday, Ald. Walter Burnett Jr. (27th) said he's looking for funding to put private patrols on the streets. But another area alderman, Byron Sighco Lopez (25th), has concerns about pursuing private patrols.
The most recent attack happened Sept. 23 when a man tried to grab a 45-year-old woman and pull her into a car in the 200 block of South Sangamon Street. The woman was able to fight off the man until a rideshare passenger approached and confronted him, police and the victim said.
Police charged a 32-year-old man with attempted abduction in connection to that attack. He also was charged with attacking two other women in South Loop within a 30-minute timeframe that morning.
The Sangamon Street kidnapping attempt happened on the same block where a dogwalker helped fight off someone trying kidnap a 30-year-old woman in late August.
Days before the August attack, neighbors reported hearing a woman yelling "get off of me" and seeing a car drive off with its rear-door open in what appeared to be another kidnapping or an attack on a woman.
"The recent increase in crime has had many of us upset, unsettled and maybe even thinking about moving. To those of you, I say, don't," Armando Chacon, president of the West Central Association, said at Saturday's meeting.
The meeting was also supposed to serve as an opportunity for locals to ask questions and share concerns with the Near West (12th) District Police Cmdr. Beth Giltmier, who didn't attend, Chacon said. Other cops attended but they did not speak on behalf of the commander.
"I share in folks' disappointment with the commander not being there," Chacon said.
Without input or insight from police, the meeting continued with many residents suggesting hiring private security to patrol the area, something that's been implemented or explored in neighborhoods like the Loop, Bucktown, Lincoln Park and Beverly and Mount Greenwood.
RELATED: With Wealthy Neighborhoods Turning To Armed Private Security, Questions Raised About Accountability
But not everyone is fully on board with the approach. Sigcho-Lopez, who represents the area where the attempted kidnappings happened, said he wants residents to consider the full picture before jumping to hire private security.
"Is it safe? Don't we pay enough taxes to have public safety in the city of Chicago that does not require extra private security and the different issues that comes with it like liability and other issues?" Sigcho-Lopez told Block Club.
Sigcho-Lopez, who also represents Pilsen and Chinatown, said a majority of the city's budget already goes to funding policing. He said he believes conversations around improving public safety should also include the police. He noted neighbors couldn't ask questions about the police's current safety strategy because the police commander did not attend the meeting.
"When we don't have basic accountability, it makes us think that by hiring extra private security, things are going to improve again," Sigcho-Lopez said.
But Burnett, whose ward neighbors the area where the attempted kidnappings happened, said he fully supports hiring private security if neighbors want it.
"At the same time, the police do have to do everything that they are supposed to do. [Private security] would just be the gravy on top of that," Burnett said.
Several areas in or near the West Loop already utilize private security, including Greektown and parts of Wells Street. Some neighborhoods use special service area dollars to pay for private security like the Chicago Loop Alliance, which uses both a streets ambassador program and private security.
Other neighborhoods pay for security by fundraising or have a residents buy-in, like Bucktown.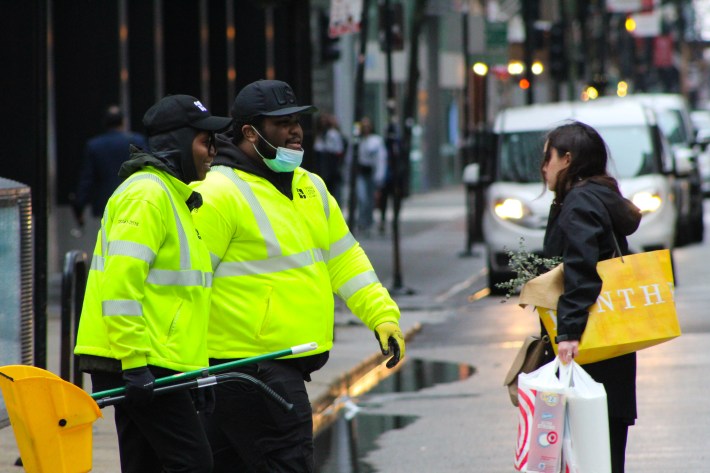 Burnett said the West Loop could fund private security through a business improvement designation with the city's Department of Planning and Development. He's also hoping to convince state representatives in the area to advocate for changing legislation to allow for tax-increment financing (TIF) dollars to be used for public safety.
In the meantime, restaurateurs are exploring hiring private security along Fulton Market and have been speaking with other area business owners to gauge their interest, Burnett said.
Chacon believes private security could improve safety in the neighborhood, but it's not the only solution.The West Central Association is working on a comprehensive public safety plan and will likely organize another community meeting to discuss the plan, Chacon said.
"I think it's really important, not just to bring some peace of mind and safety to our community but to have a framework … that can serve us well into the future," Chacon said. "It's not just about reducing crime now, it's about having this be more top of mind going forward to minimize any future upticks in crime."
Watch our "On The Block" TV show on The U, CW26 and MeTV.
Listen to "It's All Good: A Block Club Chicago Podcast":