AUBURN GRESHAM — When Jasmin Taylor heard "Aim For The Moon" by the late rapper Pop Smoke and Quavo, she came alive.
As a dancer, vocalist and composer hailing from the South Side, Taylor "tends to see sound and visualizes movement in her head," she said. So when she heard the rhythmic "Yeahs" echoed by Pop Smoke over a melodic beat in the first 30 seconds of the song, it made her think of liberation, joy and the "freedom people feel at the circus." 
"Aim For The Moon" inspired Taylor's "Trap Moulin Rouge," a giant art display being projected on the southern, Chicago River-facing side of the Merchandise Mart.
The 2.5-acre contemporary art display celebrates Black dance and culture from 79th Street. The "Moulin Rouge" title comes from the 2001 Baz Luhrmann film, the first flick Taylor saw that inspired her to meld sound and dance, she said. 
Taylor's "Trap Moulin Rouge" was commissioned as part of the city's Year of Chicago Dance. It was chosen for this season's Art on theMart, the world's largest permanent digital art projection. Taylor co-produced the piece with Motion/Pictures Dance Project. 
The projection, narrated and choreographed by Taylor, is on display at 8:30 p.m dailythrough Nov. 18 on the Chicago Riverwalk between Wells Street and Franklin Street. "Love Letters" by artist Yuge Zhou is also on display. The event is free and open to the public.
"I made this to celebrate and share the dance and vibrant culture that emanates from 79th Street and the South Side," Taylor said. "It dominates not only Chicago culture but world culture."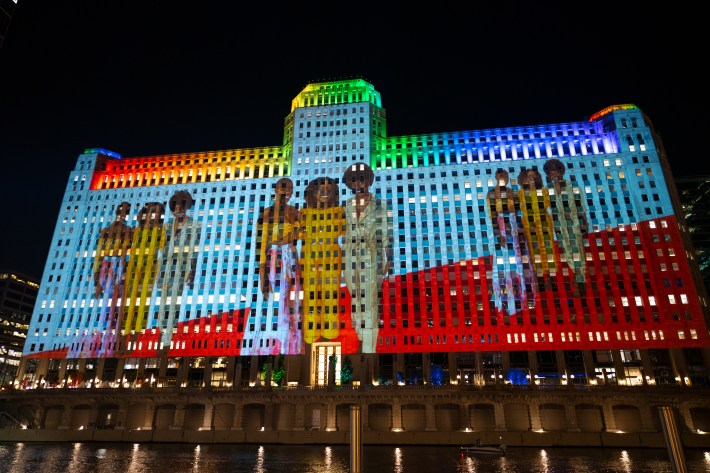 In "Trap Moulin Rouge," Taylor's stomping grounds on 79th Street, and the "magic" that flows through it, finally receive the spotlight. 
The dance styles were heavily influenced by years of training and the basement parties Taylor used to go to in her neighborhood, she said.
Sticks from the Chicago Bucket Boys' drums protrude from a dancer's hat. Taylor wears long, white nails designed by India Wilson, a nail artist from 79th Street. 
Every design choice was an ode to the South Side and its dynamic culture, Taylor said.  
"Black culture is so vibrant," Taylor said. "The nails were important for me to incorporate because it's just another thing that is used to express ourselves that is so harmless and vibrant but is stolen from us. I wanted to show that this is ours and it's what we share with the world. It's a form of how we communicate with each other."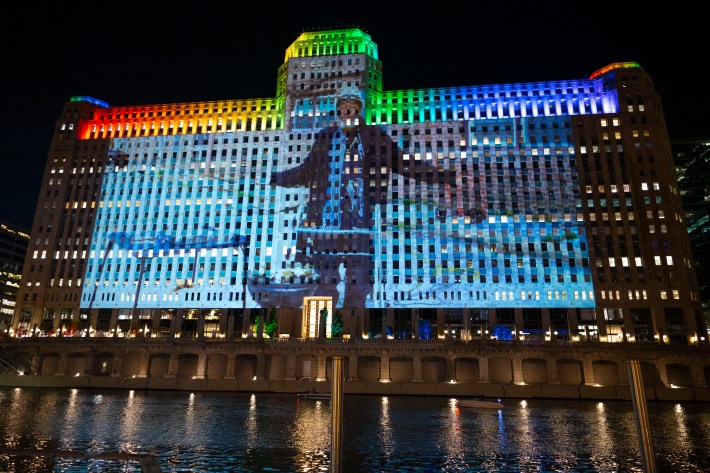 As an independent artist, having work on display is an "amazing feat," Taylor said. But it is not the last people will hear of her, she said. She is planning a show at Steppenwolf Theatre in January, and she's working on her debut album, she said. 
As an artist, Taylor's mission is to break generational curses, she said. Her grandmother and mother are featured in "Trap Moulin Rouge." 
The other task is to make Black people feel seen and inspired, Taylor said. 
"I hope people see and hear about this and are like, 'This is an example of what I can do to bring some of the things that I have in my head and my heart to life through my hands,'" Taylor said.
Listen to "It's All Good: A Block Club Chicago Podcast":