DOWNTOWN — Police shut down a club in The Loop after an employee was killed outside, but the alderman questioned why the business was operating at all after multiple shootings nearby in recent months.
Persona Lounge, 408 S. Wells St., has also been the site of two mass shootings since May. Eight people have been shot outside the club, two fatally, according to previous Block Club reports.
On Sunday, a 23-year-old security guard shot and killed his co-worker while on the job, prosecutors said. That man has been charged with first-degree murder.
Persona's owners voluntarily closed the business after two people were killed and three wounded in July, according to the city's Business Affairs and Consumer Protection Department. It was not immediately clear when the business reopened. Ald. Byron Sigcho-Lopez (25th), whose ward includes Persona, said he nor the area's police commander knew the club was operating again before Sunday's shooting.
Sigcho-Lopez (25th) said he was disappointed the business seemed to be able to reopen without making any meaningful changes.
"When we met with the owner, the owner voluntarily said that they were going to close down and … basically they were going to change the plan of operation and resubmit it so that they can reopen. So in other words, they should have never been open," Sigcho-Lopez said.
A city spokesperson said the business office and police were monitoring Persona during its voluntary closure. The spokesperson did not say what that monitoring entailed or if the club's owners were required to make any changes before reopening.
Police did not answer questions about its reopening.
Sigcho-Lopez said he questioned if the club's owners received "preferential treatment" by being allowed to slip under the radar.
"There has to be a consistent procedure. I think the applicant needs to explain why they opened and why they did not notify the proper departments or if they notified the departments," Sigcho-Lopez said.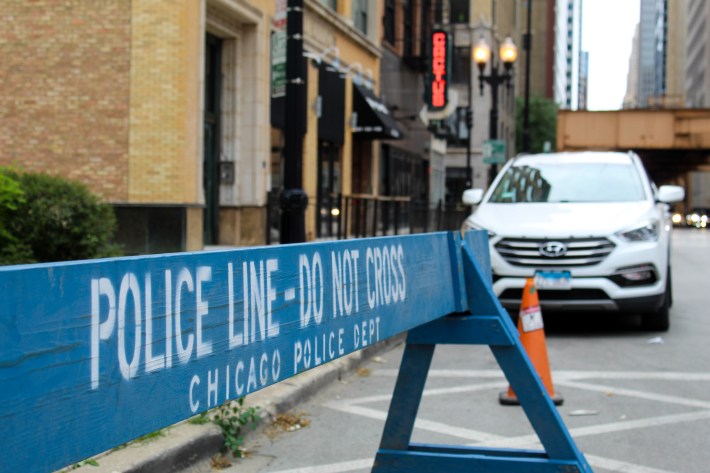 Attempts to reach Persona's owner, Reginald Marsh, were unsuccessful. Marsh told the Sun-Times he plans to sell the club. He also said his voluntary agreement to close in July was only supposed to be for Fourth of July weekend, but they ended up being closed longer to revamp the club.
Police can force a business to shut down temporarily in a process called summary closure, which enables police and city officials to close establishments they say pose a repeated threat to public safety. 
Sigcho-Lopez said he's seen police enforce summary closures more harshly in other areas of his ward. No.18 Karaoke in Chinatown was ordered to close earlier this year after a fatal shooting in July.
"Ultimately, we can see the disparity, and, quite honestly, my concern is corruption. I'll be very frank about this. I think my concern is that when there's inconsistencies in policies and when we start seeing differences in treatment," Sigcho-Lopez said.
In the Sunday shooting, Devontrell Turnipseed was working security at Persona when he got into a fight with a 38-year-old coworker, prosecutors said.
Turnipseed was working the entrance to the club, patting guests down as they entered, when his coworker said Turnipseed was not doing a good job patting the guests, prosecutors said.
The two men argued and "square[d] up face to face" outside the club, prosecutors said.
Surveillance video shows Turnipseed taking a gun from a holster on his waistband and appearing to try and pass it off to another security guard when the coworker punched Turnipseed in his face, prosecutors said.
As Turnipseed fell to the ground, he fired his gun three times at the coworker, hitting him twice in his chest, prosecutors said. The coworker was unarmed, prosecutors said.
Turnipseed called 911 and stayed on the scene, prosecutors said. His coworker was taken to the hospital, where he died. Prosecutors said Turnipseed admitted to shooting his coworker in retaliation for the punch.
Turnipseed is being held without bail.
Listen to "It's All Good: A Block Club Chicago Podcast":