CHICAGO — A man was arrested for animal abuse after police said he battered a dog on a busy Lincoln Park street — and a witness who saw the arrest at a vet clinic said the man intended to euthanize the dog that day.
Jose Orlando Cartegna, 28, of Hammond, Indiana, is charged with misdemeanor cruelty to animals, police said. He was arrested Sunday in the 3300 block of North California Avenue in Avondale, police said, the same block where MedVet Chicago is located.
Neighbors have been trying to track down the man who battered the puppy named Zeus in the Sept. 22 attack, which was caught on video. Surveillance video showed a man screeching his van to halt, grabbing a puppy out the trunk by the neck and repeatedly punching it and hurling it across the street.
RELATED: Man Punched Puppy In Lincoln Park, Hurled It Across The Street, Video Shows: 'He Threw The Dog Like A Javelin'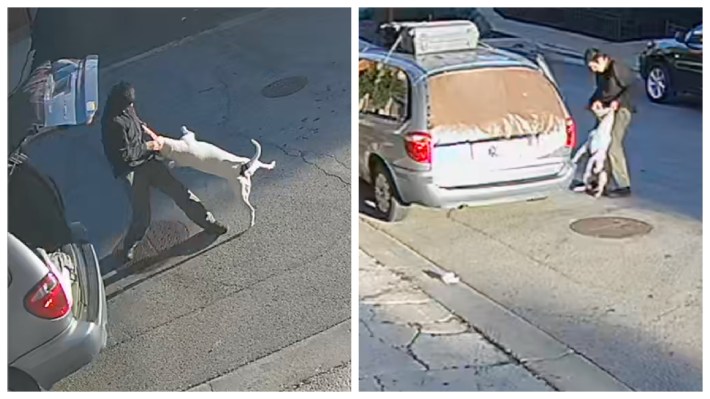 On Sunday, a man who was pulling into MedVet Chicago with his sick dog saw a van matching the description in the parking lot. As he waited for hours in the waiting room, he saw a man being arrested by Chicago police.
"The man was saying, 'That dog was everything to me, man,'" the witness said, and the man said he brought the dog in to be euthanized that day.
"He was complaining to the police, 'Man, I brought my dog in to be euthanized,'" the witness said.
A member of the vet staff later told the witness that someone in the waiting room recognized the man from media reports, and called police, and neighbors, including Paula Conrad, who shared the video with media probably saved the dog's life.
In an email, a representative for MedVet Chicago said company officials could not discuss the incident.
"Unfortunately, we are unable to share any personal or medical information on either the client or patient. We appreciate everyone's concern for the patient involved. Please trust that we handled the situation with the most care and compassion," the statement read.
Listen to "It's All Good: A Block Club Chicago Podcast":