ROGERS PARK — Politicians and leaders from the Indigenous Peoples' Day Coalition gathered Monday to raise support for stalled legislation recognizing the holiday in the city and state. 
More than 100 other cities and nine counties across the country recognize Indigenous Peoples' Day instead of Columbus Day, but legislative efforts to swap the holidays in Chicago are stuck in City Council. And a bill moving to recognize the holiday in the state has been tabled since 2017. 
Chicago Public Schools made the switch in February 2020, but Mayor Lori Lightfoot has not supported making Indigenous Peoples' Day a city holiday. She also "fully expects" controversial Christopher Columbus statues in the city to be returned after being mothballed amid 2020 protests despite the city's monument committee's recommendation to remove them.
At a news conference Monday at Pottawattomie Park, 7340 N. Rogers Ave., politicians urged that the bills to change the focus of the holiday move forward. Several protesters from the Chi-Nations Youth Council interrupted the press conference, however, arguing the coalition doesn't adequately represent Indigenous people. They also criticized several of speakers chosen to appear.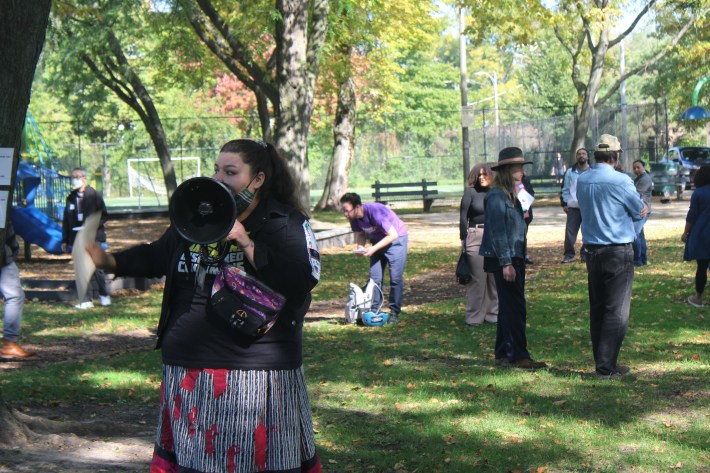 Leaders from the Indigenous Peoples' Day Coalition who organized the event weren't able to speak over the protesters' drums and bullhorn. So instead, a few of the elected officials at the event moved inside to speak about their efforts to officially recognize the holiday in the city and state.  
Ald. Maria Hadden (49th) spoke about the trauma communities of color have suffered due to the "atrocities" of colonization for decades and the importance of recognizing how history impacts the present.
"Having holidays, being able to note, mark, celebrate and acknowledge together is part of the healing process," Hadden said. "It's part of recognizing the trauma that we're still experiencing this morning. This isn't the press conference that was planned, and there's still more work that needs to be done within the Indigenous community, within the Black community and within Chicago." 
Hadden said recognizing Indigenous Peoples' Day "sets the stage for an environment where our communities can have healing, have that growth and move forward with full acknowledgment of who we are to work on the futures we all deserve." 
Sen. Mike Simmons, who represents the Far North Side, emphasized communities need to continue to "reimagine" what "justice and redemption" look like as they reckon with U.S. history and its ongoing impacts on poverty, literacy rates and housing insecurity.
"Is it just celebrating Indigenous Peoples' Day or is it also looking at how we talk about the history of Indigenous people in our schools?" Simmons said. "We always talk about Native Americans like they're no longer here and they still are, they're my constituents." 
Hadden said she's hopeful the ordinance recognizing the holiday will be passed soon, given the number of City Council members who will be retiring soon. 
"I look forward to some of the new folks who are coming in, who can maybe move past these really weird, sluggish politics," Hadden said. "I don't know why this is controversial. I'd really encourage people to have some courage to do what's right, not just morally and ethically, but for the constituents we represent."
Listen to "It's All Good: A Block Club Chicago Podcast":