DOWNTOWN — The Museum of Ice Cream is turning into the Museum of I-Scream for Halloween.
The theme through Oct. 31 at the museum, 435 N. Michigan Ave., allowing fans to indulge their love of ice cream — and their love of spooky season. There will be trick-or-treating and updated menu items to reflect the holiday.
"We wanted to create something that was great fun for all ages. We are definitely on the spooky side, not the scary side," said general manager Byron Bell. "The museum wanted to offer people something different for Halloween that folks had not experienced before."
The immersive experience opened in July 2022 with 14 ice cream-themed installations, including a CTA-inspired room dubbed the Sprink-L, mini-golf and a sprinkle pool.
The Halloween version of the pop-up will have new treats, including a pumpkin spice soft serve with bat sprinkles served by a "mad scientist" in an apothecary.
When visitors arrive, they'll be greeted by a ringmaster who will acquaint them with the museum and provide trick-or-treating bags and Halloween masks. Throughout the museum, children and adults can go to cauldrons full of candy and answer riddles. 
"It really comes from the place of wanting to be able to activate the museum in different ways," Bell said.
The museum is also offering a new twist to its ice cream hot dog: a vegan black cherry-flavored hot dog.
People can also buy a variety of treats, including the Graveyard Sundae, which features three scoops of Halloween-inspired flavors and little headstones you can eat, Bell said. Older visitors can also grab a Witches' Brew Cocktail, which will bubble with apple and citrus flavors.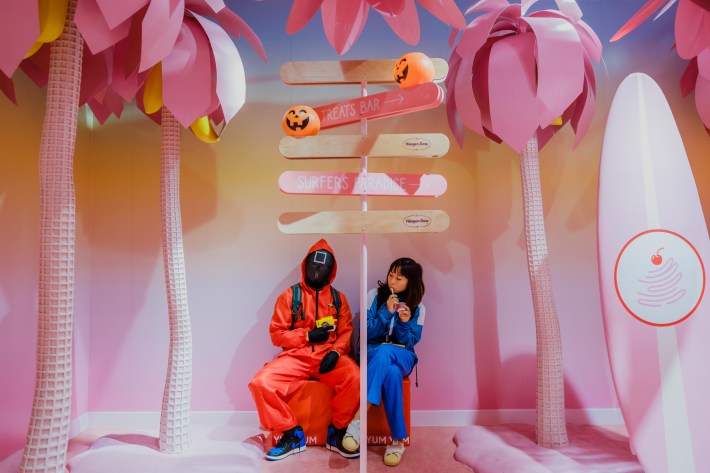 A fortune teller will tell people's fortunes with ice cream-themed tarot cards made for the museum. The Sprinkle Pool will become a graveyard with spooky classics playing.
And family-friendly costumes are welcome. Staff will also be dressed up so everyone can share in the Halloween experience. 
"We want people to become kids again," Bell said, "We want them to walk in that museum and just kind of be able to forget about the troubles outside."
Tickets are $36 during the week, $44 on weekends and $49 Oct. 28-30. They can be bought online.
Listen to "It's All Good: A Block Club Chicago Podcast":