NORTH LAWNDALE — A new soul food fusion restaurant is opening soon at the MLK Legacy Apartments in North Lawndale.
The Soul Food Lounge, a collaboration between Chef Quentin Love of West Humboldt Park's Turkey Chop and the Lawndale Christian Development Corporation, welcomed local foodies for a soft launch Friday to see the new space and sample the menu of Southern food favorites with a twist.
The restaurant, 3804 W. 16th St., is on the ground floor of where Martin Luther King Jr. lived during his time fighting redlining in Chicago. Owners aim to fully open the restaurants in the next few days, said Richard Townsell, the executive director of the Lawndale Christian Development Corporation. 
The Soul Food Lounge will serve dinner to start, but could expand to lunch in the future, Townsell said. Exact hours and an opening date are to be announced.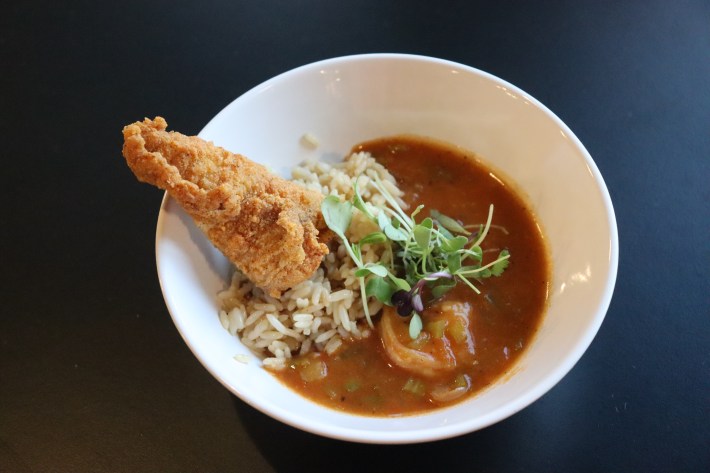 Bringing a sit-down restaurant to the MLK Legacy Apartments, a mixed-use building with housing and commercial space, has been a longtime goal for the Lawndale Christian Development Corporation, Townsell said. The organization has focused on spurring economic development in the West Side neighborhood since the late '80s.
The "herculean" process began in 2012, but issues with funding and other setbacks delayed the process, Townsell said. The continued work and collaboration from local stakeholders and the Lawndale Christian Development Corporation helped make the restaurant come to life this year, he said.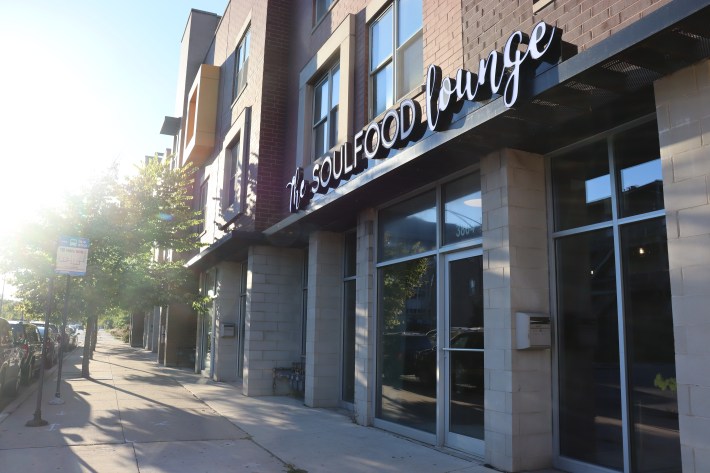 The restaurant signifies "renaissance" and "revival" in North Lawndale, Townsell said.
"We want to have the kind of place not only that would honor Dr. King, but also would honor the community in terms of having a place that is a sit down restaurant, beautifully designed, because I mean, our focus is our beauty," Townsell said.
The Soul Food Lounge was partly funded through Neighborhood Opportunity Fund grants received in 2017 and 2021, Townsell said.
The space was designed by Whittney Smith, the deputy director and counsel for the Lawndale Christian Development Corporation, who said she wanted the space to be "modern," "welcoming" and "warm."
She also created a wooden sign for the restaurant herself using YouTube tutorials.
"North Lawndale folks deserve to be transported to luxury and relaxation — beauty — the same as anyone else, as part of a dining experience," she said. "It's become about transporting the diners to a space where they feel the utmost comfort and luxury while they're experiencing the food and space."
Neighbors and local leaders, including former 24th Ward Ald. Michael Scott Jr., attended the soft launch.
The menu features traditional soul-food offerings with some tweaks from Italian, Mexican, Mediterranean and Asian cuisines, Love said. Unique dishes like mac-and-cheese combined with shrimp fried rice are inspired by the dishes that Love enjoys eating and cooking, he said. 
"We call it soul food but every culture has their own version of soul food," Love said. "That's what The Soul Food Lounge is all about. A lot of our culture has never experienced [these] things, other than the basics. I want to expose people to things they've never had before."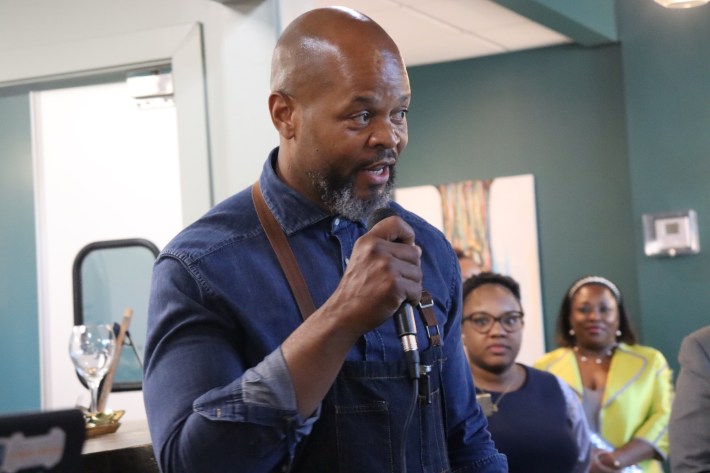 A restaurant like The Soul Food Lounge is "a total paradigm shift in the way that we see our community," Love said.
"We see the neighborhood as upscale and then put upscale things in the neighborhood for people to change their dynamics and their behaviors," Love said.
"So if you want to lower violence, bring in an upscale environment, and we immediately change the dynamic, we go downtown, we change, right? So [if] we bring that change in your own community, change stays right where you are. You ain't got to go nowhere to get that experience. It's right next door."
One of Love's crew members is Melvin Brown Jr., a cook from North Lawndale.
"Everybody from this area who knows me from growing up here in the last 15 years, knows all I've done is cook," Brown Jr. "That's been my profession and…they've never had this before. They've had catering but I've never been able to create — to push out plates for my demographic.
"I feel like my life's work is gonna be done in North Lawndale, I just don't know what it is yet. So this is a part of it. It's got to be."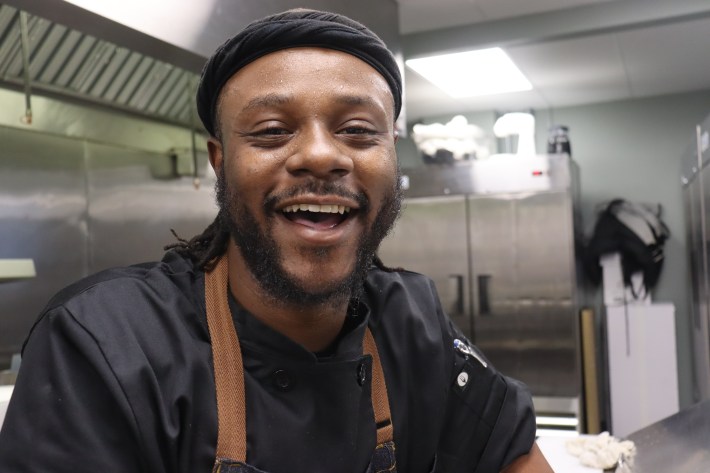 Love said he hopes he can make locals proud to be in their own neighborhood.
"I've gotten a number of praise of 'please open up, hurry up and open up,'" Love said. "This project has been long overdue. We finally made it to the finish line. Now it's time for us to shine."
Listen to "It's All Good: A Block Club Chicago Podcast":