RAVENSWOOD — Urban Brew Labs will soon close its Malt Row brewery and taproom for good, ending a four-year run. 
Owner James Moriarty announced on Instagram the brewery and taproom, 5121 N. Ravenswood Ave., will close by the end of the summer. Moriarty did not give a specific end date for the business, but thanked fans, neighbors and employees for keeping the business going for so long. 
"We'll keep the lights on as long as we have beer to serve, but this will be our final summer season," Moriarty wrote. 
Moriarty told Block Club in an email the closure is due to a lack of sales.
"It's unfortunate, but we just didn't have enough traction [through] distribution," he said, in the email. 
Moriarty was previously a brewer in Massachusetts, New Hampshire, Virginia and Florida before moving to work for Alpha Brewing Operations in Nebraska in 2015.
That experience lead to him wanting to open his own brewery and he had his opportunity to do so when Metropolitan Brewing left Malt Row in 2017. 
Moriarty co-founded the company that moved into Ravenswood Avenue space in 2018, initially naming it Urban Renewal Brewing.
The owners later changed the business' name to Urban Brew Labs after being criticized for the previous name sounding like a 1950's-era policy that displaced poor people and people of color in Chicago and beyond. 
At the time Moriarty told the Chicago Reader that wasn't his intent, that he tried trademarking dozens of other names and the name was referencing the renewal of the 4,500-square-foot facility Metropolitan Brewing had vacated.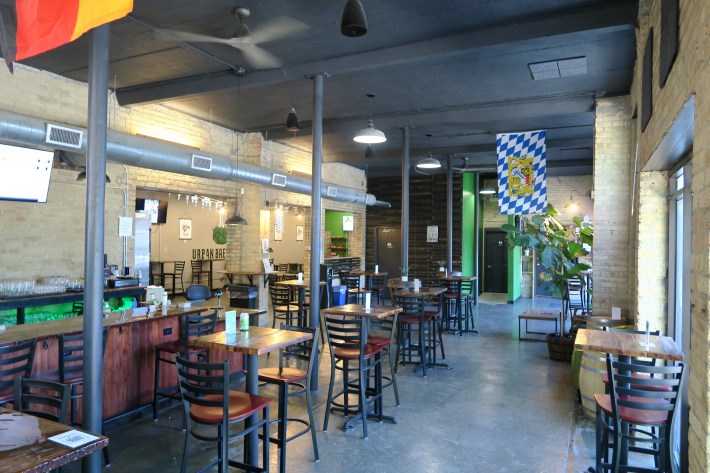 After many years of work and multiple pandemic-related delays, Urban Brew Labs opened a taproom at its 5121 N. Ravenswood Ave. location in October. 
When Urban moved into the space, Moriarty had Koval Distillery as a neighbor. When it came time to set up a taproom showcasing Urban's brews in 2019, the owners considered taking over the now-closed Andersonville Brewing, 5402 N. Clark St.
But when Koval moved down the street, the brewery's owners decided it made more financial and logistical sense to open the taproom at 5121 N. Ravenswood Ave., they said at the time.
Listen to "It's All Good: A Block Club Chicago Podcast":