Editor's note: This story has been updated.
RAVENSWOOD — The newest brewery in Chicago's booming "Malt Row" brewing district is also its smallest.
Located in the old Metropolitan Brewing spot at 5121 N. Ravenswood Ave., Urban Renewal is next-door neighbors with Koval Distillery. Its co-founder and head brewer James Moriarty runs a tight operation, handling all of the brewing, finances and marketing, while another person handles sales and distribution in the Chicago area.
While the brewery may not have much name recognition yet, its location has been a great way to connect with local beer fans, Moriarty said. And he plans to expand the operation.
"People walk in and say 'hi' all the time … everyone is pretty intrigued by what's going on at Urban Renewal," Moriarty said.
Moriarty worked as a brewer in Massachusetts, New Hampshire, Virginia and Florida for almost a decade before moving to work for Alpha Brewing Operations in Nebraska in 2015.
During that time, he said he became fixated on opening up his own operation. After a long search for the right spot, Moriarty jumped when Metropolitan Brewing moved out of its Ravenswood home in 2017, and Urban Renewal was born.
This week, Moriarty was asked to address why he chose to name the brewery Urban Renewal. While he did not respond to this writer's request for comment, he told the Chicago Reader the name does not refer to the 1950's-era policy that displaced the poor people and people of color in Chicago and beyond. He added that it was not his first choice, and that he tried trademarking dozens of others first.
Moriarty says the term was instead meant to specifically refer to the renewal of the 4,500-square-foot facility at 5121 N. Ravenswood Avenue. Metropolitan Brewing had previously operated out of the space for years before moving to Avondale in 2017.

Chicago Reader
Moriarty brewed his first batch of beer in February. Since then, his two 16-ounce canned options, Razed IPA and KISS (Keep it Simple Stupid) Kolsch have appeared on shelves across the city.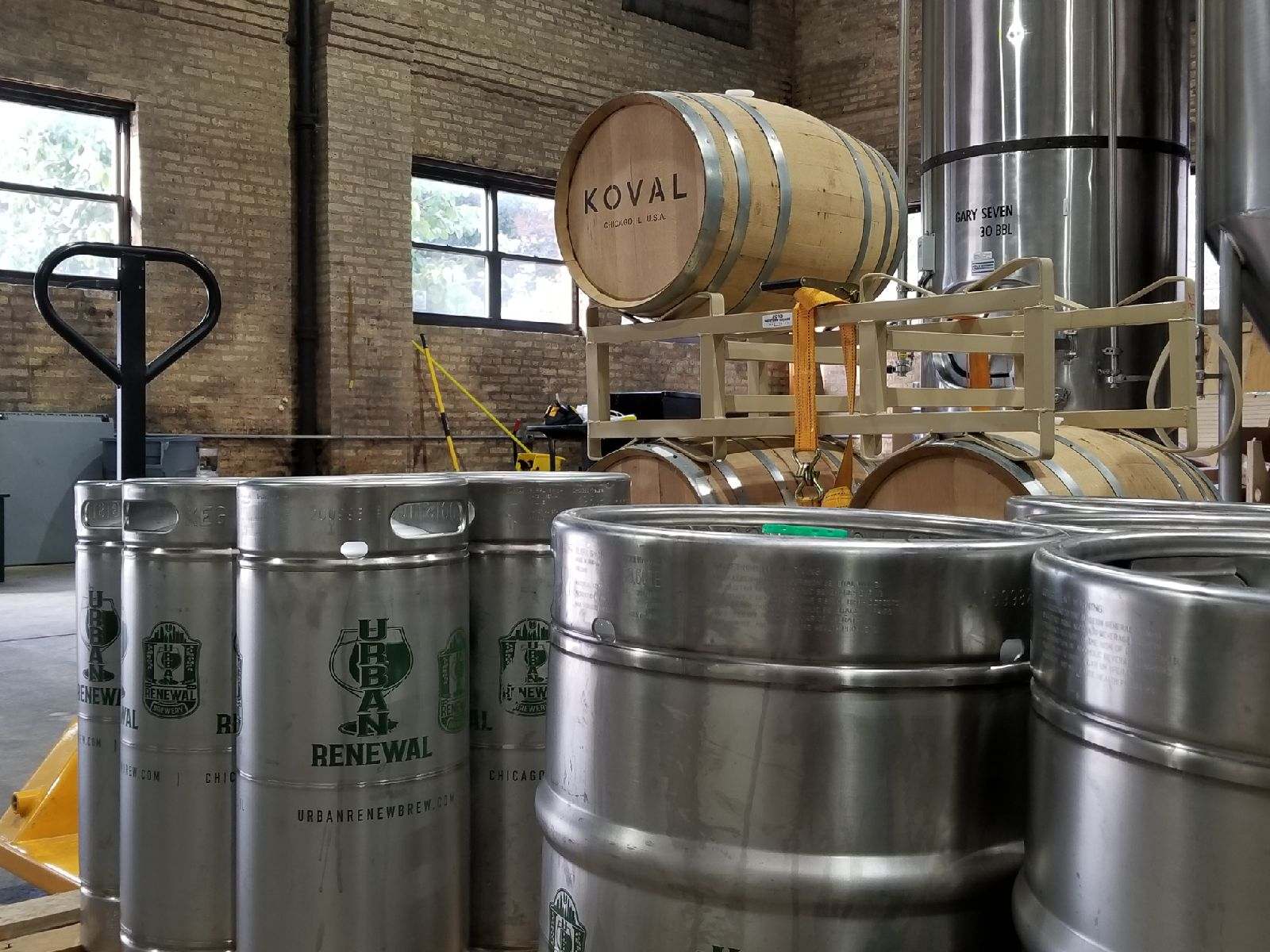 Moriarty loves meeting neighbors and curious beer-tasters, but he can't technically serve them on site because he does not have a taproom license yet. Even though Urban Renewal isn't allowed to provide tours, if you're in the neighborhood and the side garage door is open, he's usually happy to chat and let you check out his growing operation.
Moriarty said he planned to build out the front area of his property to act as a taproom, but those plans died last week when he found out that his building is not permitted for new construction.
"It was a kick in the stomach … even a bit lower than that," he said.
Now he's looking at a former pizza place up the street for his future taproom and restaurant. In any case, he wants to stay close to the friendly fellow brewers and beer-focused tourists in the neighborhood.
"It's nice that everyone is clustered together like this," he said. "People bar hop and people now brewery hop."
While most of the brewing is focused on the two current canned options, Urban Renewal also produces lesser-known beers that frequently appear on draft at Fork, Little Bad Wolf, Sheffield's, The Radler and Beermiscuous.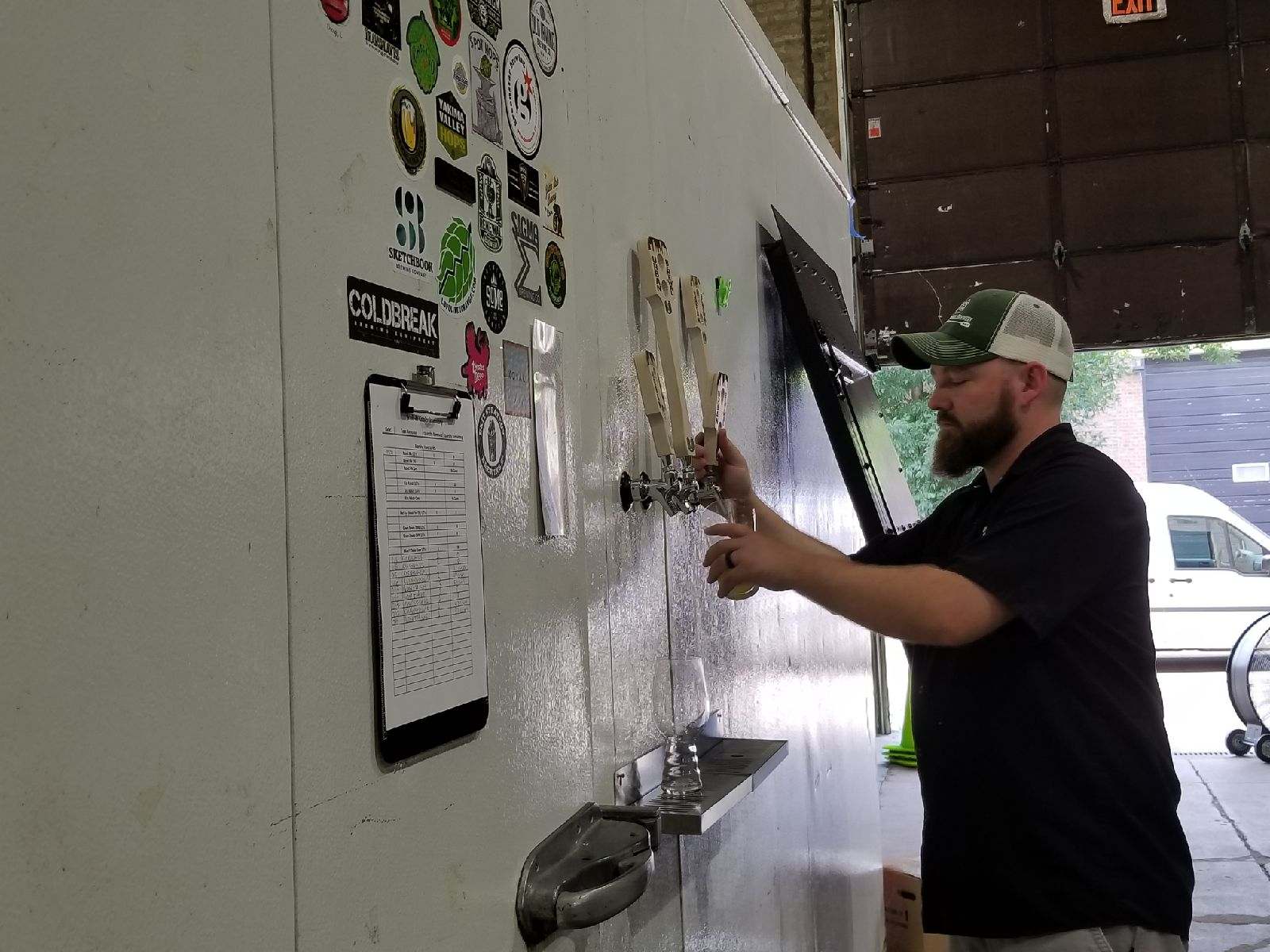 Fans of Urban Renewal can try a "dankier" version of their Razed IPA, Green Chutes DIPA, a Miner's Table Grisette and a refreshing Raspberry Wheat at neighborhood bars in the coming months.
Moriarty also plans to brew a milk stout that should be ready by October. The new stout will be available in pink cans, with some proceeds from the sale of the beer going toward breast cancer research.
Urban Renewal is also planning to release an Imperial Stout this winter with notes of chocolate, coffee and vanilla. Variations on the stout will be offered, including one with coffee and another aged in Koval whiskey barrels.