ANDERSONVILLE — The neighborhood's first brewery will close its doors after 10 years — to make way for Andersonville's newest brew pub.
Andersonville Brewing announced it will shutter at the end of December, capping a decade-long run at 5402 N. Clark St. The brewery-and-bar was opened in 2009 by Brandon and Ashley Wright as a sister business to the brothers' restaurant Hamburger Mary's, which sits next door to the brewery.
It will be replaced by Urban Renewal Brewery, which has operated a brewing facility in Ravenswood but did not previously have a taproom.
Andersonville Brewing, which operated as Mary's Rec Room until 2014, was one of the few sports bar options in that area of Andersonville. It was the first nano brewery operating in Chicago, co-owner Ashley Wright said. A nano brewery is the smallest type of brew operation, thought definitions of a nano brewery vary.
Much has changed since 2009, not only in Chicago's brewery scene but also in the retail makeup of Andersonville and Clark Street in particular, Wright said.
Chicago has more breweries than any other American city, beating out traditional micro-brew towns like Denver and Seattle. Competition among local breweries is more fierce than ever, Wright said.
Then there's Clark Street in Andersonville, where a number of businesses have moved out, citing rising costs and increased competition. The Wright brothers are even entertaining offers for the Hamburger Mary's building, though they have no plans to shutter the LGBT-friendly restaurant, they said.
"There's just more competition in the neighborhood, not just for bars but for breweries," Wright said. "Rent keeps going up, prices keep going up. We decided we want to focus on Hamburger Mary's. That's our bread and butter."
With another year left on their lease, the Wrights began looking for a tenant to take over the Andersonville Brewing space. They knew Urban Renewal was looking for a taproom location, so the brothers reached out, and a deal was struck, Wright said.
READ: Small But Might Urban Renewal Brewing Plans To Grow In Ravenswood
Andersonville Brewing's final day of business will be on New Year's Eve, when the business will throw a going-away party in both the brewery space and the upstairs Mary's Attic.
"That's what we're planning as our last hurrah," Wright said.
Urban Renewal Brewery will take over the 5402 N. Clark St. storefront in January, and is hoping to be up-and-running by March, the brewery said in a Facebook post.
Urban Renewal opened in 2017, operating a brewery and bottle shop at 5121 N. Ravenswood Ave. The business can offer beer tastings, but does not have a taproom. That will change in the new year.
"We look forward to finally being able to serve you all a pint of beer," the brewery said in the Facebook announcement.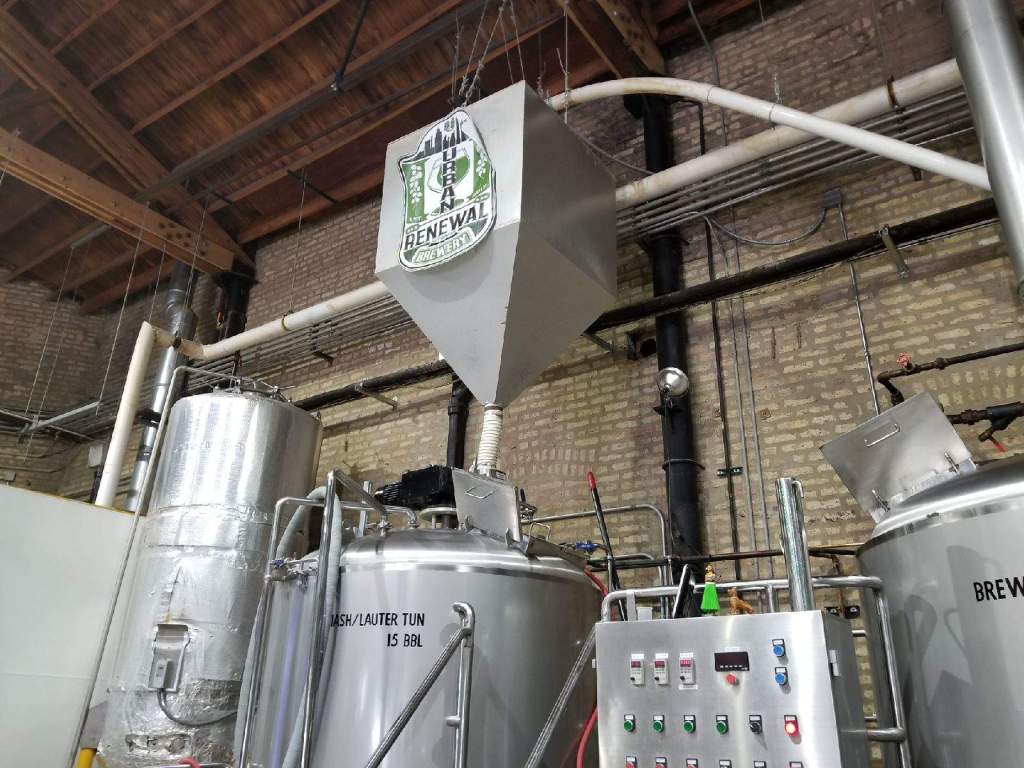 Wright said the breweries are working together to allow for a smooth transition. With production winding down, Urban Renewal is already on tap at Andersonville Brewing. There is also the possibility for Urban Renewal and Hamburger Mary's to partner on food offerings, Wright said.
"This is not a hostile takeover," he said with a laugh.
Urban Renewal is planning to keep its Ravenswood facility as its main brewing operation. The Clark Street location will brew one-off beers for the taproom and produce experimental beers to be aged in a barrel cellar.
"We are beyond excited to have worked with Ashley and Brandon Wright to coordinate the passing of the torch," the brewery said on Facebook.
Do stories like this matter to you? Subscribe to Block Club Chicago. Every dime we make funds reporting from Chicago's neighborhoods.
Already subscribe? Click here to support Block Club with a tax-deductible donation.