JEFFERSON PARK — A long-empty lot on the city's Far Northwest Side will be transformed into an affordable housing development for veterans, people with disabilities and families.
The development at 6001 W. Lawrence Ave., which began construction Oct. 13, will consist of two four-story buildings with 48 units near Lawrence and Austin avenues.
Developer Full Circle Communities is behind the project and is working with Illinois construction company Henry Bros Co. after securing city permits last month.
The buildings are designed by Canopy Architecture+Design and will include on-site management, a library, computer room, community room and on-site resident services to help families coordinate access to benefits, health and wellness services, employment services and financial counseling, according to a Full Circle Communities news release.
The project's start was delayed because of permit and construction setbacks. Construction will take about a year, according to the organization.
Joshua Wilmoth, president and CEO of Full Circle Communities, said in a statement the development will fill a much-needed hole in the community. 
"This long-vacant site has been an eyesore and nuisance, and we are thrilled to revitalize the site with high-quality housing that serves the wide range of families that call Jefferson Park home," Wilmoth said. "We think this is an incredible opportunity to build on our community relationships and continue our year's long work of bringing affordable housing options to Chicago's North West side."
The development will have studio apartments renting for $444-$780 a month; one-bedroom apartments for $475-$1,337; two-bedroom apartments for $570-$1,604; and three-bedroom units for $660-$1,854.
Residents who make 30, 50 and 80 percent of the area median income can qualify for the apartments.
RELATED: Northwest Side Affordable Housing Proposal Tests Lightfoot's Resolve On 'Aldermanic Privilege'
RELATED: 700 People Apply For 75 Apartments In Jefferson Park Affordable Housing Complex Some Neighbors Didn't Want
The nearly $20 million development is getting tax credit financing from the Illinois Housing Development Authority, The National Equity Fund, Inc., Com-Ed and other grants.
The project does not involve city-backed financing. It did receive support from Mayor Lori Lightfoot and the city's Department of Housing.
The developer began planning in 2019 after realizing the site's existing zoning would allow for the buildings without needing direct approval from the alderman, Wilmoth previously told The Daily Line.
Ald. Nick Sposato (38th) tried to block the project last year over density and parking issues and because some neighbors were upset about the development. But City Council sided with Lightfoot and didn't approve Sposato's request to downzone the land. He later told WTTW he would work with the developer to make sure the project could "benefit the entire neighborhood."
The project's original plan had 34 parking spaces, but it will now have 47 behind the building. Sposato told Block Club he was informed there would be 53 spots and said it was "disheartening" to learn fewer spaces are planned.
The alderman said he plans to reach out to the developer, whom he said has been communicative and good to work with, though he still thinks 48 units is too dense for the area.
Wilmoth said Full Circle Communities tried to get 1:1 parking for the property, but city planners brought it down.
The Lawrence development is the second in the area for the nonprofit. Construction on the Jefferson Park affordable housing complex at 5150 Northwest Highway is nearing completion after construction delays. Tenants are scheduled to move in before the end of the year, Wilmoth said.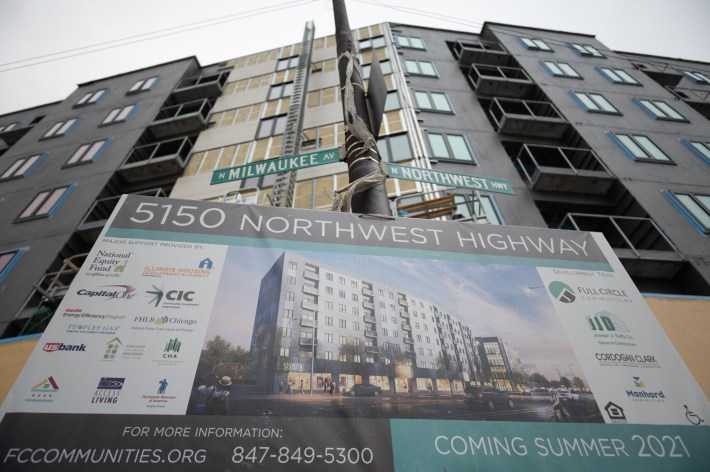 The seven-story project will also be geared toward veterans and people with disabilities. Of the 75 apartments, 45 will be listed as affordable and 15 will be market-rate.
The developers faced years of furious and racially charged debates from some members of the community — which also included worries about density and increased traffic.
When applications opened for the development this summer, Wilmoth said more than 700 families applied, and about 150 of them are from veterans or people who have disabilities, who are at the top of the company's interest list.
Wilmoth previously told Block Club that some people who were initially skeptical have now applied to be on the building's waiting list.
Affordable housing advocates on the Far Northwest Side have long said there is a large need for this kind of housing. The applications are proof, and the company is still sorting through them, Wilmoth said.
Listen to "It's All Good: A Block Club Chicago Podcast" here: