CHICAGO — Activists have pushed the Chicago Police Department to stop using ShotSpotter following reports casting doubt on the technology's reliability.
But city records show the Police Department already renewed its controversial contract months ago, finalizing an extension in December to continue using ShotSpotter until late 2023.
Chicago police have used ShotSpotter since 2016, paying the company for its technology, which the company says "listens" for loud noises, determines if a boom or bang was a gunshot and then pinpoints where the noise came from to within 90 feet. Police officials have said it improves response times for patrol officers.
But studies and recent reporting increasingly have concluded the tool does not work as well as advertised, contributes to overpolicing in non-white neighborhoods and has been manipulated at the request of police departments in criminal prosecutions, prompting activists to demand the city stop working with the company.
RELATED: Chicago Should Cancel ShotSpotter Contract After Report Shows Police Influence On Technology, Activists Say
Chicago's three-year deal with ShotSpotter, worth up to $33 million, was due to expire last week. It now runs until Aug. 19, 2023.
A police spokesperson declined to comment and directed all questions to the city's Procurement Services, which confirmed the contract extension. ShotSpotter declined to comment on the contract.
Procurement records show the city has paid the company $24.1 million through June.
After learning about the contract's extension, Alyx Goodwin, of the Action Center on Race and the Economy called the news "frustrating." "There is a lack of transparency."
Goodwin said local organizers still are committed to end the city's use of the technology.
"This is a public health issue," Goodwin said. "We want City Council to be more aware of the technology that CPD is using and also heed the words of their constituents. If constituents say they don't want ShotSpotter but they do want housing or healthcare, City Council members should be listening."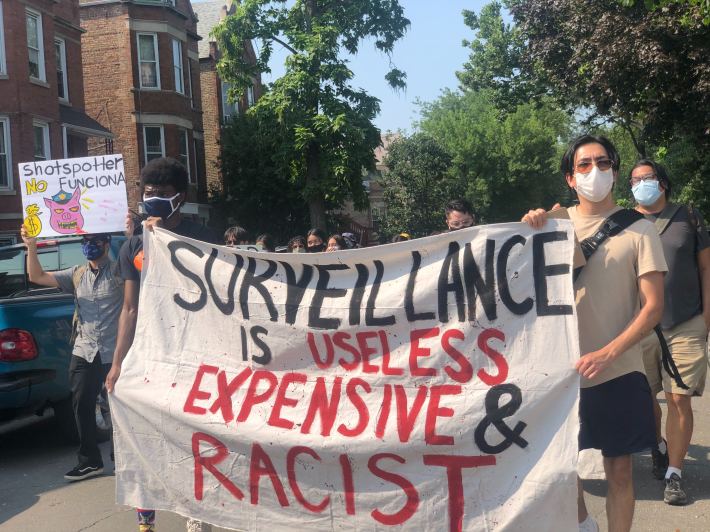 More than 100 cities have contracts with ShotSpotter. In Chicago, the system covers 117 square miles across 12 police districts concentrated on the city's South and West sides, making the city one of the company's top customers.
Scrutiny of how it works has intensified in recent months.
In May, a study from MacArthur Justice Center at Northwestern University's School of Law reviewed two years of data and concluded the tool is too unreliable for routine use. Researchers concluded ShotSpotter sent Chicago officers on more than 40,000 "dead-end deployments," meaning officers never filed any kind of police report after responding to an alert.
Attorneys argued the technology's lack of accuracy — along with its dominant use in Black and Latino communities — feeds "racialized patterns of overpolicing." 
In another study published in April, researchers who evaluated the technology from 1996 to 2016 in metropolitan counties found ShotSpotter technology had "no significant impact on firearm-related homicides or arrest outcomes."
Last month, Vice Magazine reported technology was  "almost exclusively" used in non-white communities and showed the company has manipulated the data at the request of police departments, including Chicago's.
A ShotSpotter analyst changed the coordinates of an alert in a murder case months after a May 2020 shooting in Chicago, according to Vice. Michael Williams was arrested and charged with the shooting, with prosecutors citing ShotSpotter sensors to bolster their case.
The case was dismissed last month for insufficient evidence.
"I kept trying to figure out, how can they get away with using the technology like that against me? That's not fair," Williams told The Associated Press, which also investigated the technology.
In an investigation published Thursday, the AP reported a ShotSpotter employee prepared forensic reports that were used in court to allege a defendant shot at police. The system also missed gunfire under its microphones and misclassified fireworks or cars backfiring as a gunshot, according to the report.
Like Vice, the AP investigation concluded ShotSpotter employees change the source of sounds after listening to audio and modify the location of where a shot purportedly occurred and how many shots were fired at the request of police.
ShotSpotter pushed back against the reports. Allegations it tampered with or altered data are an "outrageous lie," said Sam Klepper, senior vice president, marketing and product strategy at ShotSpotter.
"ShotSpotter categorically denies any allegations that we manipulate any details of an incident at the request of the police. We respond to requests to further investigate an incident but only to provide the facts that we can determine — not to fit a predetermined narrative," Klepper said in a statement.
Police spokesman Tom Ahern has defended the technology, saying it allows officers to respond "quickly to locate and aid victims, identify witnesses and collect foreseeing evidence," instead of relying on 911 calls.
"ShotSpotter is among a host of tools used by the Chicago Police Department to keep the public safe and ultimately save lives," Ahern said last month. "Using ShotSpotter, CPD receives real-time alerts of detected gunfire enabling patrol officers to arrive at a precise location of a shooting event quickly."
After the Vice report was published, activists took to the streets of Little Village to protest. A petition to cancel the contract has garnered nearly 2,000 signatures.
In fighting against the technology, Goodwin said this was an example of people profiting off police violence, police harassment or surveillance of Black and Latinx people."
"Nobody had a say about ShotSpotter being deployed, whether it was the first contract or this recent extension," Goodwin said. "There is a large disconnect between what the community wants and what the city and CPD think folks need."
Subscribe to Block Club Chicago, an independent, 501(c)(3), journalist-run newsroom. Every dime we make funds reporting from Chicago's neighborhoods.
Already subscribe? Click here to support Block Club with a tax-deductible donation. 
Listen to "It's All Good: A Block Club Chicago Podcast" here: