CHICAGO — The city's ShotSpotter system is supposed to detect sounds of gunfire, allowing officers to know about and respond to shootings before anyone even calls 911.
But an analysis released Monday from the MacArthur Justice Center at Northwestern University's School of Law concludes ShotSpotter is too unreliable for routine use. Over a nearly two-year period, the study showed the technology sent officers on more than 40,000 "dead-end deployments," meaning officers never filed any kind of police report after responding to an alert.
Officers responded to 46,743 ShotSpotter alerts July 2019-April 14, 2021. Only 5,114 of the alerts — about 11 percent — resulted in officers filing a report "likely involving a gun," according to the study's analysis of records obtained from city's Office of Emergency Management and Communications.
That lack of accuracy — along with the technology's dominant use in predominantly Black and Brown communities — feeds "racialized patterns of overpolicing," attorneys argue. The study was the basis for an amicus brief, filed Monday on behalf of Chicago-based community groups, asking a Cook County judge to question whether ShotSpotter reports should be allowed as evidence in a pending murder case. 
"On an average day in Chicago, the ShotSpotter system sends police out on more than 60 dead-end searches for gunfire. Every one of these deployments creates a dangerous, high-intensity situation where police are primed by ShotSpotter to expect to find a person who is armed and has just fired a weapon," the court filing says.
Police spokesman Tom Ahern defended the technology, saying ShotSpotter speeds up response time compared to 911 calls, enabling officers to "more quickly … aid victims, identify witnesses and collect forensic evidence."
"In order to reduce gun violence, knowing where it occurs is crucial. ShotSpotter has detected hundreds of shootings that would have otherwise gone unreported. The Chicago Police Department's expansion of ShotSpotter is helping us reduce crime and make our neighborhoods safer," Ahern said in a statement.
"The system gives police the opportunity to reassure communities that law enforcement is there to serve and protect them and helps to build bridges with residents who wish to remain anonymous."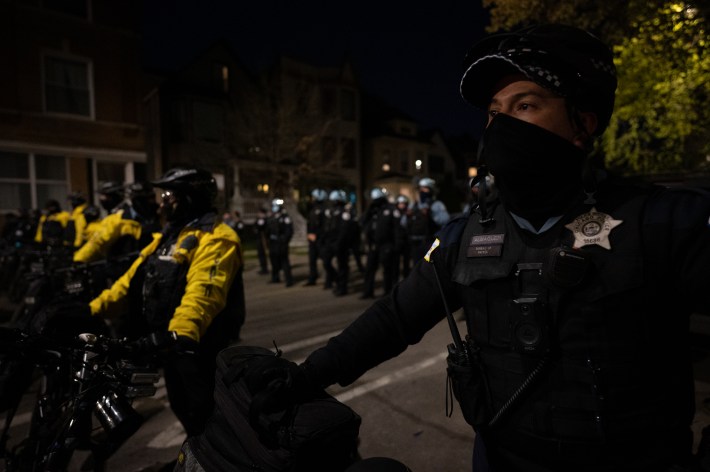 Chicago is one of more than 100 cities that contract with ShotSpotter, a California company that uses audio sensors to record loud booms and determine if the noise was produced by gunfire.
Chicago's ShotSpotter system covers 117 square miles across 12 police districts concentrated on the city's South and West sides, making the city among the company's top customers.
Under a three-year, $33 million contract signed in 2018, the city pays ShotSpotter to provide near-real-time feedback on whether the boom or bang captured by sensors was a gunshot and pinpoint its location within a purported 90 feet.
Procurement records show the city has paid more than $19.3 million to the company through 2020. While the three-year contract ends in 2021, it can be extended through 2023.
The use of the technology has received heightened scrutiny due to its use on the night a Chicago Police officer shot and killed 13-year-old Adam Toledo in Little Village.
Chicago Police officer Eric Stillman and his partner responded to a ShotSpotter alert of gunshots fired and saw Toledo and 21 year old Ruben Roman near an alley. Stillman pursued a fleeing Toledo down the alley and fired one shot as the teen turned toward him with his hands raised. Although video footage appears to show Toledo had a gun in his hand during the chase, he dropped it and his hands were empty when Stillman fired the shot.
The Civilian Office of Police Accountability released audio snippets of ShotSpotter recordings, along with video appearing to show Roman firing the gun moments before the officers arrived at the scene.
Sam Klepper, senior vice president for marketing at ShotSpotter, said the audio surveillance system features two layers to determine whether a loud boom is gunfire or another loud city noise, such as fireworks or a helicopter.
When a sensor picks up a loud boom, machine learning software will "make an initial determination of whether it's likely it was a gunshot or not, and assign a probability to it," Klepper said. 
Analysts working in one of two review centers will make a determination based on a sound clip and a visual of the sound wave. If they believe it is gunfire, an alert is sent to the Police Department. The process takes less than 60 seconds, Klepper said.
"We are investing to make this better and better, and police are very picky about their technologies, and they should be," Klepper said. "So we wouldn't be in 110 cities as we are … and we have over 100 square miles in Chicago, we wouldn't be doing these things unless we had a quality service."
The company did not immediately respond to a request for comment on the court filing.
The MacArthur Justice Center study challenges the company's claim of being 97 percent accurate, saying, "ShotSpotter has not released any scientifically valid study to substantiate that figure."
"The ShotSpotter system in Chicago prompts thousands of deployments by police hunting for gunfire in vain. This system puts police on high alert and sends them racing into communities; but almost nine times of our 10, the police don't turn up evidence of gun crime or any crime at all. It creates a powder-keg situation for residents who just happen to be in the vicinity of a false alert," Jonathan Manes, an attorney with the center, said in a news release.
The court filing argues ShotSpotter "imposes a discriminatory burden on communities of color in Chicago."
"ShotSpotter alerts prompt fast-paced, uninformed police hunts that escalate encounters between the police and civilians and put the lives of residents at risk. Moreover, these burdens precisely follow the racial divide in the city, exacerbating existing racial inequities in policing," it says.
The city uses the technology in 12 of its 22 police districts. All the areas where it's used have majority Black or Latino populations.
"The ShotSpotter system contributes to familiar, racialized patterns of overpolicing in Chicago that have bred mistrust in communities while failing to provide genuine public safety," the court filing says.
At an unrelated news conference Monday, Mayor Lori Lightfoot defended the use of ShotSpotter, calling it an "incredibly important tool in our crime-fighting arsenal."
"ShotSpotter technology, when coupled with the camera technology that we have in [Strategic Decision Support Center] rooms, no question whatsoever is a lifesaver," she said. 
Lightfoot credited the technology with alerting the Police Department to gunfire that might not be reported through 911 calls, and she said it allows detectives to be "on the scene, securing evidence, looking for witnesses, getting additional video support."
Subscribe to Block Club Chicago, an independent, 501(c)(3), journalist-run newsroom. Every dime we make funds reporting from Chicago's neighborhoods.
Already subscribe? Click here to support Block Club with a tax-deductible donation.