As part of The Folded Map Project, Tonika Lewis Johnson and sociologist Maria Krysan interviewed 30 people about how they first confronted — and eventually combatted — harmful narratives about Chicago's South and West sides. Block Club Chicago is publishing five of these stories. We invite you to join us Wednesday on YouTube for Making Chicago's Segregation Personal, a live conversation about neighborhood stereotypes, segregation and how you can better understand your community by getting to know someone else's.
This is the fifth story in a five-part series. Read the first here, the second here, the third here and the fourth here.
CICERO — Where are you from?  It seems like such an easy question. But for Leslie Cortez, it's a complicated and emotional one.  
For starters: she's not sure of the right answer. The daughter of Mexican and Salvadoran immigrants, she mostly grew up in Humboldt Park and later lived in suburban Cicero. Cortez's family was low-income and moved around frequently, so her upbringing made it tough enough to pinpoint where she is "from."
But when she arrived at college in an upper crust west suburb, she learned her origin story quickly created perceptions about her — even among other Latinx students.
"People always start with, 'Where are you from?' and then treat you accordingly. As soon as I said that I grew up in Humboldt Park and that I lived in Cicero, everyone's attitude and interaction shifted," Cortez said. "They — a group of college students I had just met — were all from the North Side. They quickly went into how [my neighborhood] is so dangerous. How their parents tell them that is why they don't live 'out there'. That the news is always covering areas like mine.
"Immediately I was categorized as out, as dangerous, as 'hood.' I didn't know this, but my address told people how they should talk to me and talk at me," she said.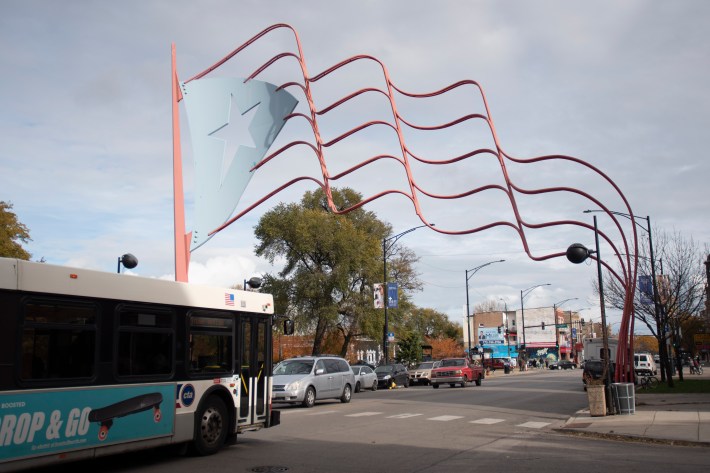 'I couldn't get any of my residents to leave campus'
When Cortez started college in 2012, it was a massive achievement for her family. They had always struggled to make ends meet.
Arriving for orientation at Concordia University Chicago in River Forest, "I was like, 'Oh my god. I'm here. I'm in college.' This is unreal to me. Little me is nerding out, going everywhere. And it was really cool." 
Then new students started a "getting to know each other" activity.  
"We sat on the ground, and the tour guide was reading out some questions. 'Who's traveled to more than one country before?' And people are raising their hands. And I was like, 'Whoa.' And then 'Name your favorite brand.' And people were saying really expensive brands. And I was just starting more and more to feel out of place."
"Right then and there, people were fighting to say that they were pretty well-off. And I didn't realize how much of a difference there was. And it got to a point where I realized, 'I'm really poor.' And the imposter syndrome was starting to form."
Beyond being poor, being from a "certain" neighborhood would set her apart and reinforce her sense of being an outsider on campus.  
"Suddenly this power was created for 'higher class' Latinx and POC families who came into the U.S. the 'right way' or who had a better social class," Cortez said. "And for them this translated into how hard their parents worked to not live in the West or South Side 'where all the Mexicans' lived. They were able to afford 'diversity.'"
And the lines that were drawn extended beyond the neighborhoods, as "another layer is added on if you talk about what schools you came from. I was looked at like a wild child for coming from CPS or for not being in private school."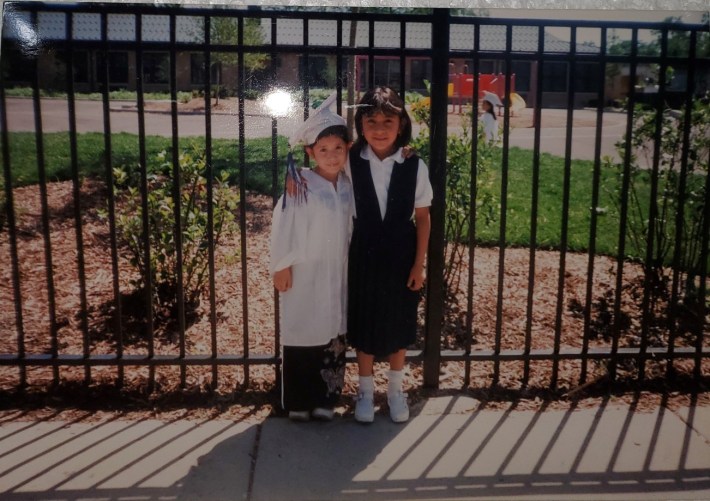 Instead of going Downtown with her new classmates that night, and rather than spend her first night at her dorm room on campus, Cortez went home to regroup before classes started.  
As she progressed through school, she was repeatedly confronted with loaded misconceptions about her and her upbringing because of where she lived.
"I had friends who were from the North Side, who would say, 'Oh, you're from down there,'" Cortez said. "And I was like, 'What do you mean?' And so they would say, 'Oh, well, I see every single night that there are shootings over there. You're from over there? And that's where you're living?'"
"It was this disbelief of, 'How are you surviving every single day?' Like this assumption that it's like a warzone or something," she said.
Fielding the constant questions and comments was tiring enough.
"Another thing, too, is being brushed off. People treat you differently … they weren't as curious [about me] or they made an assumption about how smart I was."
She learned she had to defend where she grew up and begin challenging these perceptions. Ironically, in the same way some of her classmates had been warned about the dangers of the South and West sides, she'd long been told to avoid parts of the city where her classmates lived.
"I had grown up learning that Downtown is dangerous, the North Side's dangerous," Cortez said. "And I remember me and my classmate — the one who was from the same town as me — we both thought there's always something happening [on the North Side]. And they're like, 'no'. And they all ganged up."   
When Cortez talked to students who weren't from Chicago, the stereotypes they'd lob at her centered more around that she was the only Latinx person they'd met. They'd only seen Latinx people on TV.
"And there are very few good roles for Latinx [actors], so I don't even know what they thought about me," Cortez said. But "because they were from out of town, they didn't really know where I was from. So I definitely experienced xenophobia and prejudice, but I didn't experience that specific, 'Oh, you're from this part.'"
For this group of students, the entire city was a no-go zone. She'd confront that when she was a resident assistant and tried to get students in her dorm to explore the area.
"I remember trying to get people to go out of Oak Park/River Forest. Out of the campus. And they were like, 'No, we can't go there, my mom said I can't go down there. We can't leave. It's dangerous. Chicago's dangerous.' I was like, 'You're gonna be with me, we're going to Chinatown. We're gonna be fine. And I couldn't get any of my residents to leave campus," Cortez said.
'The city makes it really hard for us to interact because of the way it's set up'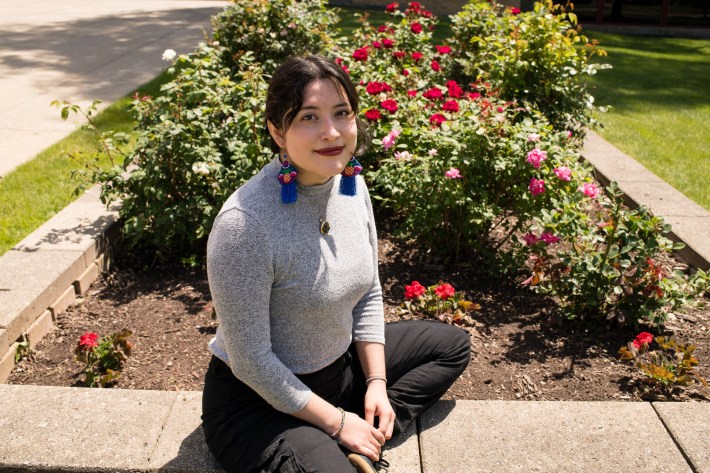 Later in college, Cortez said her first Latinx professor bluntly identified the issue lurking underneath it all.
She said, "Doesn't it ever bother y'all that the city is segregated?"
"That always stuck with me," Cortez said. "And then as I progressed into my sociology classes, I was like, why are we like this? Why don't we talk about these things? Why don't we try and hang out with people from different neighborhoods? I would challenge my friends to come to the West Side. It was always a struggle. I was like, 'Why don't we do this? Why don't we interact with each other?' The city makes it really hard for us to interact because of the way it's set up. I just think it's really important to name the issue… segregation."
Many of the stories in this series highlight the impact of 'neighborhood stereotypes' on people's willingness to visit, live in or work in certain communities, and how those perceptions impact decisions that perpetuate segregation. For Adrianne Hawthorne, Soren Spicknall and Joey Della Vecchia, they intentionally visited the places they were told not to go to educate themselves. In doing so, they learned the stereotypes and advice about certain neighborhoods — often from people who had never set foot in them — were wrong.  
Cortez' story flips the issue onto its head to ask: What does it mean to be from the places people stereotype? Place-based stereotypes shape what people assume about a person and add another layer to the systemic forces shaping how racial inequality plays out in the lives of Chicagoans. 
For Cortez, much like Tiana Morgan, it is a painful process to battle these assumptions that hers is a bad neighborhood and she is somehow less than because of where she's from. And like Morgan, she has to navigate how much to reveal to people about where she grew up, how much she wants to challenge someone's impression of her in a given situation.
"I feel like it's really important to touch on that because I always feel like we're dancing around it," she said. "And sometimes I just want to cut through it and just be, 'What are you really trying to say?' And sometimes I have just asked, 'What do you really mean by that?'
"And I know it can be a very pointed question. But at the same time, the question and answer carries a history. Segregation still impacts us today. How can we break down, at our peer level, that our interactions are class-based? And race-based? And that we then have been conditioned to act accordingly." 
Subscribe to Block Club Chicago, an independent, 501(c)(3), journalist-run newsroom. Every dime we make funds reporting from Chicago's neighborhoods.
Already subscribe? Click here to support Block Club with a tax-deductible donation. 
Listen to "It's All Good: A Block Club Chicago Podcast" here: