SOUTH SHORE — South Shore residents gathered along the busy 71st Street corridor Tuesday calling for a peace treaty between local gang members, after a woman was killed and five other people were shot in the neighborhood last weekend.
A few dozen people visited the corner of 71st Street and Clyde Avenue Tuesday evening, kicking off the "Operation: Peace Over East" initiative while honoring the six people victimized by gun violence on the corner less than 48 hours prior.
A 23-year-old woman was shot six times near the intersection around 8:45 p.m. Sunday night and later pronounced dead at the University of Chicago Medical Center.
Five other victims aged 15 to 21 were taken to UChicago, Jackson Park, Comer's Children and Northwestern Memorial hospitals in stable condition.
A black SUV involved in the shooting was last seen fleeing westbound on 71st Street, police said. No one was in custody as of Tuesday night.
The mass shooting in South Shore took place about two hours before 11 people were shot and 37-year-old Nyoka Bowie was killed in Marquette Park.
After a weekend which saw a reported 78 people shot across the city, Operation: Peace Over East aims to reduce the numbers of shootings, shooting victims, assaults and property damage in South Shore over the July 4 weekend and beyond.
Residents will use their community connections to promote "a peaceful atmosphere" through the holiday weekend with positive loitering events, mentoring, mental health outreach and other efforts.
"We're going to go to the hotspots in the South Shore area and assign gentlemen of the area to make sure that any partying and celebration stays a party," said Arthur Reed, executive director of the Second Chance Initiative community organization.
Volunteers will also ride around the neighborhood in caravans, handing out pop cans, waters, juices and other treats to keep people cool and focused on fun, he said.
The initiative is led by a coalition of South Shore organizers including Reed, William Calloway, Dante "Wolf" Wilson — whose softball games between current and former gang members inspired the initiative's name — and others.
My Block, My Hood, My City granted $25,000 through its Hit the Hood project to support the initiative through the July 4 weekend, though organizers hope to sustain the effort beyond the holiday by securing funding from other grassroots organizations.
Participants in the peace initiative personally know "at-risk youth" in the neighborhood, as well as "all these generations" of people who can serve as mentors and friends to the youth, Reed said.
Those relationships provide a leg up in preventing violence, since "we understand the trauma that a lot of these people have went through," he said.
"It's one thing to have people come in and talk at you, but it's a different story to have people come in that you know, respect and trust, and try to help you change your life," Reed said. "It might not work the first time, but you keep hammering it in, eventually we hope to change some lives."
Acknowledging that relationships are a two-way street, Calloway made an open call to area gang members to get in touch with South Shore community organizers as they work to create a less violent community.
"Beloved, I beseech you: Please put the guns down," he said. "If you want a life out of crime, you want a life out of violence, reach out to us. … You're not alone. We love you, I love you, I'll come meet you where you are."
For the initiative to have a shot at success, South Shore residents have "got to work with people that you trust, who you know are going to have credibility and care," Calloway said.
The initiative's narrow focus on South Shore and dependence on personal connections, on its own, won't prevent another citywide bloodbath like last weekend. But it can help create a safer neighborhood and provide a blueprint for other communities to follow, Calloway said.
"We're going to start right here," he said. "A lot of times when we're curbing violence, we're spread too thin. We don't focus and concentrate on one area and see … what types of resources and anecdotal solutions we can do right there to change the neighborhood."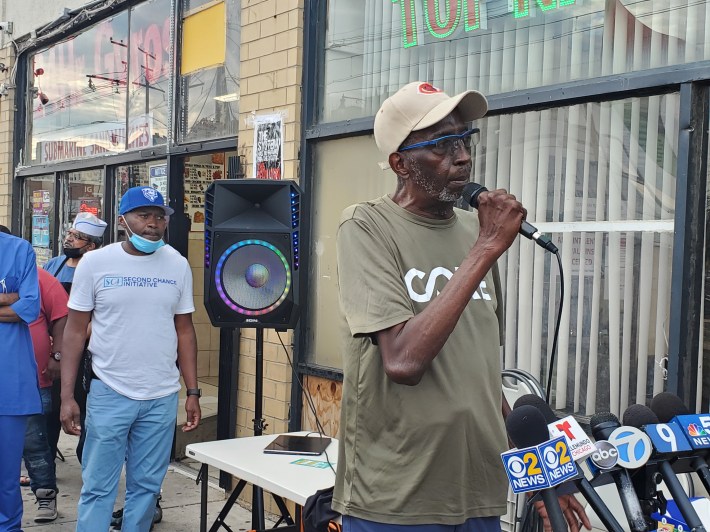 Subscribe to Block Club Chicago, an independent, 501(c)(3), journalist-run newsroom. Every dime we make funds reporting from Chicago's neighborhoods.
Already subscribe? Click here to support Block Club with a tax-deductible donation.