WEST TOWN — For about an hour Tuesday morning, students at Bennett Day School, 955 W. Grand Ave., left their classrooms and marched at the intersection of Grand Avenue and Morgan Street.
With the help of a crossing guard and several teachers, the students stopped traffic on Grand Avenue, holding handmade signs and yelling chants such as, "We are the children. The mighty, mighty children."
Bennett fourth-graders Sienna Martin, Finn Connell, Nia Simone Hall and Emily Tarshis led the protest, the school's second in two weeks. And their hard work paid off: After protesting, sending letters and delivering petition signatures to Ald. Walter Burnett (27th), the sign is being installed next week, the alderman said.
Students have fought for a stop sign for months. The cause intensified in recent weeks after Lincoln Park High School teacher Alan Nunez was killed at the intersection.
In a Thursday text message, Burnett said his office requested a stop sign at the intersection in October 2019. Because Grand Avenue is a street managed by the state, however, it is difficult to add stop signs without jeopardizing funding.
Burnett said he was ultimately able to override the Chicago Department of Transportation's recommendation that a stop sign not be added to the corner. A stop sign installation is scheduled for June 25, he said.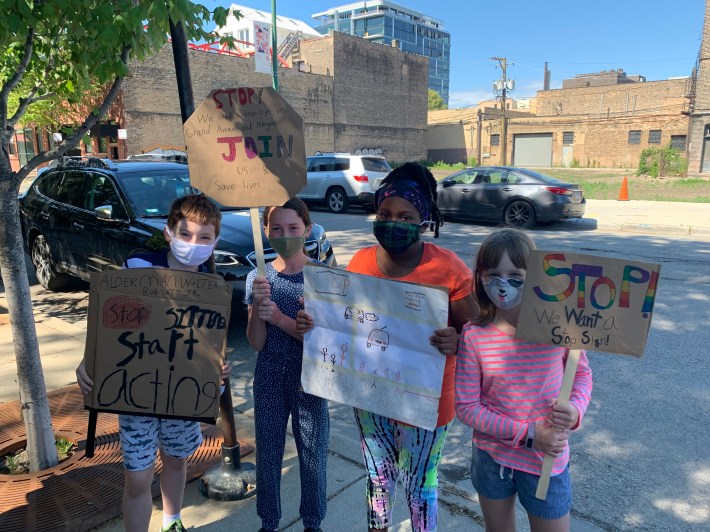 "A school of [261] students is on this corner and a third of them cross that street walking," Connell said. "We've done everything we can."
RELATED: After Driver Runs Over Man At Logan Square Intersection, Neighbors Say More Stop Signs Are Needed To 'Prevent Another Horrible Accident'
Burnett said the students' ongoing requests for a stop sign helped move the process for installation forward.
In Logan Square, a neighborhood fight for a stop sign at the corner of Diversey and Albany avenues is currently being held up by the same issue regarding state funding, as Diversey is also a state road.
'If it takes a protest to do it, we will protest'
Bennett is a private school with students aged preschool through 12th grade. The school utilizes a project-based learning method of education.
West of May Street, Grand Avenue has several stop signs slowing cars along a busy strip of bars, shops and restaurants. But within the half-mile stretch between May Street and the six-corner Grand-Milwaukee-Halsted intersection — where cars only stop if there is a red light — there are no stop signs.
"People just fly by," teacher Ayesha Sumbal said.
Teachers and staff began asking for a stop sign at the Grand and Morgan intersection in 2015, Bennett administrator Kei Milbrook said.
About a year and a half ago, school leaders were informed that City Council had approved a request from Burnett for a stop sign at the intersection. The school was given a copy of a Oct. 2019 ordinance showing the approval.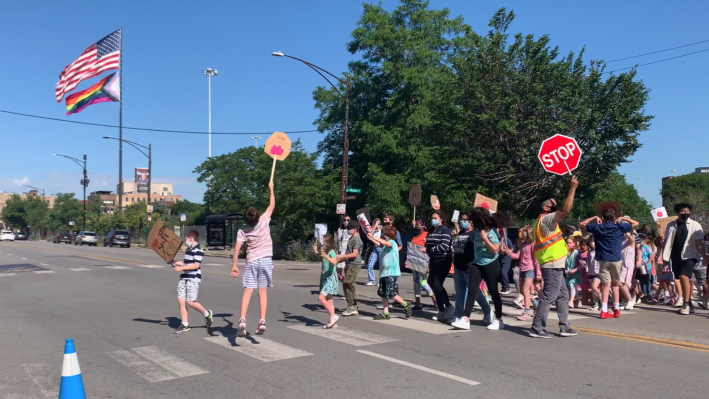 While teaching a unit on democracy, Sumbal instructed her fourth graders split into groups and form political parties around one or two issues they thought were most important.
"The Compassionate Community" — led by president Tarshis, Vice President Martin, secretary of state Connell and speaker of the house Hall — campaigned on a promise to do everything in their power to get a stop sign at the school's busy intersection.
More than 250 students voted in a school-wide election. The Compassionate Community won.
Tarshis lives near Bennett and must cross Grand at this corner every day on her walk to school. She has long feared a driver would strike a child or neighbor.
"It's really dangerous," she said. "Even with a crossing guard, we never feel safe crossing the street."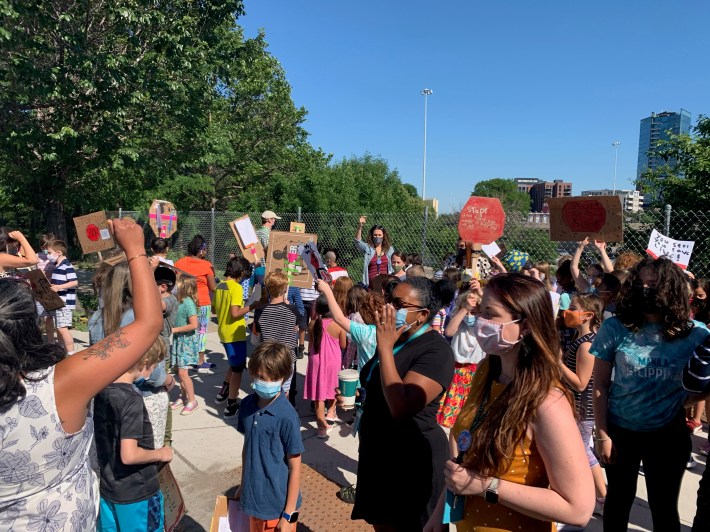 Just a few weeks after the election, Nunez was killed.
The news shocked and saddened students, who thought about their own beloved teachers and the young child Nunez's death left fatherless, Connell said. They added to an vigil outside the school and took a moment of silence.
RELATED: Lincoln Park High School Teacher Killed While Riding Motorcycle In River West
Then, they took action.
Tarshis, Martin, Connell and Hall planned two protests. They collected and mailed to Burnett 16 letters in which students laid out reasons why they thought the stop sign was necessary.
They gathered several handwritten petition signatures from neighbors and created an online petition, which has reached more than 1,000 supporters.
"We've been fighting for this stop sign for a very long time," Hall said.
Subscribe to Block Club Chicago. Every dime we make funds reporting from Chicago's neighborhoods.
Already subscribe? Click here to support Block Club with a tax-deductible donation.