CHICAGO — When the Center on Halsted, Chicago's largest LGBTQ community center, opened in 2007, a local police officer designated to improving relations with the LGBTQ community approached staff and asked how to better serve their clients.
The Center on Halsted, which serves at least 1,000 LGBTQ people daily from its location at 3656 N. Halsted St., invited that officer to participate in its programs to meet community members.
"And they did volleyball and basketball [with our youth] and served meals, so that when the police were in our community, they were able to call out our young people by name," said Modesto Tico Valle, CEO of the Center on Halsted.
This partnership with the Police Department's designated LGBTQ liaison helped build community between queer people and local police, Valle said. But up until now, the Police Department has only had one LGBTQ liaison.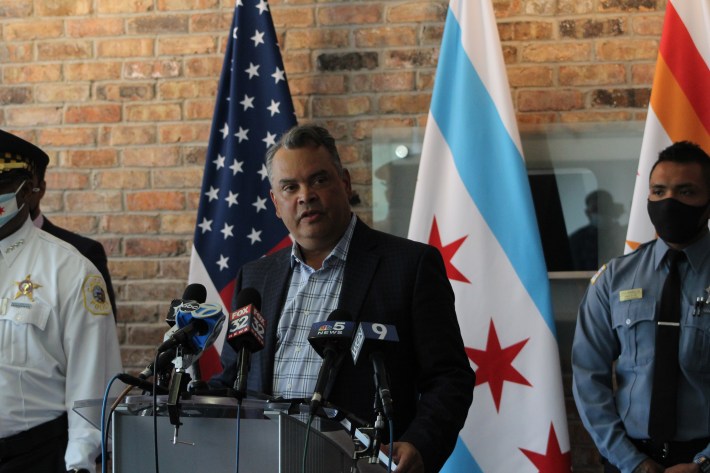 At a Thursday news conference at the Center on Halsted, the Police Department announced it is expanding its team of LGBTQ liaisons from one person to six. The liaisons will work with local queer people to improve relationships and solve challenges faced by LGBTQ people.
"That means lasting institutional change that will build trust and lead to stronger relationships with diverse communities across Chicago," Supt. David Brown said at the news conference. "Our new LGBTQ liaisons will work to advocate on behalf of what has been a marginalized community and serve a pivotal role by engaging with our city's LGBTQ community to build new relationships."
The team of LGBTQ liaisons will assign a police officer to each one of the department's five community areas, said Mike Milstein, deputy director of community policing. The sixth officer, Bernard Escamilla, will serve as the team leader and work with community stakeholders to address hate crimes and police reforms.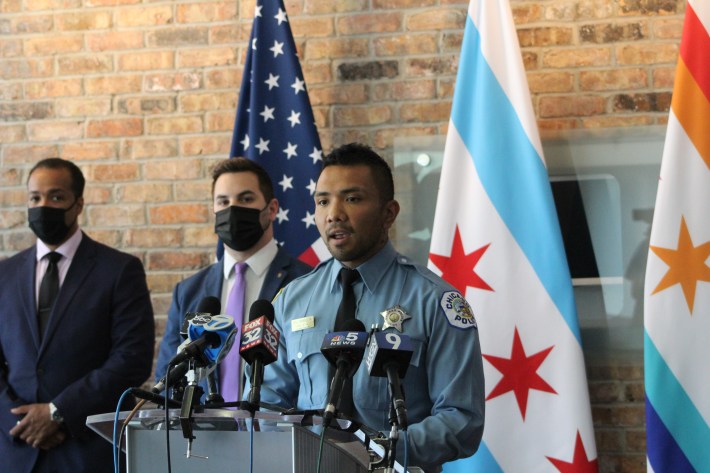 "Many times when someone from the community is a victim of a hate crime, assault or other forms of crime, they're afraid or hesitant to report that to the police," Milstein said. "They believe the police won't take them seriously or they won't help them, but what I want the public to take away from this announcement is that if you are someone who identifies as LGBTQ, you have resources, support and allies within the CPD."
The LGBTQ liaison positions are part of the Police Department's efforts to improve relations with the city's queer community.
The two groups have had a rocky past going back decades, going back to and beyond New York City's Stonewall Rebellion of 1969, which was sparked by police raids of gay bars. Local activists have criticized police for misgendering victims of anti-trans violence, and protesters at the recent Drag March for Change demanded uniformed officers be banned from marching in Chicago's pride festivities.
Last week, the Police Department introduced its revised policy for interacting with members of the LGBTQ community, specifically those who are transgender, intersex or gender nonconforming.
Under the new policy, officers are required to use a person's name and gender identity as expressed, clarified or requested by the individual and establish a nonbinary gender marker on all department reports.
People can review the entire revised policy and submit comments or feedback online. The final revised policy is expected to be finished by the end of June, police said.
Jake Wittich is a Report for America corps member covering Lakeview, Lincoln Park and LGBTQ communities across the city for Block Club Chicago.
Subscribe to Block Club Chicago, an independent, 501(c)(3), journalist-run newsroom. Every dime we make funds reporting from Chicago's neighborhoods.
Already subscribe? Click here to support Block Club with a tax-deductible donation.