McKINLEY PARK — Plans to convert warehouse buildings in the Central Manufacturing District into an affordable housing and office complex received key city support Thursday, despite concerns the apartments would be too close to a controversial asphalt plant.
Code Real Estate Partners and Hispanic Housing Development have worked to convert two buildings in the Central Manufacturing District into a mixed-use development with affordable housing, office space and a plaza.
The plan would reuse two Pershing Road buildings to bring affordable housing across from McKinley Park. But the project has hit road bumps because of its neighbor, the MAT Asphalt plant.
The Parkview Lofts and Parkview Commerce, 2159 and 2139 W. Pershing Road, respectively, would be a few hundred feet from the controversial asphalt plant, which neighbors have fought to shut down since it came to the neighborhood with little notice in 2018.
The development even lost out on $8 million in city redevelopment tax credits because of concerns about how close it was to MAT, the Chicago Sun-Times reported in August. A coronavirus stimulus package helped the developers find the remaining funds, and so the project that was first announced in 2018 is now seeking approval from the city.
On Thursday, the Plan Commission approved the plans in a split vote that sparked a discussion about how environmental justice should factor into the development approval process. Commissioners voted 7-4 in favor of sending the project to the city's zoning committee for the next round of review.
"In spirit, I really love what this project is looking to do," Commissioner Andre Brumfield said. "I am concerned about the nearby asphalt plant. I am concerned we could end up negatively impacting the health and well-being of the residents that we are trying to serve."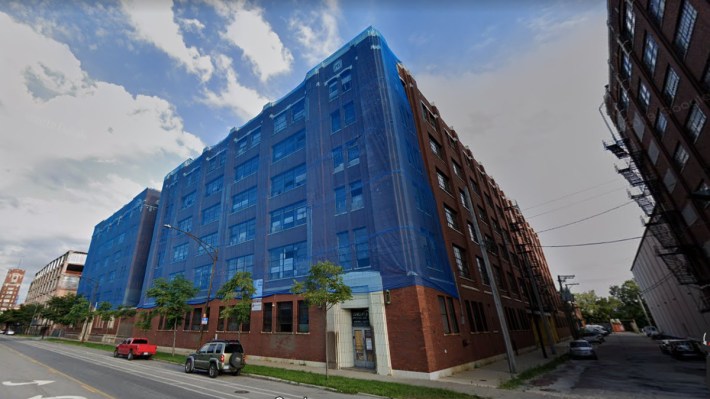 The overhaul of the warehouses would create nearly 160 units, according to the plans. There would be 120 affordable units at 2159 W. Pershing Road and 39 market-rate units plus office or commercial space at 2139 W. Pershing Road.
In the Parkview Lofts building, all 120 units will be available to households making 30-80 percent of the area median income, $27,950-$74,550. Rents will range from $511 for a 740-square-foot apartment to $1,635 for a 1,600-square-foot, three-bedroom apartment.
Parkview Commerce will have 39 units on top of commercial space that could take the shape of a business incubator, officials said. The combined development will have 141 parking spaces and a shared space between the building with gathering areas and landscaping.
To address the neighboring asphalt plant, the development team plans to install a two-tier air filtration system and insulated aluminum windows. There is also a 20-foot berm separating the development site from the plant, said Steve Friedland, attorney for the developers.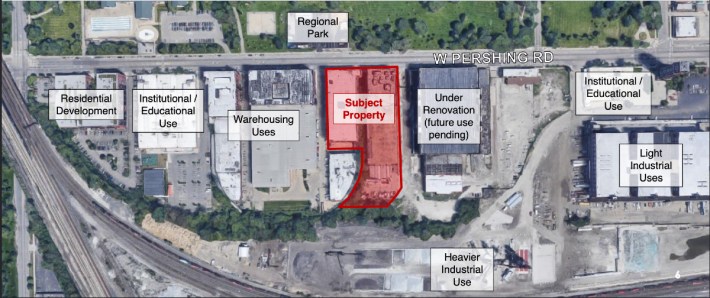 City studies have shown the plant would not pose a threat to its neighbors, and Friedland said inspection records show the plant operating under best practices. Jared Remington, managing partner at Code Capital Partners, said the asphalt plant is under strict oversight from the city and that shouldn't be weighed in considering the development.
"It's not really fair in my view that if we're denied, it would be on the ground of environmental," Remington said. "Respectfully, I would request that the commission view this separately. They shouldn't be connected. It's not fair to the community … to connect them."
Commission Chair Teresa Córdova said the issue of affordable housing being installed next to potentially harmful industrial uses is connected, and the city needs to be able to better consider "environmental racism" when reviewing developments. Córdova voted against the proposal, calling it the "toughest choice" during her tenure.
"This is a huge issue for the city," she said. "It's one we can't dismiss."
Ald. George Cardenas (12th) said the project would bring much-needed affordable housing to a growing part of McKinley Park.
"Not to approve this would be a slap in the face to many of the families that are looking to stay here," he said before the vote.
Subscribe to Block Club Chicago, an independent, 501(c)(3), journalist-run newsroom. Every dime we make funds reporting from Chicago's neighborhoods.
Already subscribe? Click here to support Block Club with a tax-deductible donation.