AUBURN GRESHAM — History has always been Shermann Thomas' life. 
If you've heard that name — and chances are you have if you live in Chicago or have a TikTok — you might know Thomas as the Chicago Urban Historian, Dilla or, as he says some call him in the street, the Chicago history guy. 
With more than 47,000 followers on TikTok, Thomas' name has become synonymous with Chicago history. His videos explore all topics — from the creation of Italian beef to why we dye the river green — in 60 seconds. 
A ComEd employee by day, the "forever South Sider" said he's ready to build his historical storytelling into more than a hobby. He wants to establish a nonprofit and is already applying for grants to tell more Chicago's stories, one neighborhood at a time.
"I'm appreciative that I'm a dude from Auburn Gresham that has been every stereotype that you can call him, but people know me for being a public historian," Thomas said. "I recognize that, in a few years from now, [my stories] are going to help someone, and I think that's pretty cool."
'If You Want To Hang Out With Your Dad, You Have To Be Able To Keep Up With Him'
Thomas traces his love of history back to his childhood.
His late father, Lemar Thomas, was a police officer for 30 years and a member of the African American Police League.
"My father was part of Mayor Harold Washington and Mayor Eugene Sawyer's bodyguard detail," Thomas said. "He was part of the African American Police League, which was vital in suing the city of Chicago to change the entrance exam to the fire and police department due to cultural biases. Those were the types of conversations he'd have. And if you want to hang out with your dad, you have to be able to keep up with him."
Thomas said his father would quiz him on Chicago's geography, questioning where one street ended and another started. If you wanted to use his car, you needed to know where you were going, Thomas said.
"We didn't have GPS when I learned to drive, and I liked to go to the rink on Saturday nights," Thomas said. "If I wanted to take his car, he'd say, 'Where are you going?' And if you couldn't say what block you were going to, you couldn't take his car."
Thomas said he quickly learned the city layout, noting where streets like Cottage Grove Avenue started and ended on Chicago's grid system. But shortly after, he began to question why certain streets had names and numbers. The build-up of questions is how Thomas learned Chicago's history. With encyclopedias in hand — there was no Google back then — he began his work. 
"I would try to use [my knowledge] to impress people, but mostly my father," Thomas said. "It would become a free-time thing. I'm not saying I sat in the house all day reading encyclopedias. But I've always been the type that, when I have a question, I have to figure it out before I can move on. I get enthralled by those types of stories. It's like a rabbit hole." 
By a young age, Thomas could navigate family members through Chicago's streets without a map, he said.
"When I was like 13, and my cousin was 22, he would call me on dates," Thomas said. "He'd pull over to the payphone, call my mom's house and say, 'Put Shermann on the phone,' so he wouldn't get lost because he knew I knew the city. It's just always been like that for me."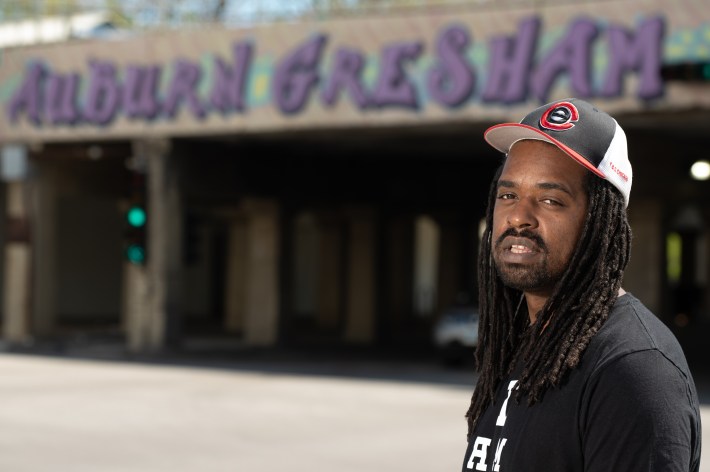 Life moved on for Thomas, but history never left his mind. 
He got kicked out of Calumet High School after helping a gang member who lived on his block in a fight. He was sent to Olive-Harvey Middle College High School, an experience he called a "blessing in disguise." A final exam at the alternative school involved walking 8 miles down King Drive and learning about the Bronzeville Walk of Fame. 
"It was hard for me during that time, and even now, to not want to know why you get a bronze plaque in the ground forever," Thomas said. "You get to those stories and you realize that Chicago is just a city of stories."
Thomas spent time at Eastern Illinois University, where he majored in English and African American studies. There, he debated topics like why the Tuskegee Airmen were overlooked on campus and Chicago's influence on rock and jazz.
"They just stepped over Chicago in music history," Thomas said. "That was something I knew even then. I would engage with the teachers about how the first time jazz was even written about on paper was in the Chicago Tribune. Like, what do you mean jazz has nothing to do with the city?"
Five years ago, after marrying the love of his life, Lynette, the rise of the Chicago Urban Historian started.
"Lynette was into jogging, exercising and vegetables, so I had to fake like I was into it, too, to get her," Thomas said. "I would go jogging with her, and in between dying, I would see the historic brown signs honoring people. On the spot, if I knew who or what it was about, I'd type out a quick blurb and post it on Facebook. If I didn't know, I'd come home, research it and post it like, 'Hey, while running these 3 miles with Lynette, we came across this person, and this is why they have a brown sign.'"
Thomas said people commented on his posts to tell him how "cool" they were. So, he decided to film a video about the history of Harold's Chicken Shack. That post did even better.
TikTok came a few years later.
"Before I got on there, you type in Chicago history, and it was like someone explaining why some other dude got shot by this dude and beefing," Thomas said. "I understand that that goes on, and I respect it as historical journalism because, in 20 years, people will be able to back and look at those stories and say that Chicago was going through something — but that isn't Chicago history."
After trying — and failing — to get his daughter to tell the Chicago stories he researched, Thomas said he decided to do it himself.
It started with a short TikTok called "Chi town History." The video has more than 4,000 views and 700 likes. 
Today, Thomas's videos have views in the five digits. The history of Parkway Gardens — posted shortly after news broke its owner has put the complex up for sale — has accumulated more than 36,000 views. The story of Robert "Yummy" Sandifer, an 11-year-old murdered by gang members in 1994, has more than 57,000 views.
Thomas said the newfound attention often makes him doubt himself before posting content — a problem he solves with a quick run or a shot of Jameson. But what he's most afraid of is getting the details wrong.
"What I know is that if you're a Black dude from Auburn Gresham with dreads and a tattoo of Nipsey Hussle on your arm, and you call yourself a historian, someone is going to fact check you," Thomas said. "I encourage that, but I don't want to be wrong if that occurs."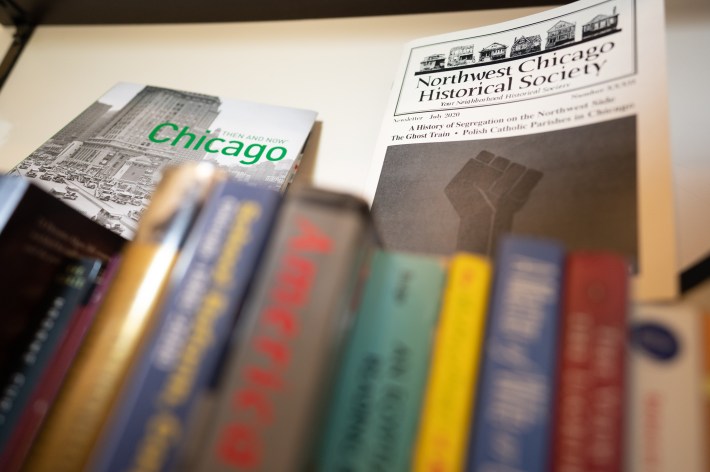 To keep his facts straight, Thomas said he has $170 worth of subscriptions, ranging from the Washington Post to the Art Institute of Chicago. He said he hopes by establishing a nonprofit and applying for grants, he can eliminate the hefty expense. 
"If I click the link and I need to pay to get in there to verify a quote, it's probably going to get that $9.99 from me," Thomas said. "I need research and grant money so my wife doesn't put me out."
As long as there's Chicago history to tell, Thomas said he'll be here to tell it. 
He's hoping to make his way through all 77 Chicago neighborhoods on TikTok (he knocked 20 off his list already). He started offering in-person tours of the South Side. And he's thinking of posting longer videos about Chicago's history on his YouTube page.
Next in line, he said, is a video about Roseland and the neighborhood's shifting demographic.
But at the end of the day, Thomas said his dedication to reporting Chicago's history runs deeper than simple curiosity. He said he does it for his children and his father, the person who started it all. 
"If you've ever seen most of my videos, my father is behind me," Thomas said. "I have a picture of him on the wall behind me in the frame. I always keep him in mind, and I'm trying to outdo him in every aspect of life. I want my kids to be chasing my legend like I'm trying to chase my father's. All of it is about that and him."
Subscribe to Block Club Chicago. Every dime we make funds reporting from Chicago's neighborhoods.
Already subscribe? Click here to support Block Club with a tax-deductible donation.
Listen to "It's All Good: A Block Club Chicago Podcast" here: