MONTCLARE — Street vendors on the Northwest Side will soon have a designated place to sell their food and share their culture "al fresco" that will boost sales after a difficult year while encouraging residents to get outside.
Under the city's new outdoor dining program, called Chicago Alfresco, a public plaza with organized stalls will be created at West Fullerton and West Grand Avenues in the Montclare and Belmont Cragin neighborhoods to support street vendors and other Latino businesses in the area.
The plaza will also have raised stages for performances, outdoor seating, green space, work from local artists and arched entryways.
Chicago Alfresco builds on the expanded outdoor dining initiative the city launched last year to help struggling businesses have more space to safely serve customers. The program gives grants up to $250,000 to nonprofits looking to activate outdoor public spaces on the South and West sides.
The Northwest Side public space will serve the area's predominantly Latino vendors, who were hit hard during the pandemic, and also serve as an area to bring more Latino-focused community, arts, demonstrations and culture to residents, said Jason Estremera, executive director of the Northwest Side Community Development Corporation, the nonprofit behind the project.
"From a cultural lens, placitas are so central to many of our countries of origin — that's where all of your commerce and cultural activity happens," Estremera said.
Estremera said the plaza will add a sense of community to the neighborhood, especially for residents who are undocumented and are looking for ways to feel settled and at home.
Unlike other neighborhoods, which were able to offer outdoor dining last summer and allow restaurants to operate in private parking lots, on the sidewalk or on closed streets, Estremera said the area couldn't offer that because of its infrastructure and layout.
After combing the streets, alleyways and talking to business owners, the Northwest Side Community Development Corporation settled on the busy intersection that Estremera called a gateway to Belmont Cragin.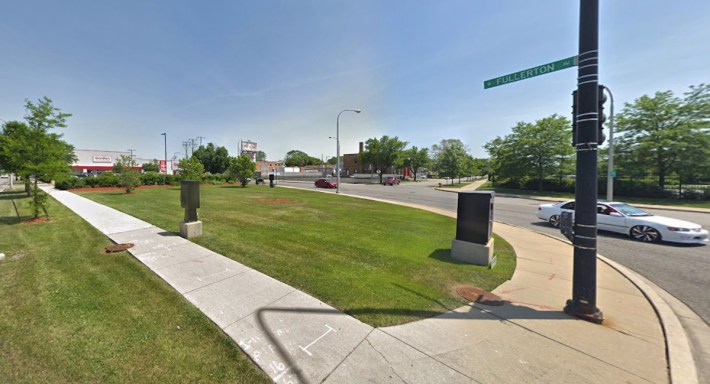 "Instead of going to a centralized area that has a high concentration of restaurants because it doesn't exist, what if we create an area of concentrated businesses in a more culturally relevant fashion?" Estremera said. "That means being able to invite our brothers and sisters who sell from food carts and support different holidays in the placitas space [and] people that are overlooked."
He said the plaza will be able to host 10-15 street vendors a week in kiosks that will line the plaza.
The nonprofit plans to work with the Street Vendors Association of Chicago to help vendors who sell food like elotes, paletas and tamales come to the plaza and use the outdoor space. Estremera said his group will also work with vendors who need help with business skills or housing and establish an online directory.
The nonprofit is a subsidiary of the Northwest Side Housing Center, which serves Belmont Cragin and its surrounding communities with housing and economic support.
"We [want to] wrap our arms around these business owners in a very holistic fashion to resource them, help them feel like they got protection, but, ultimately, it's to help them find home in their neighborhood," he said.
Choose Chicago, the city's tourism bureau, and sponsor Diageo, an alcoholic beverage company, are distributing $2.3 million in grants to program organizers like the Northwest Side Community Development Corporation, one of the 15 communities that received the first round of grants.
The city will work with each winner to bring the outdoor projects to fruition by summer.
Belmont Cragin had one of the worst coronavirus outbreaks in the state. Estremera said the new plaza will get people outside and help them bounce back from the pandemic — and showcase the resiliency of the community.
"Belmont Cragin is home to a very resilient community of Latinx individuals," he said. "This plaza really exemplifies the spirit of the people of the neighborhood who have struggled throughout this pandemic but have come out on top and better."
Block Club Chicago's coronavirus coverage is free for all readers. Block Club is an independent, 501(c)(3), journalist-run newsroom.
Subscribe to Block Club Chicago. Every dime we make funds reporting from Chicago's neighborhoods.
Already subscribe? Click here to support Block Club with a tax-deductible donation.
Listen to "It's All Good: A Block Club Chicago Podcast" here: