WOODLAWN — Parkway Gardens is on the market, potentially bringing in "long overdue" new ownership for the affordable housing complex troubled with poor living conditions and gun violence, elected officials said.
Related Midwest, the company behind The 78 megadevelopment in the South Loop, is selling the nearly 700 apartments sandwiched between King Drive and the Norfolk Southern rail yard between 63rd and 65th Streets, as first reported by the Sun-Times.
The buyer will take on the property's federal housing subsidies, and the complex will remain affordable, spokesperson Tarrah Cooper Wright said.
Related Midwest is "actively seeking new leadership who will build upon our efforts and continue maintaining the property as affordable housing for years to come," Cooper Wright said.
Company officials did not disclose their asking price for Parkway Gardens, nor did they share their reasons for putting it up for sale. They did not respond when asked whether tenants were notified that the complex would be put on the market.
Ald. Jeanette Taylor (20th), who represents the area, said residents were not told about the owners looking to sell. It's the latest example of the company not prioritizing residents' needs, Taylor said.
"It bothers me" that Related Midwest is moving on from Parkway Gardens as it pushes forward with its South Loop and Downtown developments, Taylor said.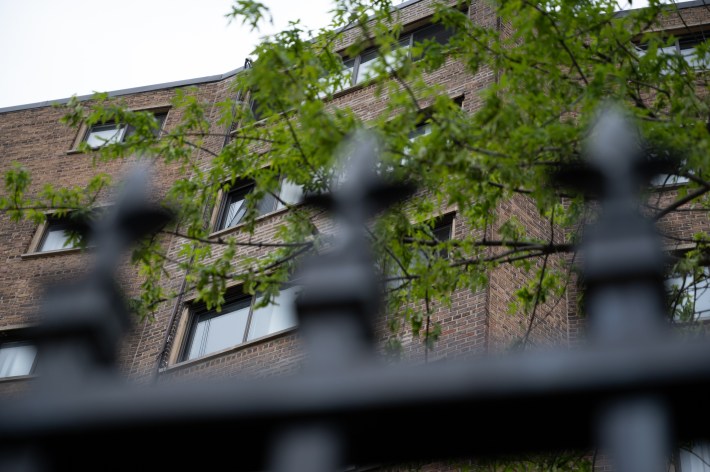 'Constant Problems'
The complex's "overdue" listing comes as residents have had "so many issues over there with drug infestation, gangs and lots of shootings" under Related Midwest's ownership, state Sen. Mattie Hunter (D-3rd) said.
The Sun-Times named the 6400 block of South King Drive that's home to Parkway Gardens "the most dangerous block in Chicago" in 2014.
Neighborhood leaders have long questioned why violence and poor living conditions are so prevalent at a complex owned by one of Chicago's most active developers.
In addition to The 78, Related Midwest is behind a $1 billion plan to scale back the failed Chicago Spire project. The company also opened the One Bennett Park tower at 451 E. Grand Ave. in 2019, where the cheapest rentals are $3,195 a month and condo prices start at $1.78 million.
Related Midwest has spent nearly $58 million on renovations, security and social services at Parkway Gardens since taking over in 2012, Cooper Wright said.
The bulk of those investments were in 2013, when the company spent $42 million to repair the property's structural issues: new flooring, lights and appliances; and upgraded landscapes, playgrounds and a community center, among other projects. The company has spent $3.8 million on renovations since then, Cooper Wright said.
Despite the investments, city lawyers filed two lawsuits against Related Midwest over code violations at Parkway Gardens in 2016, according to the Tribune. City inspections have found 38 violations at the complex so far this year, according to Chicago Cityscape.
Virtual meetings with Related Midwest, Hunter and Taylor have been ongoing since the fall as elected officials pressured the company to improve conditions, Hunter said.
"There's problems, problems, problems — constant problems," Hunter said. "It's so bad we had to have Zoom meetings on a weekly basis to get these guys to do their job other than collect rent. How about a little management once in a while, you know?"
"They have people feeling like they're a prisoner in their own home," Taylor said. "… We can't throw people away when it's convenient for us. This is Related not finishing what they've started."
It's troublesome Parkway Gardens has no tenants organization, Hunter said. The new owner must help residents create an official body to communicate their needs, while tenants and management "need to meet on a minimum of a monthly basis," she said.
In its nine years of ownership, Related has spent about $11 million on security services and upgrades and $1.5 million for social services from organizations like Future Ties and After School Matters, Cooper Wright said.
"During our time managing Parkway Gardens, we are grateful to have been able to provide fundamental upgrades while also partnering with community organizations to bring new programs and services to residents," she said.
Future Ties, Parkway Gardens Christian Church, Project H.O.O.D. and other community organizations have worked with residents and elected officials for years to provide "wraparound services," Taylor said.
The new owner must continue these partnerships and offer more supports, including a food pantry, access to COVID vaccinations and testing, job training and more, she said.
"In a perfect world," Parkway Gardens would return to its cooperative roots so residents could have "a real say-so in where they live," Taylor said.
Parkway Gardens was Chicago's first Black-owned cooperative housing complex, offering quality affordable housing during an era marked by racist redlining practices, according to the U.S. Department of Housing and Urban Development. It came under HUD's control in the 1970s and has been privately owned since the '80s.
Famous former residents of the complex include first lady Michelle Obama, rapper Chief Keef and late rappers King Von and Fredo Santana. Rapper Lil Durk tweeted Thursday he'd buy the complex no matter its cost.
Large cooperatives still exist in Chicago. Just a few miles south, residents collectively own and manage the London Towne Houses at 100th Street and Cottage Grove Avenue.
But selling Parkway Gardens to its tenants could pose problems, "since they do not have the experience in managing a large property," Hunter said.
"That's not to say that they cannot do it," Hunter said. "But they would need someone with experience and a lot of patience to hold their hands and walk them through the process."
Building upon the ongoing community work, it will take time to galvanize residents and help improve their own quality of life after Related Midwest's tenure as owner, Hunter said.
"Tenants have been neglected for such a long time that it's going to take them a long time to get involved," Hunter said. "… Over time they will eventually become okay. But it's going to be a little while."
Subscribe to Block Club Chicago, an independent, 501(c)(3), journalist-run newsroom. Every dime we make funds reporting from Chicago's neighborhoods.
Already subscribe? Click here to support Block Club with a tax-deductible donation.