CHICAGO — In the face of critical reporting, Mayor Lori Lightfoot canceled her subscription to the Chicago Tribune — and she was eager to let the public know, newly leaked emails show.
Lightfoot's sometimes prickly relationship with the press has occasionally bubbled to the surface, but in September, she wanted to send a strong message to Chicago's largest newspaper after critical reporting and a related editorial she felt "effectively called [her] a liar."
"I urge members of the public, the next time the Tribune comes out with some big expose or a screaming headline — please consider the source," Lightfoot wrote in a Sept. 22 email. " … I have and that's why I have canceled my digital and print subscriptions to the Trib."
Ultimately, the letter was never released. Instead, her communications team significantly softened the mayor's language — absent the subscription revelation — and responded to the Tribune coverage with a series of tweets.
The letter was revealed in an email the mayor sent to her staff. It's one of tens of thousands of city emails exposed by Clop, a ransomware group, and made more readily available by whistleblower nonprofit Distributed Denial of Secrets and the local transparency group Lucy Parsons Labs, according to the Sun Times.
The city has acknowledged the hack, but has refused to respond to stories on the contents of exposed emails.
Lightfoot: 'I Expect Retaliation' From The Tribune
Lightfoot's missive was fired off from her personal email account the morning after a Tribune story by Stacy St. Clair, Jennifer Smith Richards and Gregory Pratt alleged Lightfoot had fallen short on her pledge to relax parking ticketing enforcement during the early stages of the pandemic. The headline read: "Despite Mayor Lori Lightfoot's announcement of ticketing relief during the pandemic, thousands received parking citations anyway: 'It's a betrayal, just absolutely ridiculous.'"
The reporting included a letter Lightfoot's administration sent to the company that profits off the city's parking meters that it should continue ticketing cars parked at expired meters in the Downtown area because the cars created a public safety hazard. The Tribune reported that the letter contradicted what Lightfoot has told the public.
The Tribune's editorial board followed up with an editorial headlined "Mayor Lightfoot's parking ticket switcheroo."
On March 18, 2020, Lightfoot announced the city would limit ticketing vehicles to instances that threatened public safety in an effort to give beleaguered residents a break during the beginning of the statewide stay at home order. Twice at the news conference Lightfoot singled out cars parked at expired meters as instances that would be relaxed.
A week later, as residents continued to be ticketed at expired meters and news outlets, including Block Club, chronicled angry Chicagoans who felt they'd been duped, the mayor clarified there was only an "emphasis" on ticketing cars that posed a public safety threat, but "people still need to feed the meters."
The Tribune story included the earlier shift in messaging, and revealed 35,000 tickets were issued from March 18 through April 30, information obtained through a Freedom of Information Act request.
The day after the Tribune story went live, Lightfoot sent a letter in an email to her staff, followed up with another email asking for help filling in the details.
"This is personal and needs to be in my voice," the mayor wrote to staff.
"Recently, reporting from the Tribune regarding me and my administration got it completely wrong. And then the editorial board doubled down and effectively called me a liar.
"I have never claimed perfection, and having journalists and others take shots at you goes with the territory as Mayor of Chicago. I have thick skin for many things but I will never be silent when someone calls me a liar, in public, particularly when they are dead wrong," she wrote in the letter.
The mayor of the country's third largest city also said she expected "retaliation" from the paper for publishing the letter.
"I know that taking on an institution as powerful as the Tribune is a huge risk. I expect retaliation from the editorial board and line reporters. So be it. As I said, getting dinged by the media comes with the territory," the mayor wrote. "But as we tell our children, one of the most important things we have in life is our reputation. And I am not going to stand idly by and let anyone sully mine without setting things straight."
She then urged the public to "consider the source" when the Tribune comes out with a "some big expose or a screaming headline."
"This is the same newspaper who believed four years ago that Gary Johnson (who you ask?) would make a great US president, and whose editorial board constantly chides me about not being nice enough to President Trump," Lightfoot wrote. "Consider the source. I have and that's why I have canceled my digital and print subscriptions to the Trib."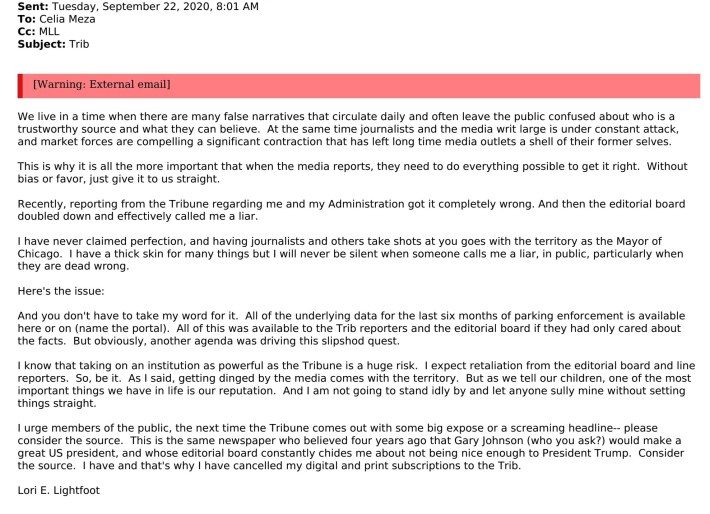 City Hall staffers initially tweaked the letter, ensuring it correctly stated the reporters received the data through a FOIA request and not publicly available information. Then, former deputy press secretary Patrick Mullane put the kibosh on it, instead suggesting a Twitter thread that stripped the revelation Lightfoot had canceled her subscription.
The thread includes three news reports as evidence to prove the statement "from the very first day, I was crystal clear that emphasis on public safety-related ticketing did not translate to free parking."
Each of the three stories are from the week following the mayor's initial announcement in March, meant to provide clarity to upset drivers who received tickets thought they thought they'd be spared.
Asked about the revelation that Lightfoot said she canceled her Tribune subscription, Tribune Editor-in-Chief Colin McMahon said she isn't the first Chicago mayor to criticize the Tribune — and she won't be the last.
"The Tribune stands by its reporting," McMahon told Block Club Thursday.
Lightfoot's office declined to comment on the contents of the leaked emails, asserting the mayor's office "will not respond to any media inquiries stemming from information obtained through illegal ransomware attacks."
"Reporting on materials compromised during a third-party vendor data transfer makes all of us less safe and encourages future bad actors to use nefarious means to gain information. In addition, there is no evidence to suggest that this or any other piece of information obtained during this security breach is indeed authentic," the statement read. "Hackers of government-related materials are known to manipulate and alter illegally obtained emails and documents."
Although Lightfoot did not answer whether she resubscribed to the Tribune after she dropped it in September, she has since criticized Alden Global Capital, the hedge fund poised to take over the paper, for gutting other newsrooms they own: "That's something we don't want here in Chicago."
"My hope is that the Chicago Tribune will continue to be a very robust daily and digital reporting platform that is not stripped of it's essential core services and reporters, and I didn't just say that because Greg (Pratt) is here," the mayor said with a smile.
Lightfoot's relationship with the press
In another email revealed in the leak, Lightfoot asked top staffers to look into a WBEZ story by reporter Patrick Smith about a police officer a judge called frightening.
But she labeled it with a disclaimer: "With the caveat that this story is from WBEZ, nonetheless, this guy sounds like a walking time bomb," she wrote, expressing apparent contempt or skepticism for the station.
The emails foreshadowed Lightfoot's growing irritation of negative press coverage, as she's personally singled out reporters in the months since who've irked her.
Late last year, Lightfoot publicly took a swipe at Pratt, who covers City Hall.
In December, Lightfoot singled out Pratt's coverage of the Anjanette Young raid, only to apologize a day later for incorrectly insisting that Ms. Young had not requested video of the raid prior to a federal lawsuit she filed, but later dropped, against the city.
"Mr. Pratt's reporting has been reckless and irresponsible, unfortunately now a pattern of his stretching back many many months," she said on Dec.16.
The following day, at a press conference where Lightfoot acknowledged her staff alerted her to the Young raid a year prior than she originally claimed, the mayor also apologized to Pratt, saying she received "helpful feedback" after her comments the previous day.
"I can never let my frustrations and my emotions get the better of me and I think I did yesterday," she said.
Pratt declined to comment for this story and referred questions to the paper's editors.
Months earlier, Lightfoot criticized veteran Sun-Times City Hall reporter Fran Spielman as a "major mouthpiece" for police union president John Catanzara, a frequent sparring partner of the mayor.
In March, Lightfoot confronted NBC5 reporter Mary Ann Ahern for asking whether mayoral staff had been vaccinated at the scandal-plagued Loretto Hospital.
"And I'm offended that you asked me this question after my staff has told you repeatedly and I know the people from Loretto have told you it's utter bullshit. But there you have your story, Mary Ann," she said.
The next day, Lightfoot told Ahern, "I don't know what's gotten into you lately, but this isn't you," as Ahern posed questions to Lightfoot as she left a joint press conference with Gov. JB Pritzker.
In recent weeks, Lightfoot criticized the press again, claiming they had run with unfounded rumors about her personal life, although no local news outlets published the rumors before Lightfoot addressed them in a Sunday morning Twitter thread.
Read the emails between Lightfoot and City Hall staff:
Subscribe to Block Club Chicago. Every dime we make funds reporting from Chicago's neighborhoods.
Already subscribe? Click here to support Block Club with a tax-deductible donation. 
Listen to "It's All Good: A Block Club Chicago Podcast" here: