WICKER PARK — A proposal to replace an old Wicker Park used car lot with a 38-unit condo building has sparked a prolonged battle between neighborhood leaders and residents who live next to the site.
The four-story project at 1317-1335 N. Western Ave., which would include six on-site affordable condo units, was approved by neighborhood leaders with the Wicker Park Committee and East Humboldt Park Neighborhood Association in December.
Since then, neighbors in the 1300 block of North Claremont Street have fought back, circulating a petition and flyers in hopes of persuading Ald. Daniel La Spata (1st) not to endorse the plan unless the developers agree to change several features.
La Spata has met with the Claremont neighbors multiple times to discuss their concerns over the project's size and how it would affect traffic and parking. Little has come from those talks, neighbors said.
The alderman has yet to take a public stance on the project, but developer Gibbons Construction already has begun seeking a zoning change from the city.
Neighbor Esther Nieves said she is not satisfied with the community zoning process.
"I just find it such an unfair treatment of the people who have been here," Nieves said. "It's not balanced development. It's not democracy in action."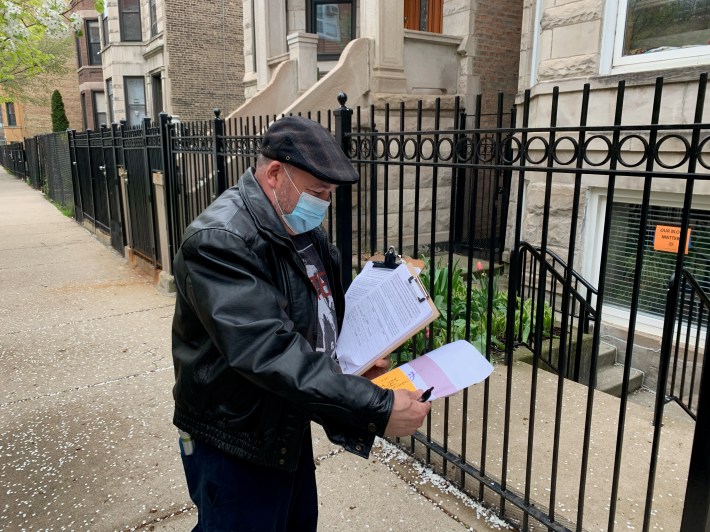 Current zoning allows a developer to build 20 units at the vacant Western Avenue lot. Gibbons wants to build about twice that many, proposing 38 residential condo units, two ground-floor commercial units, two loading docks and 32 parking spots.
The condos would be priced at market rate, $400,000-$500,000. Six would be set aside as affordable, La Spata said.
The Committee on Zoning, Landmarks and Building Standards will review Gibbons Construction's zoning change application at its virtual May 25 meeting. View the proposal here.
There's a risk to not supporting the zoning change, La Spata said. Should the developer move forward without the city's blessing and simply build the 20 units allowed by zoning, the city could lose any bargaining power it has with the developer to negotiate how many affordable units will be on site, set-backs, union jobs for construction and other issues, La Spata said.
"Thirty-eight units is not nothing, but it's worth considering," he said. "The developer is willing to work with us."
Per Chicago's Affordable Requirements Ordinance, the developer is required to build six of its 38 units at affordable rates. The developer agreed to build these units on-site, La Spata said, and a recent law change means the prices have to stay the same for 30 years.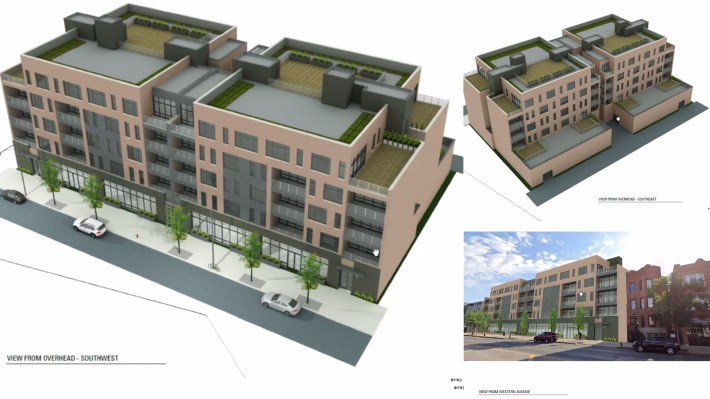 Block Club interviewed six Claremont Avenue neighbors, all of whom said they supported increasing affordable housing in the neighborhood. Their chief concern was the effect the building's size would have on traffic.
The neighbors share their street with Jose De Diego Community Academy, 1313 N. Claremont Ave., where parents and school buses idle during morning dropoff and afternoon pickup.
Ride share services, plus ambulances and shuttle busses carrying patients to the nearby Saints Mary and Elizabeth hospital campuses, compound the congestion, neighbors said.
Then there's the nearby alley. Neighbors said drivers on Potomac Avenue often use the alley looking for a cut-through to avoid congestion on Western. Additionally utility companies, moving trucks, garbage trucks and other large vehicles often park in the alley for extended periods of time, they said.
"Any time you try to pull out of the garage, someone's there," said Anthony Grau, who was born on the block in 1984. "The school's not even really open now. When it does open, it will get ugly."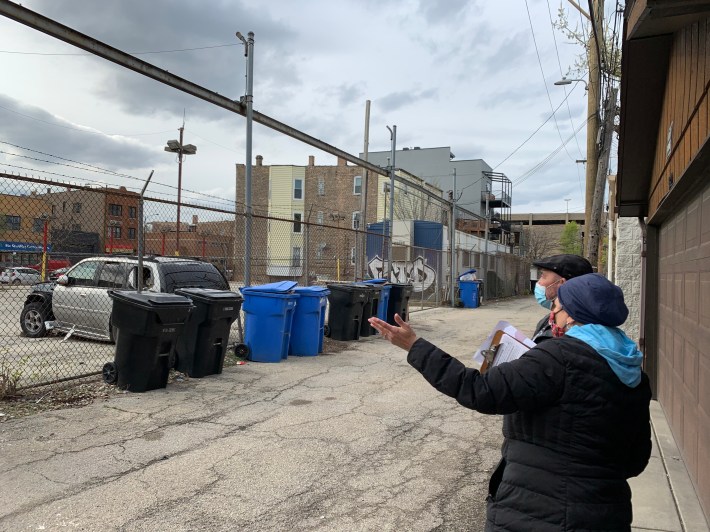 Joe Jefferson has lived in Wicker Park since 1970 and bought his building in 1995. He gave up his garage parking spot so one of his tenants could have a reliable place to park in an increasingly busy block.
After investing in the neighborhood for so many years, Jefferson said, he wished his voice would carry more weight in a zoning decision.
"I'm paying some exorbitant taxes," he said.
Nieves has lived on Claremont since 1994 and also said she wished the Wicker Park Committee's leaders got her and her neighbors' input before voting on the proposal.
"We're the ones most impacted, and we weren't even consulted," she said. "It's hard to envision people sitting in a room, who don't even know the dynamics of their block … . This is a very busy street."
Larry Irizarry, who has lived in Wicker Park since 1970, said he wished his neighbors knew about the project earlier on.
"The developer met with two community groups, but no one asked us," he said. "We want something on the empty lot, but we already have parking and traffic problems."
Neighbors want the developer to consider making the building's entrance and exit accessible via existing curb cuts on Western Avenue, instead of directing all residential and commercial traffic through the alley.
La Spata pushed back on that idea. Loading docks, parking spots and an area for garbage and recycling cans would not be situated in the alley, the alderman said. But accessing one's home via an alley is "standard practice," he said.
"It feels unfair to say, 'You all are the only ones who cannot access your parking'" through the alley, he said.
La Spata also said he worried such a design change would endanger pedestrians, cyclists and drivers on Western Avenue, which has a Bus Rapid Transit route.
He pointed to a similar project across the street, Trailhead, a mixed-use development project approved by former Ald. Proco "Joe" Moreno.
That project does use Western Avenue curb cuts, and to the public's determinant, La Spata said; he himself has nearly been hit while riding his bike.
"The way it's set up, it's like asking for a crash," he said. "We want folks to feel safe riding their bikes here. … We want the stores to feel accessible."
La Spata said he followed his standard community zoning process, which relies on feedback from neighborhood associations, while reviewing this project. 
The alderman promised neighbors he would conduct a traffic study on the development's impact on street patterns in the neighborhood. He told Block Club he wasn't opposed to instituting permit parking along Claremont.
Requests for public comment should be made by calling 312-744-6800 10 a.m. May 21 to 9 a.m. May 24. Learn more about the city's public comment process here.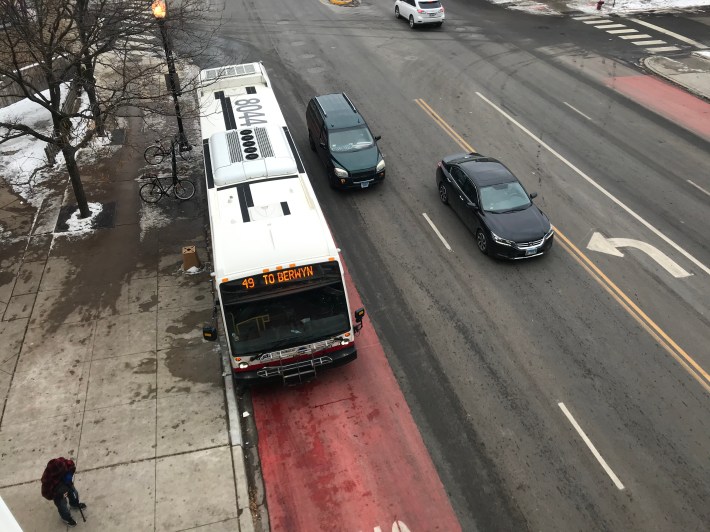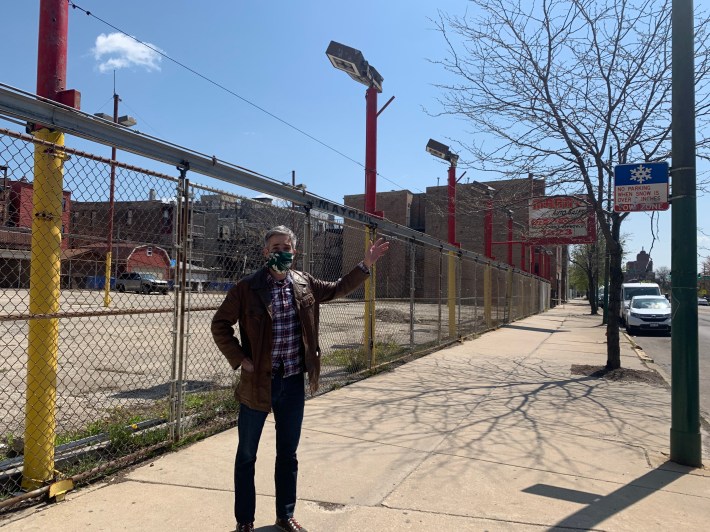 Subscribe to Block Club Chicago. Every dime we make funds reporting from Chicago's neighborhoods.
Already subscribe? Click here to support Block Club with a tax-deductible donation.