BRONZEVILLE — Dr. Jawad Shah is no stranger to skepticism.
It's the same doubt he faced when he decided to turn a shuttered WWII tank plant in Flint, Michigan, into a neurosurgery center 13 years ago. And it's the same uncertainty he's facing now, as the president and CEO of Insight Chicago, preparing to take over a South Side hospital plagued by decades of decline, neglect and misfortune.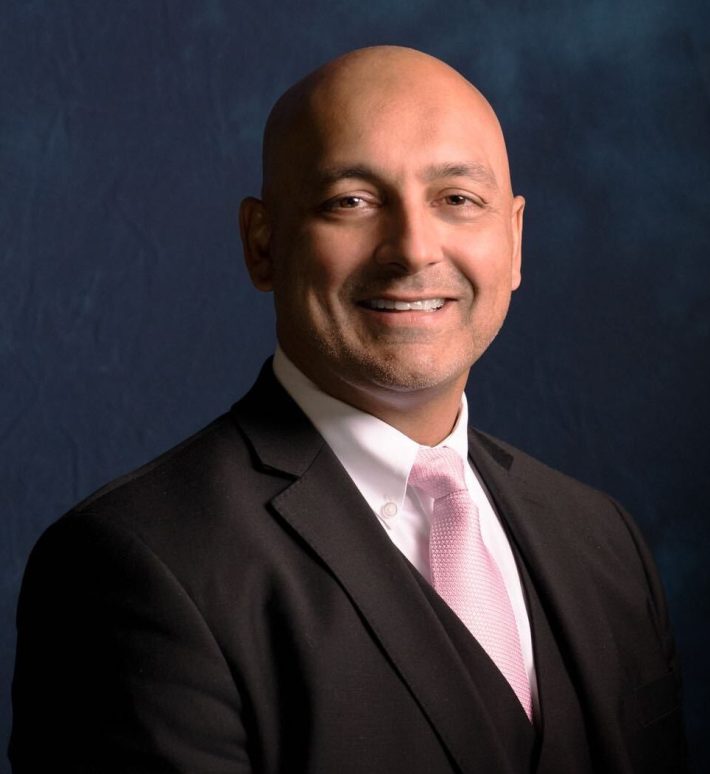 When Mercy Hospital exits the Trinity Health umbrella next month, it will do so facing severe challenges and with hundreds of millions of dollars in debt. Insight Chicago will also have the delicate task of rebuilding trust with a community that routinely has had to fight to receive even a basic standard of medical care.
Knowing what lies ahead, Shah said Insight Chicago is prepared to do the work.
"One of the things I think we do well, humbly speaking, is that we see opportunity where others don't," Shah said in an interview with Block Club. "What that means to me is that it's not simply financial opportunity, it's opportunity to do good, opportunity to innovate. We have to take leaps of faith, we have to be aggressive in what we do."
There to make sure Insight keeps its word will be a group of community activists and organizers who battled for months to stop the hospital at 2525 S. Michigan Ave. from closing.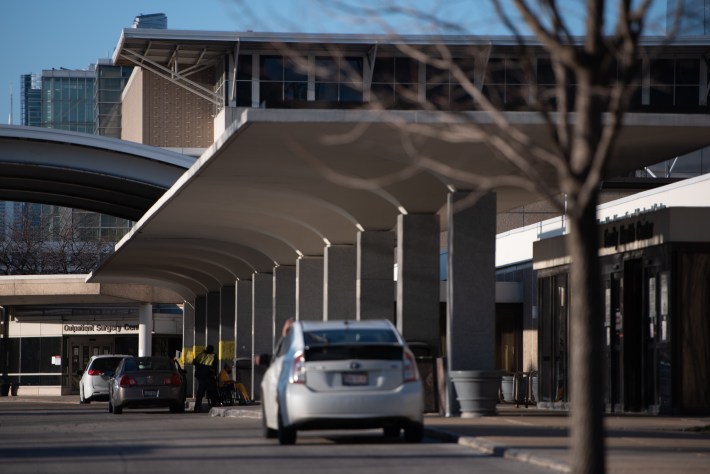 The Chicago Health Equity Coalition has been on the frontlines of the struggle to keep Mercy open since Trinity Health announced its closure last spring, staging protests Downtown and on the hospital's Bronzeville campus for months afterward.
After broken promises and failed merger attempts, the coalition of residents, clergy, activists and medical professionals have made it clear the old way of doing things without community input is over. Among their list of demands for the 169-year-old institution is fully operational emergency and obstetrics departments, and seats on the new hospital's board.
"We will not have token representation," Kenwood Oakland Community Organization Executive Director Shannon Bennett told Block Club after a recent press conference. "We will be voting members on the board or else."
'We're coming into a situation where I believe we're underwater.'
How did Mercy wind up on Shah's radar?
He says it was a nudge from his sister and brother-in-law, whose Kenwood home he visits often. During a trip to Chicago last August, he took an impromptu bike ride to check out the hospital campus, he said.
Noting the location — its proximity to McCormick Place and the fact it was nestled in a predominantly Black neighborhood — Shah said he realized if what he was hearing about Mercy's impending closure was true, there would be nothing close for residents in the immediate area to access in terms of health care.
He tasked his chief strategy officer, Atif Bawahab, with finding out more. Researching the hospital, from its earnest beginnings to its gradual decline, they found its mission aligned with theirs. He reached out to community residents within his inner circle to get a lay of the land. Eventually, meetings with Trinity Health followed, and a non-disclosure agreement was signed.
"We signed the agreement at around 10 or 11 in the morning," said Shah. "By 3 o'clock we were publicly engaging with residents and the government."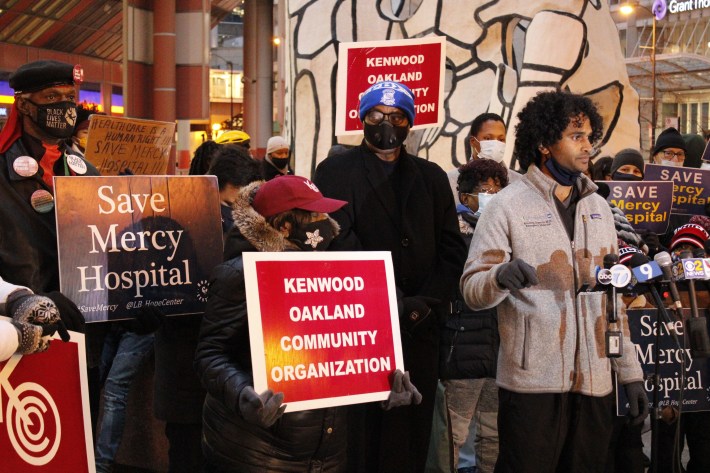 Shah said he realizes community involvement is vital. The responsibility of providing care is an immense undertaking, especially when that community had to lie in the street to save Mercy from the chopping block. That residents have had to organize and protest for things like food access and trauma centers isn't lost on the former Canadian, who hopes to lean on them for guidance in the months ahead.
Shah and his team met with Chicago Health Equity Coalition three days after the sale was finalized in a show of good faith, though he shied away from calling it a "negotiation." Coalition member Louvenia Hood, executive director of Mothers Opposed to Violence Everywhere, came away from the meeting with optimism.
"Mercy was left in a deplorable condition. They have good intentions in mind and they need the coalition's help," Hood said. "We feel good about it."
Shah acknowledges it's going to take some time to undo years of mismanagement and public distrust. He is hoping Insight's reputation — and a little patience — will get them through.
"We have to understand what we're dealing with, and hopefully they'll get exposed to who we are, as well. It's not one of those situations where it's one of those 'gotcha!' moments," Shah said. "We're coming into a situation where nothing's changed. There's still the same financial problems, there's still the same infrastructure issues, just under a different name rather than Trinity."
In filing for bankruptcy, Trinity's leaders said the hospital has accumulated more than $300 million in debt over the last several years and would need at least $100 million in upgrades just to bring Mercy up to par.
"And now it's 10 times worse, to be very honest," Shah said. "Things have dissipated, staff are gone. We're coming into a situation where I believe we're underwater."
But Shah said Insight is financially solvent enough to handle the transition, and is in talks with other organizations about future funding.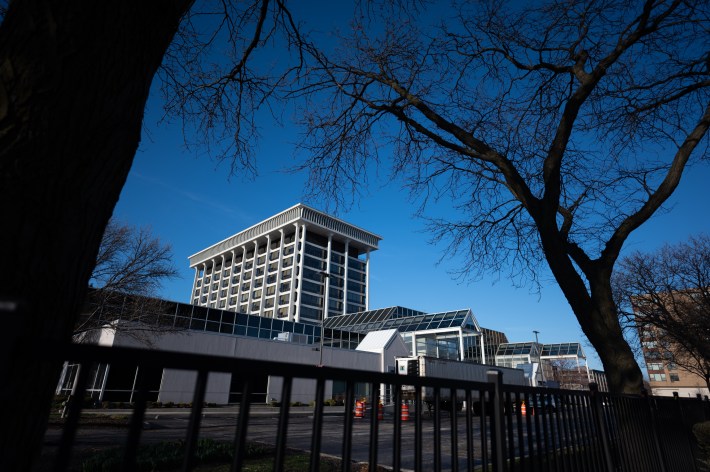 Rebuilding 'intentionally, one step at a time.'
When Insight takes over May 31, stabilizing the emergency room is the first order of business, Shah said.
Trying to restore or rebuild medical services has become a familiar dynamic for South Siders, who have struggled with poorer health outcomes and disappearing hospitals and clinics for decades.
UChicago's trauma center closed in 1988. Michael Reese Hospital in Bronzeville shut down its trauma division in 1991, in part because UChicago's closure shifted an enormous burden of care and financial strain onto the facility. Michael Reese now is slated to be the home of a multi-billion-dollar development.
Those shutdowns left Advocate Christ Medical Center in suburban Oak Lawn as the only Level 1 trauma center close to the South Side for nearly three decades.
UChicago's trauma center relaunched in 2018 after years of fierce activism from students, organizers and community members. Recent research showed the return of that service was improving emergency care for South Siders.
Closing Mercy threatened to once again evaporate critical medical care on the South Side and shift the burden onto other facilities. Mercy's ER is one of the busiest in the city but in recent months, it's stopped accepting ambulances, diverting some patients to University of Illinois Hospital in Near West Side.
Dr. Anudeep Dasaraju, a University of Illinois Hospital emergency room resident who works at Mercy, said recently the number of ambulances coming west has jumped 50 percent. A state report showed closing Mercy would force patients to travel at least five miles away to get to another emergency department — the exact conditions the Trauma Care Coalition confronted in trying to bring back UChicago's trauma center.
As for the other priorities on the organizers' list — creating a behavioral health unit, making Mercy a teaching hospital again, bringing back the hospital's ability to treat stroke and heart attack patients — those will have to be longer-term goals. In the meantime, Shah said he hopes to have the support of neighboring hospitals for cases they may be unable to handle in the interim due to the scarcity of resources.
"We're hoping that they'll be able to take that patient over and get them care, that transfers will be readily and easily accepted regardless of pay or coverage so that these patients can be helped," said Shah. "That will give us breathing room to be able to build intentionally, one step at a time."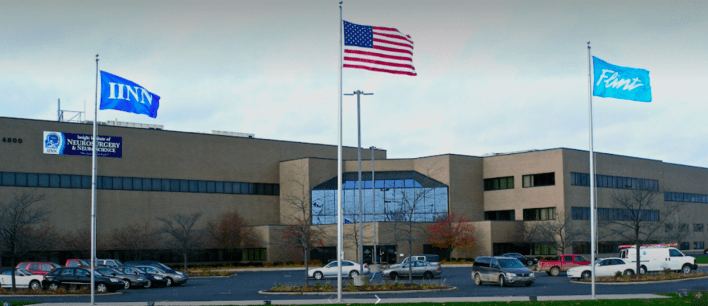 Shah admits that his style can be counterintuitive, pointing to his initial misgivings about taking over the old General Motors tank plant, believing that he had bitten off more than he could chew. Taking over a brownfield property came with its own set of challenges, but having no overhead to incur made expansion that much easier, and quality care easier to provide.
Eventually Shah acquired a former surgical hospital in nearby Warren, itself on the brink of closure by its Chicago-based owners, National Surgical Partners, in 2018. Within weeks, Shah told Crain's Detroit in a January 2020 interview, the hospital was turning a profit.
And the expansion hasn't stopped, with facilities in Dearborn, Flint, and Warren offering a vast menu of services, from neurology to orthopedics to preventative care. Insight even took over a dilapidated youth center in Flint, restored it and reopened it to the community.
"At the end of the day no one's going to come to me because I'm in the best place in the world, they're going to come to me if I do a good job as a physician," Shah said.
Do stories like this matter to you? Subscribe to Block Club Chicago. Every dime we make funds reporting from Chicago's neighborhoods.
Already subscribe? Click here to support Block Club with a tax-deductible donation.