BRONZEVILLE — Days after the state approved the sale of Mercy Hospital, activists who fought to keep the Bronzeville facility open want the new owners to incorporate local leaders on its hospital board and greatly broaden the services the historic facility will offer to the South Side.
The ​​​​​Illinois Health Facilities and Services Review Board approved the $1 sale of Mercy from Trinity Health to nonprofit Insight Chicago earlier this week. State regulators rejected Trinity's efforts to close Mercy, saying they couldn't support eliminating critical healthcare for the Near South Side especially during a pandemic. Regulators also denied Mercy's bid to open an immediate care facility in Oakland.
Members of Chicago Health Equity Coalition (CHEC) who battled to save Mercy said Thursday the approved sale is a "partial victory," but they have high expectations for the new owners. At a press conference outside of the hospital, 2525 S. Michigan Ave., organizers said they wanted equitable representation on the new board of directors.
Other demands include restoration of the OB/GYN unit, emergency room, stroke and STEMI center; a commitment to providing a behavioral health unit; and for the hospital to resume being a teaching institution.
"Mercy Hospital will remain open despite everything Trinity Health did to close it down, and we're going to keep it open for the community," said Jacquie Algee, vice president and director of external relations for SEIU HCIIMK. "You all stay tuned for what's next."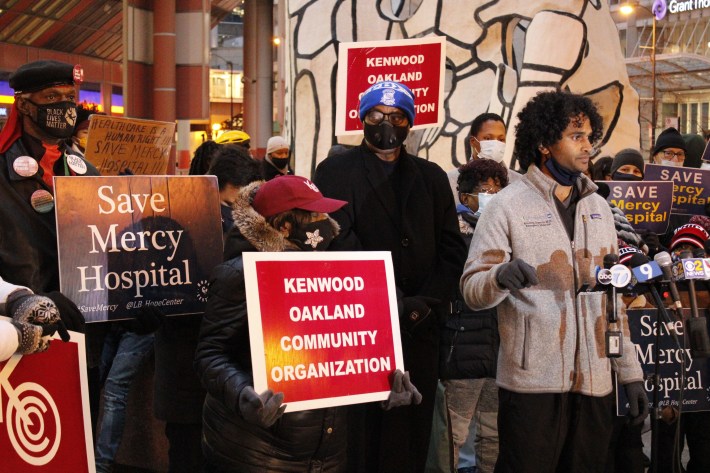 Dr. Anudeep Dasaraju, a University of Illinois Hospital emergency room resident who works at Mercy said the ongoing conflict between Trinity Health and CHEC has had an effect on patients.
With Mercy turning away ambulances (its emergency room is one of the busiest in the city), Dasaraju said the number of ambulances coming to the Near West Side hospital has jumped 50 percent. Waiting rooms are getting more crowded, he said.
"We're seeing sicker patients at other hospitals in our area," Dasaraju said. "Medicine doesn't happen in a vacuum, and these patients have to go somewhere."
The coalition is also calling for the passing of a bill that would amend the Health Facilities Planning Act, imposing stricter penalties for providers who shut down hospitals and allowing them to be placed under receivership — a move that would prevent a similar scenario from playing out in other parts of the state, SEIU HCIIMK President Greg Kelly said.
"Trinity understood that there was loophole in the law that allowed them to do what they were trying to do. We have to close that loophole," Kelly said.
In a statement to Block Club, Insight Chicago said they have made it "a priority to have conversations with members and stakeholders" once their negotiations allow them to do so.
"It is our plan to continue to engage with community members. We are committed to ensuring that members of the community are represented on the hospital board. We are in early stages of the transition and are looking forward to continued dialogue with all stakeholders so we can establish an appropriate process for board membership," said spokeswoman Anel Ruiz.
Once the deal is finalized Insight Chicago could take over the hospital as early as June 1, coalition member Christine Pao said. Though the coalition hasn't yet received a "yes" to their asks, they remain optimistic that they'll get what they want.
"It's not over. We will not have token representation," said Kenwood Oakland Community Organization Executive Director Shannon Bennett. "We will be voting members on the board or else."
Shuttering the 169-year-old facility would have left University of Chicago Medical Center further south in Hyde Park as the main hospital to serve the entire area. South Siders have struggled with poorer health outcomes and disappearing access to medical care for decades.
UChicago's trauma center closed in 1988. Michael Reese Hospital in Bronzeville shut down its trauma division in 1991, in part because UChicago's closure shifted an enormous burden of care and financial strain onto the facility.
Those shutdowns left Advocate Christ Medical Center in suburban Oak Lawn as the only Level 1 trauma center close to the South Side for nearly three decades.
UChicago's trauma center relaunched in 2018 after years of fierce activism from students, organizers and community members. Recent research showed the return of that service was improving emergency care for South Siders.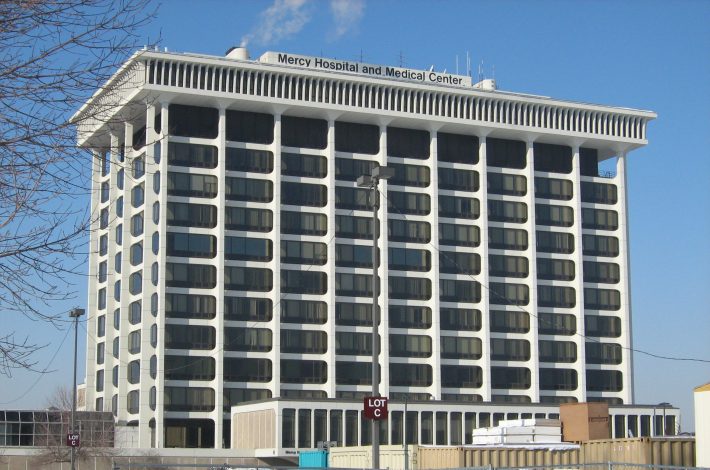 Subscribe to Block Club Chicago. Every dime we make funds reporting from Chicago's neighborhoods.
Already subscribe? Click here to support Block Club with a tax-deductible donation.